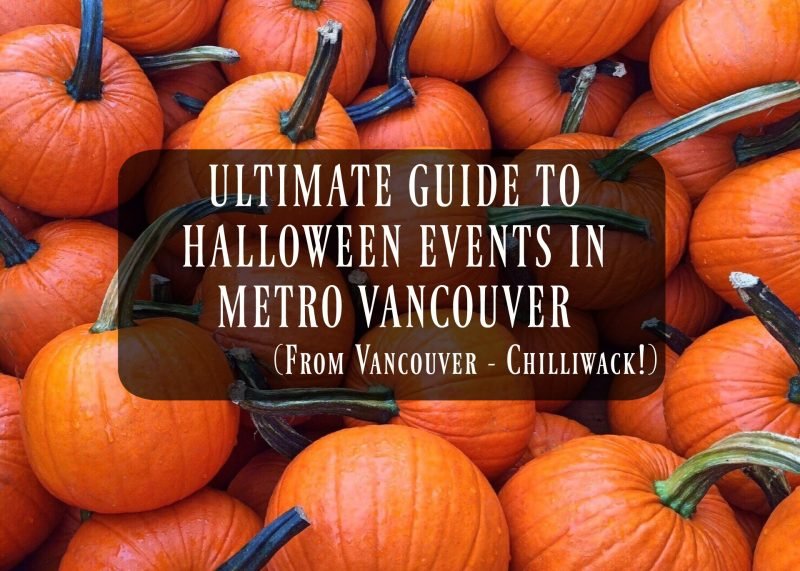 Halloween is not just a day of fun. Oh no! Halloween is a season my friends, and the season is upon us! It is my family's favourite season in fact, and as such I love to have a variety of Halloween happenings to choose from so we can celebrate all month long (and get our money's worth out of those costumes!). From pumpkin patches to haunted houses, costume parties and mysteries, we've rounded up more than 40 events and places to be, from Squamish to Chilliwack and everywhere in between.




Abbotsford:
Maan Farms Pumpkin Festival – Abby's biggest pumpkin patch also has  a corn maze, hay rides, and live entertainment on the weekends.
Where: Maan Farms, 790 McKenzie Road
When: Now – October 31, 9am-10pm, with a Haunted Corn Maze experience offered 7pm-10pm
Admission: Pumpkin patch admission is FREE, Haunted experience varies, check website.
Roadside Harvest Social – This all ages weekend event has not only a pumpkin patch, apple cannon and corn maze, they have a beer tasting corn maze!
Where: 36737 North Parallel Road
When: Now – October 23, Thursday – Sunday 11am – 6pm
Admission: Adults 19+ $10; 3-18 $5; 2 and under free
Sandpiper Sanitarium – While it is unusual to say that this Zombie Hospital is a feel good haunted house, it's true. Yes, it will probably scare the pants off of you, but 100% of the money raised goes directly to Canuck Place Children's Hospice.
Where: 3037 Sandpiper Drive
When: October 29-31, 6pm-9pm
Admission: By Donation; suggested donation of $2/person; $10/family
The Land of Boo! – This family friendly scavenger hunt will take you through Highstreet Shopping Centre on the hunt for black cats. Find them all for a chance at the grand prize and vote for your favourite display.
Where: Highstreet Shopping Centre, 3122 Mt. Lehman Road
When: October 21- 31, during mall hours
Admission: FREE
EcoDairy Moo or Boo! – Come in costume to enter the photo contest, stay for the fun and games, crafts, even science experiments!
Where: EcoDairy, 1356 Sumas Way
When: October 31, 3pm-5pm
Admission: $4/children 2-12; adults are free
Burnaby:
Haunted Village –  Witches, ghosts and all sorts of storybook and fairy tale characters come to life this year at the Burnaby Village Museum
Where: 6501 Deer Lake Avenue
When: October 27-30 from 6pm-9pm
Admission: Adults, youth & seniors: $14; Children (2-12 years): $9; Members are FREE
Halloween Photobooth & Pumpkin Carving Contest – You have a chance to win by either bringing your already carved pumpkin to the market for judging or rock our photobooth with our props or your own fabulous outfit and post it to social media! Prizes for best outfit, best group, and best kid carved pumpkin and best adult carved pumpkin!!! Pumpkins need to be down at the market by 10am. Prizes will be determined by 1pm!!!
Where: 4949 Canada Way
When: October 22nd from 9:00am-2:00pm
Admission: FREE
Halloween Howl – grab your swimsuit for games, a haunted house, candy and prizes at C.G. Brown Pool
Where: CG Brown Memorial Pool, 3702 Kensington Avenue
When: October 27 from 7pm-9pm
Admission: family swim rates apply, children under 7 must be accompanied by a parent
Bonsor's Big Boo – grab that costume and brave haunted house, Imagination Playground, creepy crafts, ghostly games, cookies for kids, face painting, colouring and more at! Please remember to leave any weapons associated with your costume at home.
Where: Bonsor Recreation Complex, 6550 Bonsor Avenue
When: October 28 from 6-8:30
Admission: $1/person
Halloween Howler – enjoy crafts, Imagination Playground, buck-a-boo circuit, games, face painting, balloon twisting, photo booth and more and is suitable for kids 8 and under.
Where: Cameron Recreation Complex,  9523 Cameron Street
When: October 29 from 10am-Noon
Admission: FREE
Ghouls & Goblins Skate at Bill Copeland combines ice skating, face painting, creepy crafts and ghostly games are all part of the spine-tingling day. Costumes are optional but encouraged, but safety first!
Where: Bill Copeland Sports Centre, 3676 Kensington Avenue
When: October 29 from 12:30pm-3pm
Admission: regular admission and rental rates apply
Art on the Spot celebrates the turning of the season with choreographed costume parade through the Shadbolt Centre. Register to take part, or show up to watch.
Where: Shadbolt Centre for the Arts, 6450 Deer Lake Avenue
When: October 29, parade starts at Noon
Admission: FREE; participants must pre-register
Halloween on the Heights – This is one of our favourite events rain or shine. Held early in the day it is suitable for all ages. All participating merchants will have a Pumpkin Decal on their door or window. Speaking from experience, bring a back up bag.. the kids take home quite a bit!
Where: Hastings Street between Boundary Road and Gamma Avenue
When: October 31 from 3:30pm-5:30pm
Price: FREE
Annual Spooky Halloween Trains in the Dark – After trick-or-treating at the Heights, head on over for a family friendly spooky (but not too spooky) Halloween train ride. Costumes are encourage for the whole family, and there will be free hot chocolate and cookies.
Where: Burnaby Central Railway at Confederation Park – 250 Willingdon Avenue
When: October 31 from 6pm-9pm
Price: $3.50
Halloween Fireworks – An annual community event and professionally done at Gilmore Community School
Where: Gilmore Community School, 50 S. Gilmore Avenue
When: October 31 at 8:15pm
Admission: FREE
Chilliwack:
Chilliwack Corn Maze & Pumpkin Patch – With 12 acres of maze to get lost in, a giant jumping pillow and fun things like duck races, fuzzy animals and more.
Where: 41905 Yale Road West
When: Now until October 31; Thursday 6pm-9pm; Friday/Saturday 11am-9pm; Sunday 11am-6pm
Admission: $11/person; ages 2 and under free
For info on Chilliwack Parks and Recreation swims, skates and other Halloween fun click here.
Coquitlam:
A Family Haunted Halloween – Bring the family for a ghoolish afternoon of crafts, face painting, gym games, and a bouncy castle. Don't miss out on our costume parade! Children must be accompanied by an adult. Registration includes a hot dog, fruit, and a drink.
Where: Pinetree Community Centre, 1260 Pinetree Way
When: October 30 from 10am-Noon
Admission: $5/registration
Halloween Spooktacular! – Come to market in your costume for some Halloween games, crafts, and treats! Kids can trick-or-treat at vendors and participate in a costume parade at noon!
Where: 624 Poirier Street
When: October 30 before Noon
Admission: FREE
Delta:
Family Fright Fest – Annual all ages costume party with scavenger hunt, games, prizes, candy and a marshmallow roast!
Where: Firehall Centre for the Arts, 11489 84 Avenue
When: October 20, 4:30pm-7:30pm
Admission: FREE
For more info on Delta Parks and Recreation Halloween skates, swims and costume parties, click here.
Langley:
Fort Langley Grave Tales – A nighttime walk through of the (reportedly haunted) Fort Langley grounds while listening to true and tragic tales of the past.
Where: Historic Fort Langley, 23433 Mavis
When: October 14-30, tour times vary, check the website for details
Admission: Prices vary but advance tickets required
Halloween Hoot at the Fort – Watch a family friendly magic show, check out the Spooky Servants quarters and more.
Where: Historic Fort Langley, 23433 Mavis
When: October 29-30; 1pm-5pm
Admission: Age 17+  $11.7; age 3-16  $6.30; age 2 and under free. FREE for valid annual pass holders at the door; advance tickets may be purchased here.
Trick-or-Treat Parade – The merchants of Willowbrook Shopping Centre are offering treats for little ones while keeping them warm and dry. Registration starts at 4:30pm at the following Willowbrook entrances: Sport Chek, Swimco, Tim Hortons,  Sashimi Sushi, and Sears.
Where: Willowbrook Shopping Centre, #150 – 19705 Fraser Highway
When: October 31; Registration 4:30pm, Trick-or-Treating 5pm-6pm
Admission: $2/child under 12; Proceeds will go to the Langley School District Foundation to support innovative and essential school programs for Langley students.
Maple Ridge:
Laity Pumpkin Patch – Find the perfect pumpkin, pan for gold, take a walk through the enchanted forest and visit some fuzzy barnyard friends.
Where: Laity Pumpkin Patch, 21145 128th Avenue
When: Now – October 31;  Monday-Friday 1:30pm-5pm; Saturday/Sunday/Thanksgiving 9:30am-5pm;
Admission: $5/person or $20/family (up to 2 parents plus kids residing in same house), Pumpkins are $2+ according to size
New Westminster:
Halloween happenings with New Westminster Parks and Recreation  click here.
North Vancouver:
Halloween Hissssteria – Have an interest in reptiles? Visit the Lynn Canyon Ecology Centre for this Halloween special to learn about and meet some reptiles from around the world.
Where: Lynn Canyon Ecology Centre, 3663 Park Road
When: October 30; Noon-4pm
Admission: suggested donation of $2/person or $5/family
Mission:
Tribute to 'The Walking Dead' – Mission Raceway Park is getting all geared up and ready to haunt! No child under 8 will be admitted, no exceptions.
Where: Mission Raceway, 32670 Dyke Road
When: October 14-16, 21-23, 27-31; 7pm-10pm
Admission: $10/person; again, no child under 8, children 8-12 must be accompanied by an adult
Pitt Meadows:
Meadows Maze – This is their last year as a family attraction, and their elaborate corn mazes and petting zoo will be missed. Visit while you can!
Where: Meadow's Maze, 13672 Reichenbach Rd.
When: Now until October 16, Thursday 3:30pm-10pm; Friday/Saturday 11am-10pm, Sunday 11am-6pm
Admission: prices can vary, check the website,
Port Coquitlam:
Art Knapp's Funland – A bevvy of rides both free and ticketed, character meet and greets and other fall fun, including…the Tunnel of Terror
Where: Art Knapp's, 1300 Dominion Avenue
When: open now through October 31, 9am-6pm Sunday-Thursday; 9am-8pm Friday; 9am-7pm Saturday
Admission: FREE to get in
Tickets: Friday to Sunday – $24.99 for 30 tickets; Monday to Thursday (excluding holidays) – $20 for 30 tickets
Richmond:
Steveston Scarecrow Crawl – Grab your camera and take a walk troughout the village and see if you can find all of the many scarecrows lurking around.
Where: Steveston Village
When: October 14-31
Admission: FREE
The Case of the Haunted Cannery! – The Cannery presents a spooky, family-fun mystery inside the 122-year old historic building, for all those who dare to enter.
Where: Gulf of Georgia Cannery, 12138 Fourth Avenue
When: October 22&23, 29&30; 1pm-5pm
Admission: Adults $10.20, youth $6.30, kids 5 and under free
Historic Halloween Ghost Tour – Join the 'ghosts' of Britannia Shipyards on an eerie journey back in time and make an evil eye craft with Branscombe House resident artist Rhonda Weppler. This event is for Youth (Ages 13-18) & Adult (Ages 18+)
Where: Britannia Shipyards, 5180 Westwater Drive
When: October 22, 8pm-10pm
Admission: $15/person
For more Halloween swims, skates and haunted houses through Richmond Parks and Recreation between the 28th and 31  click here.
Surrey:
Bose Corn Maze & Pumpkin Patch – U-Pick pumpkins, get lost in the maze, hay rides and firepits and hot buttered corn.
Where: Bose Corn Maze, 64th Avenue & 156th Street
When: Weekends throughout October; Noon-6pm
Admission: varies, check website for more info
Pumpkin Express at Bear Creek Park – Delight in the crafts and activities under the tent on the platform, see your child's face light up with pleasure as they design the perfect pumpkin mask and play the Halloween games. Each child who paid an admission will receive a treat to enjoy on the pumpkin express train as well as a child sized pumpkin when they leave.
Where: 13750 – 88 Avenue
When: October 7-31 from 10am-4:30pm rain or shine
Admission: $11/person
Haunted Forest Scream Train – Recommended for older children who do not get frightened easily as the forest comes alive with ghosts and ghouls intent on scaring you amidst creepy sounds and special effects. (there will be live actors)
Where: 13750 – 88 Avenue
When: October 14-31 from 6:30pm-10pm
Admission: $12/person
Halloween in the Forest – enter the costume contest, enjoy treats, crafts and carve your own pumpkin.
Where: Surrey Nature Centre, 14225 Green Timbers Way
When: October 29; 10am-2pm
Admission: FREE
Heritage Family Day Haunted Farm – This safe and fun family drop-in shares old-time All Hallow's Eve traditions, crafts and spooky treats.
Where: Historic Stewart Farm, 13723 Crescent Road
When: October 29 from Noon-3pm
Admission: FREE
Pumpkin Power – Need more pumpkin spice in your life? Design your own take-home Jack O' Lantern, go on a spooky scavenger hunt in the exhibit galleries, and compete for best costume.
Where: Surrey Museum – 17710 – 56A Avenue
When: October 29 from 11:30am-2pm
Admission: FREE
Potter's House of Horrors – have some little haunted house happy critters? Li'l Haunters for kids under 12 is perfect and new this year, but if you think you have what it takes to brave it all, come for the Regular Ultra-Scary Show in the evenings, with two haunted houses, amazing displays and major scream factor.
Where: Potter's, 12530 72nd Avenue
When: October 7-9, 11-31; Li'l Haunters/Family Hour 4pm-7pm, Ultra-Scary Show 7pm-10pm
Admission: cost varies, see website for details.
For more Halloween events within Surrey Parks and Recreation click here.
Squamish:
Spoo-ook-tacular Halloween at Britannia Mine – ride a special train through the tunnels down below, get up close with creepy crawlies, watch the Strange Science Show and visit the Witch's House…if you dare
Where: Britannia Mine Museum, 1 Forbes Way, Britannia Beach
When: October 29&30; 11am-3pm
Admission: $15/person; children under 3 are free
Vancouver:
Vancouver Halloween Parade – With marching bands, music, dances, horses, vehicles, floats and performances, the superheroes and supernaturals from Films, Comics, Anime, Games, Sci-fi and Myths all come alive! Parade put on as part of the Vancouver Annual Halloween Expo. For more info on the Expo itself happening October 13-16 visit  www.VanHalloween.com
Where: Halloween Parade Route
When: October 16 at 11am
Price: FREE
Stanley Park Ghost Train –  Journey through the forest and view the Day of the Dead themed displays. There are no live performers during matinee train rides making them perfect for school groups and young children. The classic night train ride includes a 14 minute experience following our Day of the Dead theme with lights, sounds, and live performers. You can also escape from the weather and have a Spooky good time for just $2 per person at the 'haunted'  Spooky Barn. It will be available for both matinee and evening show times.
Where: Stanley Park Miniature Train
When: October 8 to 31 (closed October 10 for Thanksgiving)
Live theatrical performance train
Monday to Thursday from 5:30pm-9:30pm
Friday to Sunday from 5:30pm-10pm
Price: Adults $11; Youth/Senior $8; Child $7; under 2 free
Matinee train
Friday to Sunday from 11am-5:00pm
Price: $6 for all ages
Fright Nights at the Playland – Not for the faint of heart (or for children), this annual scream fest features 7 haunted houses, 15 rides and 2 thrilling live shows.
Where: Playland
When: Select nights from October 8 – 31
Admission: Prices vary from $25-$39 at the gate depending on which night you choose, and as always you can save a couple bucks by ordering online
Halloween at FlyOver Canada – Go through the Witch Academy with Broomelda, experience the thrilling FlyOver Canada flight ride, get a diploma to take home and more.
Where: FlyOver Canada, 201 – 999 Canada Place
When: October 13-31; Monday-Friday 4pm-9pm; Saturday/Sunday/Halloween Day  10am-9pm
Admission: $19.95/adult; $16.95/student/youth/senior; $11.95/child; FastLane tickets are an extra $2/person
*Children must be at least 102cms (40") to enter FlyOver Canada. Children (12 and under) must be accompanied by an adult or guardian aged 14 years or older.
For more Halloween themed events within the Vancouver Parks and Recreation click here.
We hope you'll get a chance to enjoy some of the fun activities happening in and around Metro Vancouver – if you have an event or attraction we've missed, drop us a comment below with the details and we'll add it to our list! Happy Halloween!