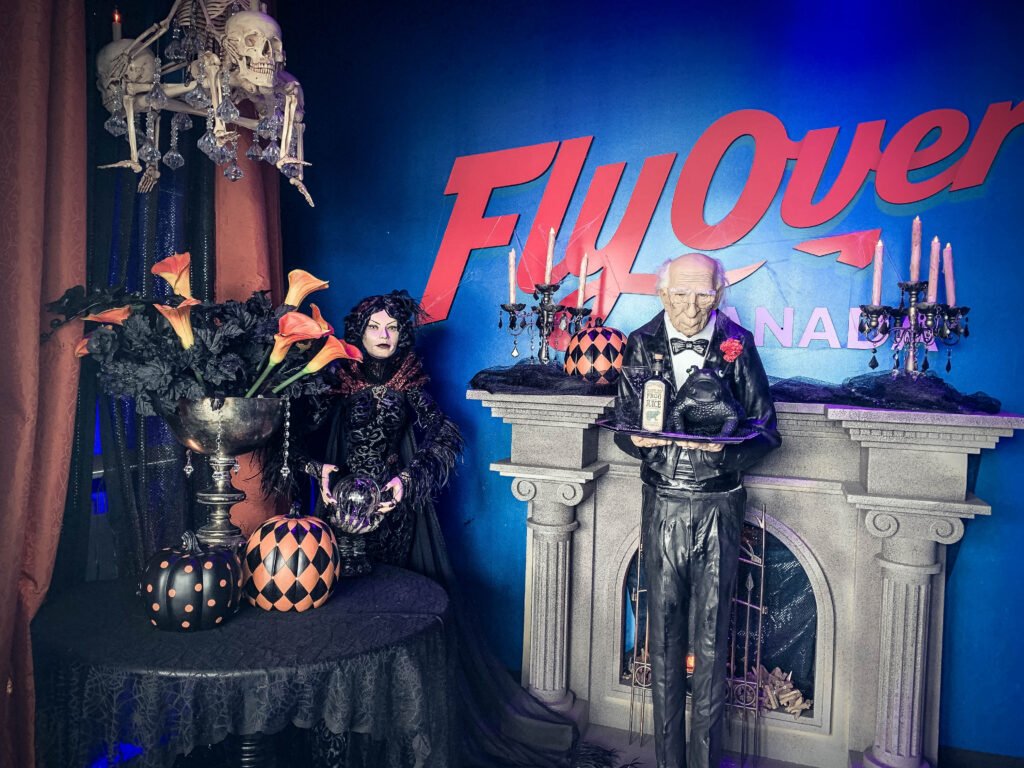 Halloween is just around the corner and that means lots of families are looking for something fun to do with their little ones to get everyone in the mood. For our family, one of our favorite things to do is HowlOver Canada. There is nothing better than making the trip downtown for this spooky ride across Canada and to one of the best spooky concerts you'll ever experience! 
Each year FlyOver Canada loves to get a little spooky and make sure all of us have something to look forward to at Halloween. As B.C. families know these past few years have been hard in terms of getting in the spirit. But the wonderful people at FlyOver are always up for a challenge! Being right at Canada Place and so close to Gastown it is a great way to learn about our city, province and have a look at the rest of Canada in a whole new way. While racing a biker witch across the skies on the way to an incredible concert your kids won't soon forget.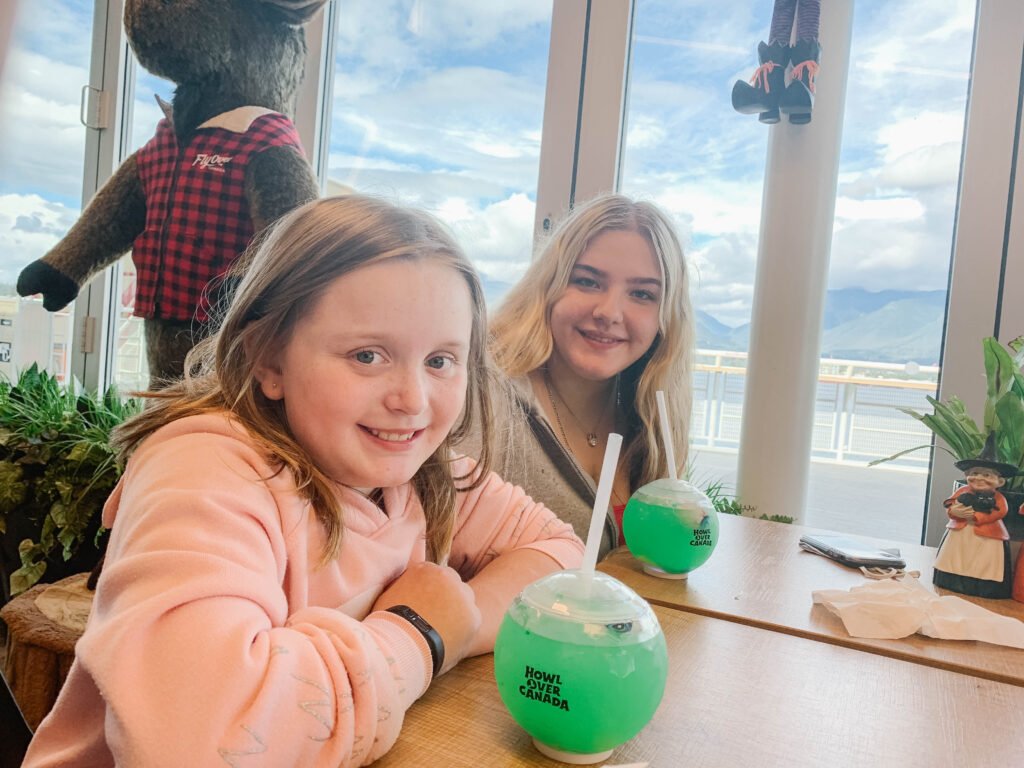 Your entire HowlOver Canada experience includes so much fun it is going to be hard to cover it all but I am going to give it a shot. You'll enjoy the HowlOver themed pre-show which will set the scene for your amazing adventure. The entire room is filled with screens that will show you an inside look at the spook-tacular world of Biker Mama the witch and her friends!
The full ride will be 8 minutes long and will allow you to see Canada in the most thrilling of ways. Not only will you see amazing sights, but you will also see incredible animals and even smell some incredible parts of Canada. There will be spine-tingling decorations to take pictures with, themed snacks and drinks at the Flying Whale Cafe, along with adorable costumes from staff and guests! That's right, even guests are encouraged to wear their costumes when they come to visit, which means more opportunities for you to get some use out of this year's costume. 
Spook-factor for this year is around 4+ and kids have to be at least 120cm (40") to ride. So make sure your masks are on, your kids are dressed up and tall enough before booking your time slot online! All kids under 12 must be accompanied by an adult or guardian over 14 years old. Do take note that the concert at the ending does have a bit of spinning so be aware for any of your kids who may have sensitive tummies that they may need to shut their eyes. It also moves quite fast through the forest, so be ready to hold tiny hands in case they get a bit spooked!
The wonderful people at FlyOver have added a few more elements of fun for families to look forward to that you will want to take advantage of! For instance Saturdays and Sundays, from October 2nd – 31st between 1-3 pm, you can hit up the Flying Whale Cafe for some extra special Halloween fun! They will have Caricaturist by Corycatures, colouring station, crafts, and a self-guided scavenger hunt. Then families that can come before 2 pm to enjoy a ride: you will be able to enjoy FREE admission for kids! Not only that but your adventure includes a free cookie and a 50% off discount for a souvenir family photo. One child will be admitted free with a purchase of an adult seat.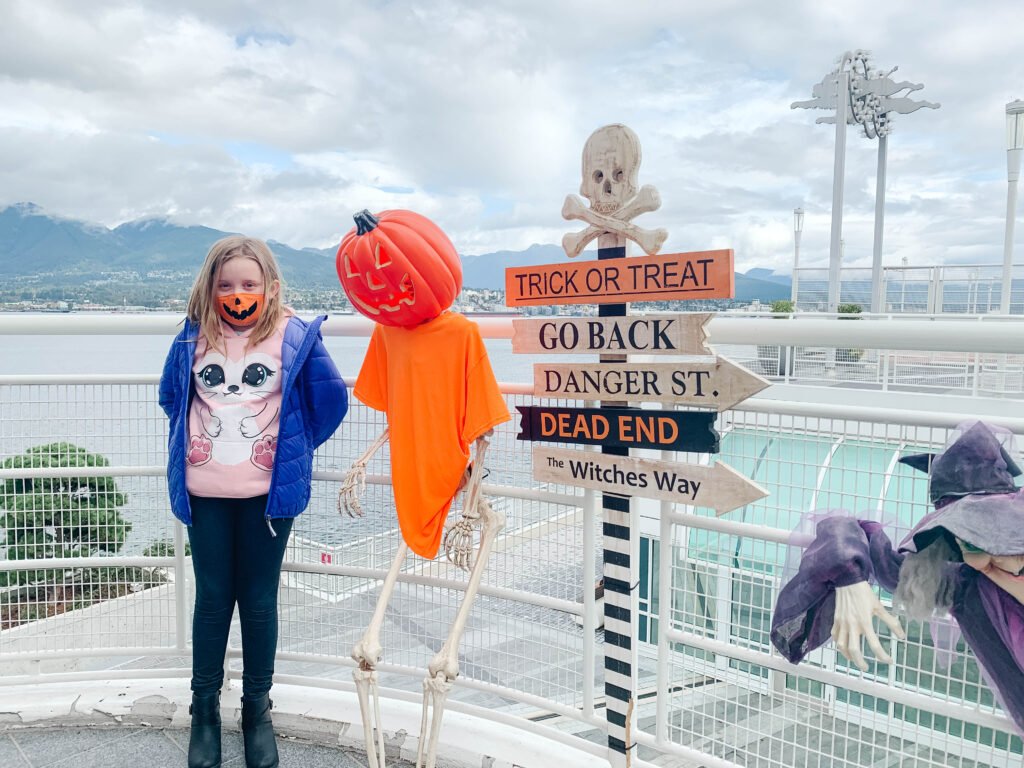 Alivia loves how FlyOver Canada creates such fun kid-friendly adventures each and every season. As a family, we definitely agree that Halloween is one of our favorite times of year to enjoy a race across the skies with this amazing Biker Mama witch and her friends! Their amazing staff does all they can to create a great atmosphere and keep all their guests safe. With frequent sanitization stations, masks, and proof of vaccination being required you can relax and know you and your family are safe. 
Make sure to make some happy Halloween memories this year you will definitely want to snag your tickets to HowlOver Canada. Dress up, take photos and have some spooky treats before you leave! 
(This post is shared with you in partnership with Flyover Canada, all opinions are our own. Read more about our Flyover Canada Experiences here)