If you are a lover of beautiful horses, incredibly talented acrobatics and breathtaking set changes then I have a show that is just for you. Cavalia Odysseo is here in Vancouver and it is blowing Vancouver's mind once again! With crowds fighting for tickets left right and center, so much so that they needed to add in extra shows just to meet demand. Cavalia: Odysseo has been extended to March 5th, so there's still time to grab your tickets and experience this amazing, one of a kind show for yourself.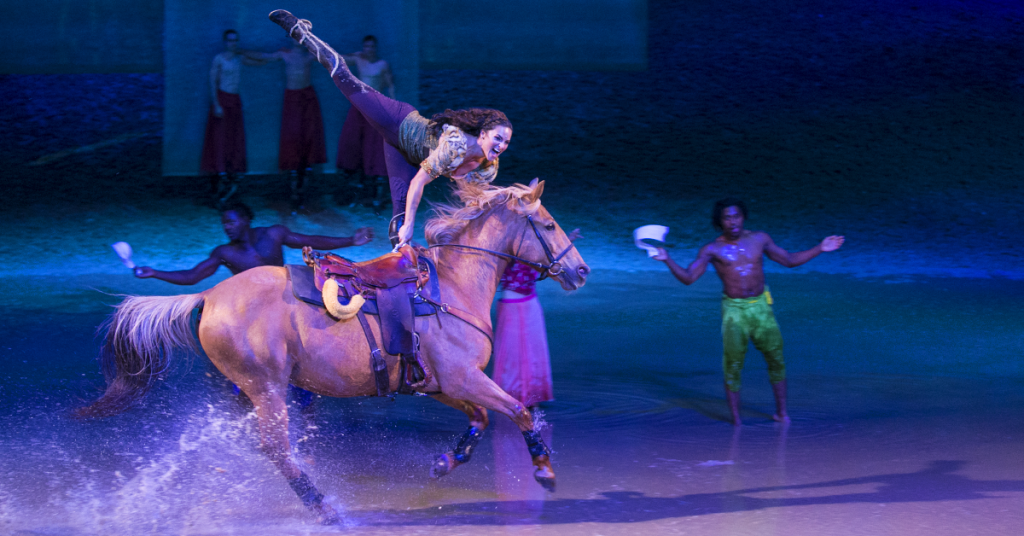 Cavalia boasts an incredible honor as being the largest traveling show in the entire world. With 65 horses and 45 acrobats making up the team behind the show, as well as 20 stablehands and much more, it takes over 110 semi-trailers to transport the show between cities and it works as a well tuned – mesmerizing – machine. If you're from Vancouver, you've probably already spied the amazing Big White Top in Olympic Village and wondered, maybe even imagined… what could possibly be inside?
We had the immense pleasure of being invited to experience the Rendez-Vous VIP tent during opening week and suffice to say, I'm not entirely sure I could ever go back to seeing a show another way again! What can you expect at Odysseo?
VIP Treatment – Cavalia Odysseo is one of the few shows like this performed that provides an incredible VIP section option for their audience. Providing you with an incredible buffet dinner before the show and a delicious dessert buffer during intermission, a warm comfy place to sit and an endless wine glass. With Everything Wine as one of their sponsors they make sure that all of you are well taken care of with a selection of white, red, champagne and beer. They even take the time to really cater to the little ones this year featuring a great kids corner with food for the picky kids (at their level!), or husbands and an endless supply of snacks at the popcorn machine! Making sure that the VIP treatment can be enjoyed by all its patrons.
Spectacular Entertainment – Clearly the main reason this show is a door buster is purely because of the show itself. Everything from start to finish is mesmerizing. The projection screens add this ever changing element of beauty to the show, really making you feel completely absorbed in the scenery. The costumes, especially the long billowing dresses, were unearthly – creating a completely mystical feeling to the whole show. With every scene change your mood is deeply engrossed in what is happening before you.
Combining the breathtaking scenery with incredible live music (just look up and to your right or left to spy them!) it is truly a fully immersive experience that leaves you oohing and ahh-ing. Since their horses lead the show each performance is even a little different, giving you the chance to experience a one of a kind show that will never be seen again. We had the pleasure of watching one free spirited beauty take centre stage when she decided to try her own routine and even then – it was truly amazing to see. Hand down my favourite scene in the entire show was the Carosello, an incredible Carousel scene that comes from the ceiling and is turned by the horses. 
One tip… keep an eye on the stage at the very start, it's oddly misleading…. and of course, be prepared to be dazzled by the 40,000 gallon lake that is built into this incredible show (yes.. you read that right.. a LAKE.)
Incredible back-stage experiences– Cavalia picks the top of the top when it comes to their employees, and we were lucky enough to get a chance to meet the team that takes care of the horses in the barn – each horse has their hair brushed and braided after every show which can take up to 45 minutes per horse. They are loved on and it clearly shows by how they react with their handlers.  Part of your VIP experience includes a tour of the barn so you can get up close with the horses that performed these amazing feats during the show. It is truly incredible to see these amazing animals up close. I will admit, it was an incredible, one of a kind experience to be able to stand on the Odysseo stage and see the audience from the performers point of view. I have so much respect for how much planning goes into this show.
This traveling city in itself is so intricate with full staffing for each of the horses, on hand medical staff, engineers, musicians and everyone else in between. There is never a dull moment while they are touring and they make sure that they are prepared for everything that is thrown at them. Making them, one of the best shows on earth.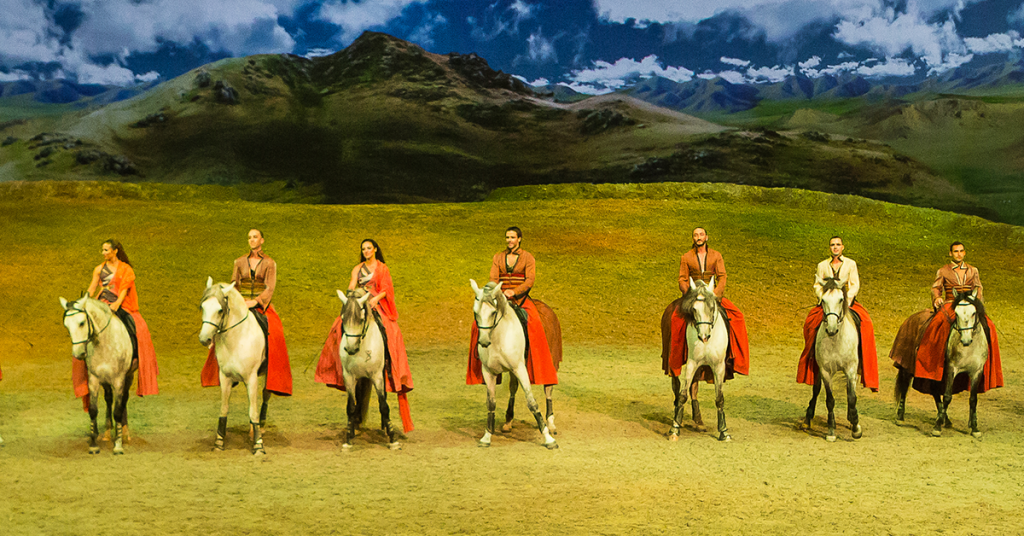 Since this show is so amazing, and since they have gone ahead and added more performances, we thought it fitting to give you a chance to save a buck or two on your own ticket purchase. Visit www.cavalia.com/live and use promo code SOCIAL you can get 15% off your ticket purchase, so make sure you take advantage and save!
Did you have a chance to experience Cavalia: Odysseo yet? We'd love to hear what you thought!