February in BC brings more than just valentines and cherry blossoms, it also brings Family Day! It's a relatively new holiday for us; our first one was in 2013 but it's always a holiday we look forward to. It's all about having some time off from work and school to spend some extra quality time with the ones we love. Typically, we spend our 3-day weekend going swimming or skating, playing board games or maybe going to a movie. We have lazy sleep-in mornings and some fun in the kitchen; baking or making dinner together. Things we love to do that our busy schedules don't often allow during the week. Between activities, school drop-offs and pick-ups and everyday events it seems there isn't much time to just slow down.
From late weekend brunches to cookies to family pizza night, right down to an emergency swimsuit, Walmart has always been our one-stop shop for checking things off our list – all while staying on a budget. So, when we are approached to participate in the Great Value Pizza Challenge, how could we say no?  Pizza making is a perfect Family Day activity, rain or shine, and with Walmart's Great Value brand, you know you are getting quality and taste without breaking the bank.
A and I started our challenge at our local (you guessed it!) Walmart, our first stop was the freezer section. We knew we wanted to customize our pizzas to our personal tastes so we stocked up on Great Value frozen four cheese pizzas to use as our base, at under $4 each, they are perfect to have on hand for even a weeknight pizza fest. The cheese pizzas are fantastic for picky eaters and can be easily dressed up for those of us who have more adventurous taste buds.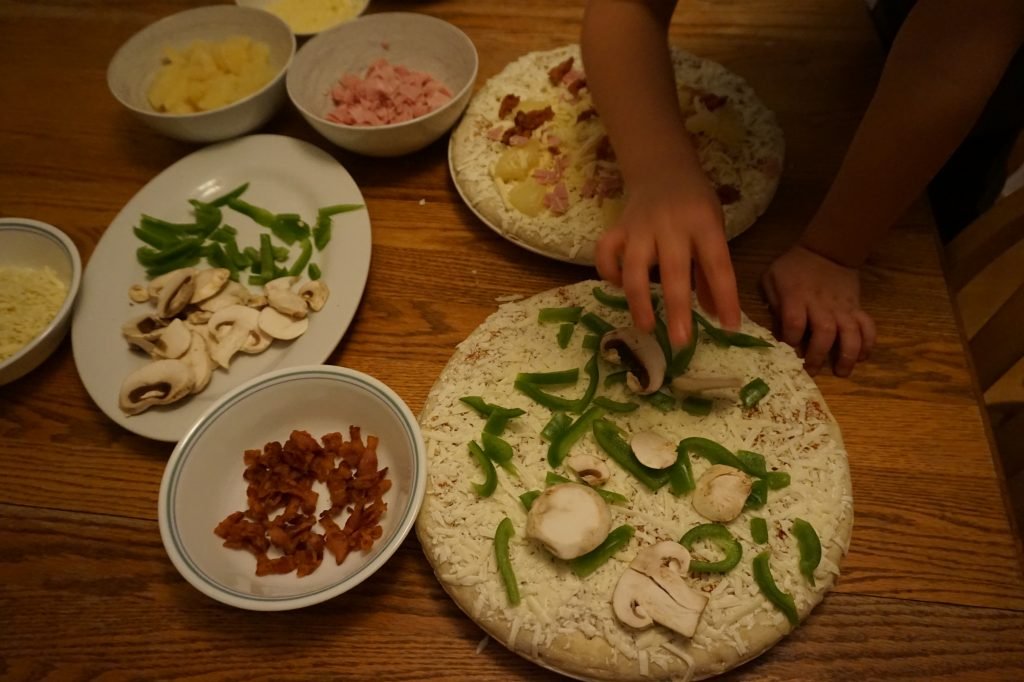 Once we were stocked with our Great Value cheesy pizza goodness, it was on to toppings. The Great Value brand offers a diverse amount of different toppings from pre-shredded cheeses, bacon deliciousness and of course pineapple! Whenever you are wandering around looking for ingredients for Family Pizza night, make sure to price compare. Great Value products are cost effective and offer great quality at a great price.
Once home, we eagerly prepped our ingredients and got to work getting our pizzas loaded with toppings. And I mean loaded! While they baked, we started talking about the challenge at hand: turning our Great Value pizzas into tasty works of art with some Geometry-zza. Some whaaat?
Geometry-zza is a fun family activity for the Family Day long weekend that will get your creativity flowing in the kitchen. Why should pizza only be served in a circle and cut into triangles?  Share your ideas for unique serving suggestions: Cut your pizza into a star, flower or triangle. Why make toppings random? Purposefully place your favourite toppings to mimic a specific design, character or image (i.e. baseball, Pac-Man or the Death Star from the movie Rogue One).
The possibilities are literally endless, but the kids settled on a turtle and a face. Sounds easy enough, right? With plans made, turtle sketches were drawn and pizza cutter in hand, we set to work.
I have to say, he did a pretty good job; his turtle actually looks like a turtle, and a tasty one too! You can expand so much on these fun designs by placing your toppings in a design before baking, or toss on some fresh ingredients once it's cooked – the possibilities are literally deliciously endless.
But when it came to the second pizza, I worried that he had forgotten about the plan. While it didn't look like a person at first, with a little bit of imagination and some fancy pizza cutter work it took shape and B was very happy with daddy's work.
B was also pretty happy with how delicious his Great Value pizza face tasted. In fact, we all were! I was also pretty impressed that this fun activity encouraged B to try toppings he normally wouldn't. Parenting win? We think so!
From our savvy shopping start to our flavourful finish, The Great Value Pizza Challenge was so much fun for the whole family. We got to spend unplugged time together talking, creating, being silly and eating. Like I said, the perfect Family Day activity! With B in Kinder right now, learning about shapes, patterns and geometry fun, this was the perfect chance for us to expand on some of what he was learning in school – without it feeling like a school day!
From birthday parties, to sleep overs, Family Days or just a Wednesday – this activity can be fun for all ages, I see a hubby and I pizza challenge in the near future…
And now, I'd like to challenge you! What kind of masterpieces can you create using a little 'geometry-zaa' with your Great Value pizza? Need some inspiration? Check these out!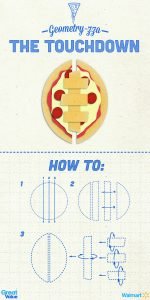 This post is sponsored by Walmart Canada as part of the Walmart Great Value – Geometry-zza program. In exchange for this post, I have received perks in the form of products and/or compensation. All opinions on this blog are my own.