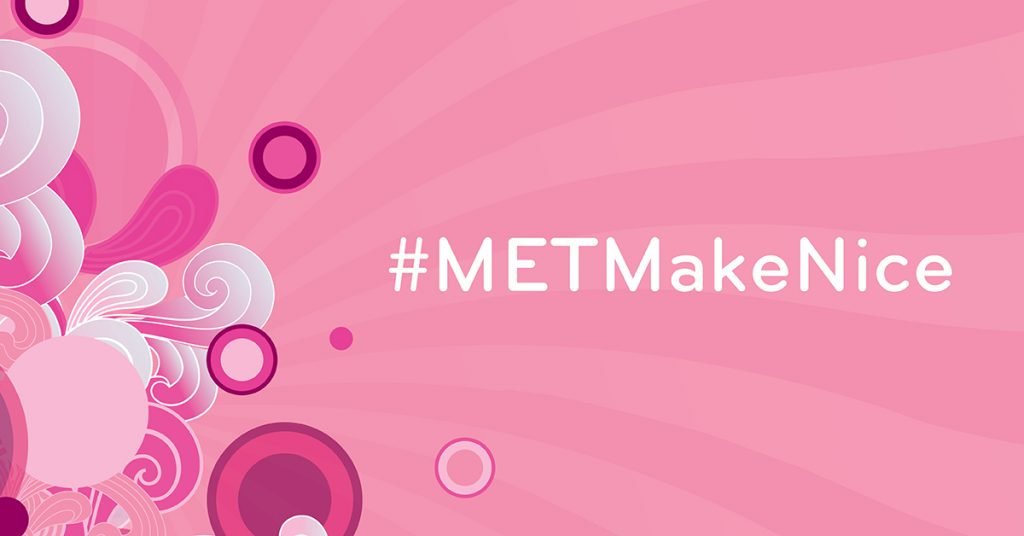 No matter what our differences, kindness is always a choice worth making. This year Metropolis at Metrotown has joined the movement against bullying, working with the CKNW Orphans' Fund for Pink Shirt Day from February 6 – 22, 2017. Bullying at schools and work places is still very much a problem and by pledging to support this initiative, you are helping to eliminate bullying, offering support to those who need it and most importantly, making sure no one feels alone. Children who are bullied suffer more headaches, stomachaches, depression and anxiety, they are at greater risk of suicide, and they are more likely to miss school or suffer poor grades. This is just a few statistics from Prevnet.ca and many reasons why we support #PinkShirtDay wholeheartedly. Let's end bullying – together.
So how can you help? Visit Metropolis at Metrotown from February 6 – 22 and share your pledges on how you can Make Nice and what random acts of kindness you can do for others through the Metropolis at Metrotown digital channels. You can enter on Facebook, Twitter or Instagram using the hashtag #METMakeNice and tagging @metropolisatmet.
Make as many pledges as you can, for every pledge made, Metropolis at Metrotown will donate $1 to the CKNW Orphans' Fund (up to $5000). And for sharing what your random acts of kindness may be, you'll be entered to win a grand prize that is sure to help you "Make Nice" with a few of those closest to you – with a $500 shopping spree and a $500 gift card for their favourite local charity.
Don't have a social media account? That's okay! You can still make your pledge online to enter the contest – head over to www.metropolisatmetrotown.com to enter your pledge and enter to win!
On Pink Shirt Day (February 22nd), Metropolis at Metrotown encourages you to wear a pink shirt to support this antibullying movement – you can purchase your pink shirts at London Drugs or the Boys & Girls Club or even just dig through your closet for something pink! Students from the nearby Windsor Elementary School and Maywood Community School will be carrying out random acts of kindness to surprise and delight shoppers so don't be surprised if you're blessed with a random act of kindness. Want to pay it forward? Pink Shirt Day is the perfect day to perform your own random acts of kindness. In addition, Maywood Community School's entire student body will be performing a flash-mob dance performance in Grand Court.
If that isn't exciting enough, Helisa from BC MOM will also be on site for the second year performing some of her own random acts of kindess during Pink Shirt Day so if you see her, make sure to say hi and pose for a pink shirt selfie!
"By taking part in Pink Shirt Day and raising awareness through working with the CKNW Orphans' Fund, Maywood Community School and Windsor Elementary School, Metropolis at Metrotown is actively promoting kindness, solidarity, and tolerance towards each other," said Judy Black, Marketing Director of Metropolis at Metrotown.
Make sure to pop by Customer Service at Metropolis to grab your official Pink Shirt Day "Make Nice" buttons for $2/button from February 6 – 22, with all proceeds going to the CKNW Orphans' Fund.
Metropolis wants to #METMakeNice for one lucky fan and has generously given us a $100 gift card to share with one lucky reader! Contest is open to residents of British Columbia who have reached the age of majority. For each entry to count, please be sure to leave a SEPARATE comment or your entry will only count as 1. Contest ends February 17th at 12:00pm PST. Good luck!
How to enter;
LIKE British Columbia Mom & Metropolis at Metrotown on Facebook (1 entry)
FOLLOW British Columbia Mom & Metropolis at Metrotown on Twitter (1 entry)
ENTER the #METMakeNice contest and share your Random Act of Kindness in the comments (1 entry)
TWEET This (1 entry, daily); [Tweet "I pledge to #METMakeNice this #pinkshirtday & want to win a $100  @metropolisatmet GC! #YVR"]
SHARE this giveaway via one of the buttons below! (1 entry, daily)
That's it! We hope to see you at Metropolis at Metrotown for Pink Shirt Day!
Want another chance to win? Visit Heydy over at Raising Jay and Abel or Jamie Khau at Styling The Inside who both have a $100 gift card to giveaway!