Valentine's Day is fast approaching. I have cards for the kids' school, treats for the parties, and some chocolates for the kids, and I felt pretty prepared. Until I realized I had done nothing for my husband! We don't make a big deal out of Valentine's Day, usually flowers or chocolate, maybe a night at the movies if we can secure a sitter. But I really wanted to do something different this year. Since our youngest started Kindergarten in September and our daughter added a touring choir to her busy music schedule, we've been busier than ever. All this running around, working, reading, writing, play dates and birthday parties have left us with very little time for ourselves, never mind time to be romantic. And the time we do have to unwind together, we fall asleep watching tv or playing on our phones. I know, I know. But I also know we aren't the only ones.
Don't get me wrong, we show each other we love each other all the time. It's just that now with two kids, showing love looks like taking over the bedtime or bath routine, cleaning the house unexpectedly, or grabbing a favourite snack when grocery shopping. And if I'm honest, that's one of my love languages. But, we've felt a little out of touch lately and I wanted to do something that would help us reconnect more than a dinner out or a box of chocolates can. In the past, we had talked about maybe booking a couple's massage, but we are pretty budget conscious, and just couldn't justify the cost for an hour or so, even if it was bliss. But boy could we ever use some pampering!
The solution? Pamper ourselves!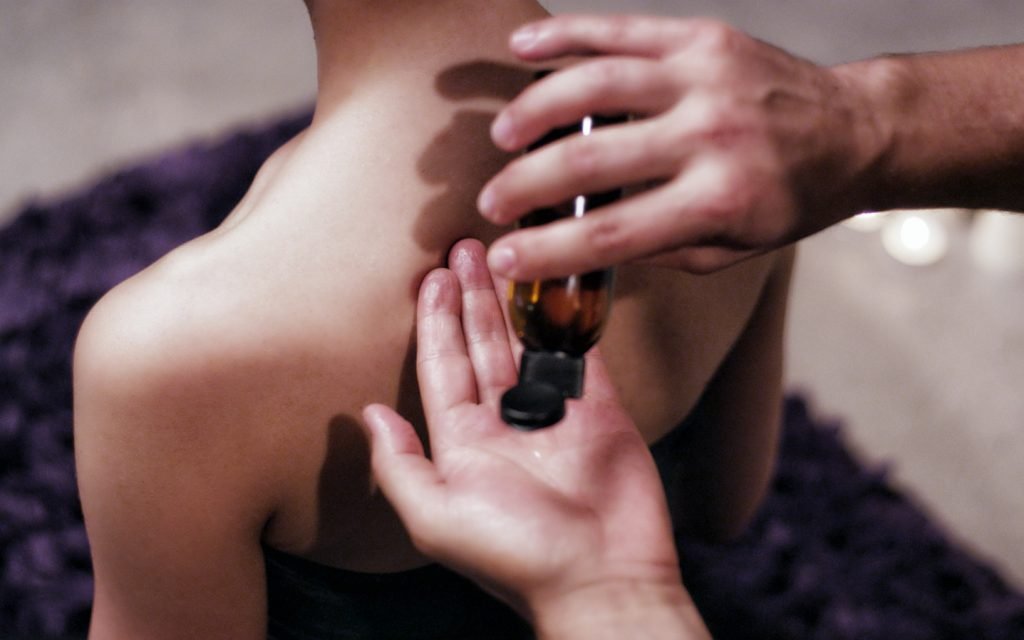 He's always loved a good massage. And if we are mentioning love languages, touch fills his top three spots. He works really hard, and what better way to get back in touch with each other than to be actually touching? Doing it myself rather than sending him for a massage gives it that intimate feel I've been looking for. But, while I give a pretty decent massage, I've always wanted to learn new techniques; and with the aforementioned two kids, I just don't have time for a workshop.
And then I was introduced to Melt: Massage for Couples, a video series. There are all sorts of exercise videos and yoga videos out there so I was very curious to check it out.  And each video is short enough to fit into anyone's routine. I mean, who can't set aside 15 minutes once in a while to better their relationship?
This tastefully shot instructional series actually began as a 'personal routine' that Massage Therapist Denis developed as part of a plan to woo and melt the body and heart of Emma, a friend and Relationship Expert he had his eye on. It worked! After years of keeping this routine a secret, Denis and Emma, now husband and wife, decided to combine their skills and work on a releasable series that was easy to understand and incorporate into at home routines to help other couples get more of that loving feeling. And after all, we all deserve a good massage!
Before grabbing the massage oil, I recommend setting aside some time to watch the introductory videos to learn how to set up the ideal massage area (hint: it's not a bed!). The short videos each focus on a different technique taking you through different strokes, tension spots, body parts, even trouble shooting. You will be guided through beginner routines and more advanced, even deep tissue when you feel confident in your skills. You will also learn techniques to save your hands and thumbs from the fatigue we often feel when giving a rub down. And the best part? There are routines that you can download to take with you anywhere, no internet connection required.
Actually, the best part is feeling your partner literally melt beneath you as you apply your new knowledge to their tight aching muscles…and knowing that they can learn as well to return the favour!
With Valentine's Day approaching, there's no better time to invest in your relationship by investing in Melt. Especially with their Valentine's Melt Massage offer!
For just$99+tax you will get full access to the complete Melt Video series, which is a savings of $72! And we love saving… and backrubs. You know what else we love? Free. And I'm talking free foot rubs with the bonus Couch Series foot rub videos. It also comes with life time access and a money back guarantee so you can't go wrong.
MELT VIDEO SERIES + BONUS FOOT RUB VIDEOS
Complete Melt Video Series + BONUS Foot Rub Videos For FREE
Valentine's Sale $99 (ends Feb 14) Usually priced at $171, save -$72- and if you like, you can also utilize the payment plan of $22/p month (for 6 months)
What's Included:
17 Back Rub Techniques

3 Back Rub Routines (from Basic to Advanced)

Foot Rub How To Video + Routine Video

Includes Massage IOU Printables for a Little Fun
Ready to grab your videos? Make sure to head over to register and grab your free gift. Promotion ends February 14th, 2017.
Think about it…a life time of massages and quality lovin' time for the price of one. That's a deal I just couldn't pass up. And now, if you'll excuse me, I have a sensual date night to plan.
{Disclosure: Melt was kind enough to sponsor this post however, we firmly believe in the power of massage.}