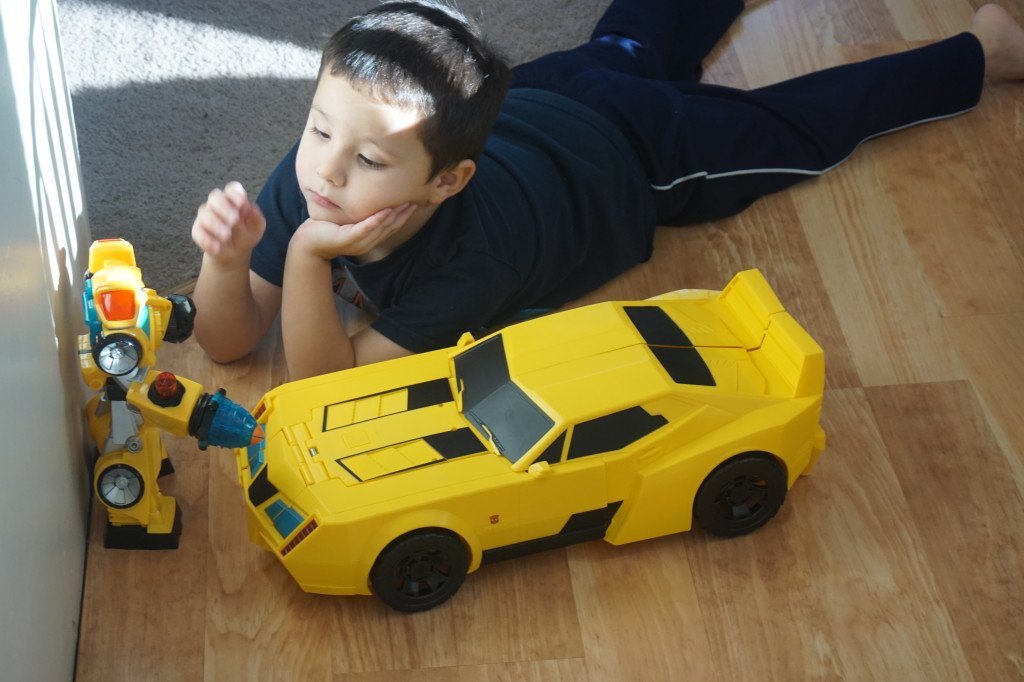 When can a bumblebee and a boy be best friends? When he's Bumblebee the Transformer of course! And this Transformers: Robots in Disguise Super Bumblebee is big enough to be seen, fast enough to chase the enemies and plays the actual 'transformation' sounds  so my son doesn't have to provide the sound effects. This super action figure is durable enough to survive many a crash while in car-mode and is super easy for kids of all ages to turn into its Autobot form and back in three easy steps. Bumblebee also has lights, stands on his own and can talk!
This high-tech Super Bumblebee figure is a fast-moving Autobot with the cunning to outwit and the speed to outmaneuver his Decepticon enemies. His lights flash as he makes sounds. He converts in just 3 steps from fierce robot mode to fast-moving sports car mode, and he's got the speed and smarts to take on any Decepticon foolish enough to get in his way!
Breton could not believe his eyes when he saw this behemoth Bumblebee waiting for him, and the packaging could not be removed fast enough. Thankfully, for the size of the toy, the packaging itself is pretty minimal, recyclable without having to peel off plastic windows and was easy enough to remove. It also came with demo batteries included, which is a huge plus on Christmas morning, so he was able to hear all of the sounds and music right away as he zoomed the car about and then transformed to hunt the bad guys.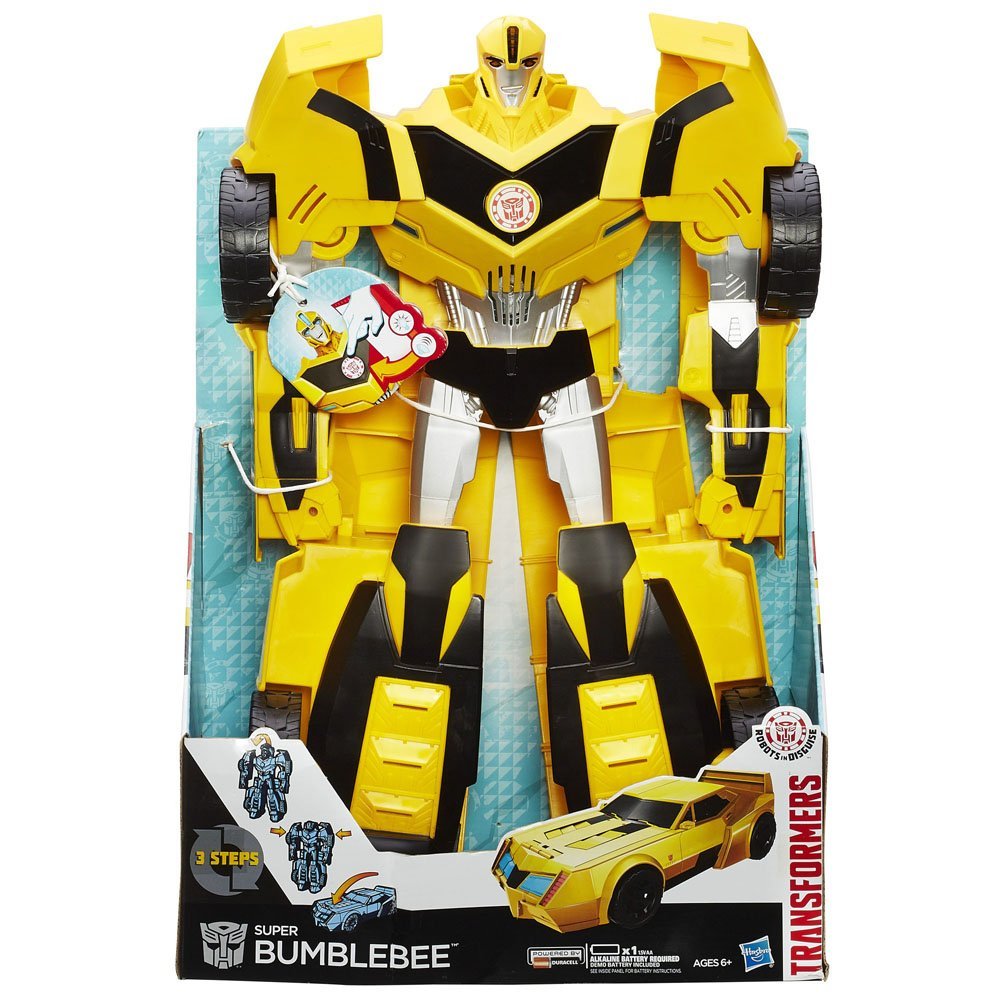 It didn't take long before Super Bumblebee was brought upstairs and introduced to the rest of the Transformers crew. Despite his size, this Bumblebee is very light my little guy had no trouble carrying him throughout the house. And, while he dwarfed even the biggest Transformer my son owned, he didn't seem upset by being the largest of the bunch, and everyone seemed happy to add another member to the team, even the other Bumblebees.
This Transformers: Robots in Disguise Super Bumblebee figure is also apparently the perfect size to snuggle with. Yep, he enjoys the prime real estate that is the top of any kid's bed, and my son also gives him a goodnight kiss. D'awww
The Transformers:Robots in Disguise Super Bumblebee Figure is suggested for ages 6+, with that 3-step action being perfect for the younger ones, and has a suggested retail price of $59.99. With it's size, capabilities and our son's love for Bumblebee, this would have been on our gift list for sure.
//
Connect with Hasbro: Transformers
Website | Twitter | Facebook | #PlayLikeHasbro
{Disclosure: We were provided with a sample – that we personally chose – to facilitate this review. We have a fan on our hands! All opinions are our own.}