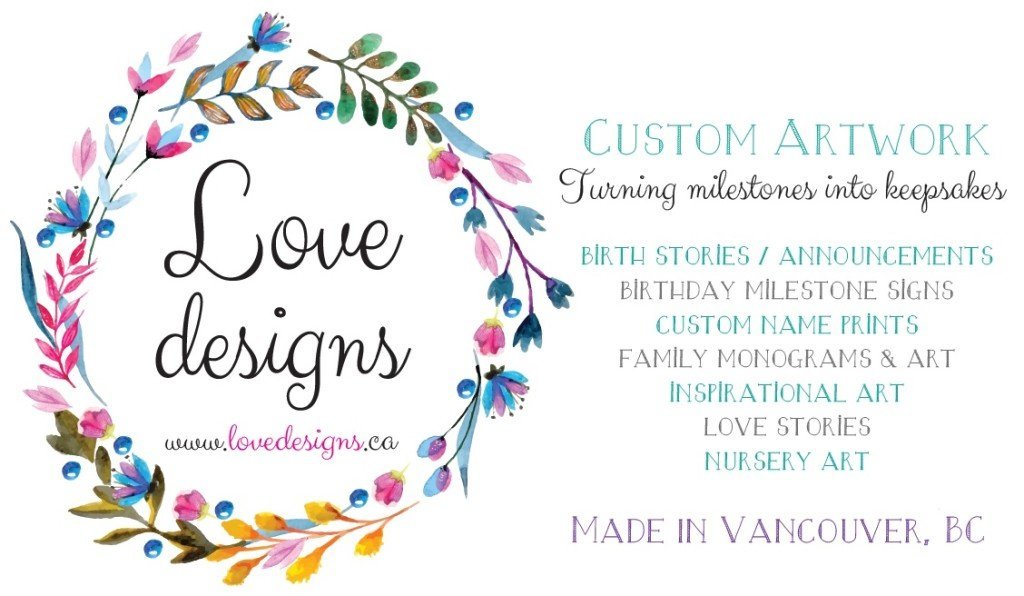 When Alivia was little, I was the doting mom. I recorded every milestone, every step, tooth and word. I wrote her little love notes in her baby book and took the time to organize, sort and display some of her artwork as she got older. Now that she's almost 5 and basically never stops moving or talking, I've found it a bit more difficult to keep up with everything. I wanted a way to display important moments, to create something that wouldn't be lost on a small piece of paper inside her baby book, or end up inevitably being misplaced or tossed away by accident. I wanted something that she'd look back on as she got older and learn more about the little person she was!
I'm also a total sucker for personalized gift ideas. I didn't really take into account how much difficulty we would have finding things with "Alivia" written on when we named our daughter so we've really dived head first into finding as many custom made items as we can! Surrounding her with fun artwork, hand made items that all spell her name has helped her with early letter recognition and let's be honest.. they just look super cute on the wall.
When I was eager to start replacing the mish-mash of memory notes in her room it just so happens I was approached by Stephanie from Love Designs with a generous offer to create a custom designed milestone photo for her room. She pretty much solved all my decorating dilemmas by introducing me to these! I sent her over a bit of inspiration, colours and designs that I felt would be great fit for Alivia and her room and waited patiently, Steph had proof to me promptly and I fell in love. She captured the whimsical design I had hoped for and included important memories we wanted to remember as Alivia grew out of her "preschool" stage. The words may seem little on the paper but each time we look at "Jumping", we picture Alivia non-stop playing on her trampoline, or "Splatter Painting", it reminds us of the many requests to throw paint at walls. It's truly become a well loved, cherished memory for us. I was also super impressed with the beautiful paper she used for the print – it's a beautiful shimmery colour that matches our frame perfectly!
As I look back on her as a baby, I can't remember those cutsie words, or what her favourite friends and toys were. Stephanie solved that problem for us, and we can't wait to order our next "At age 5!" milestone photo.
Right now, Milestone Birthday Art is all the rage at pretty much every party we've been to. It captures a year of memories, celebrations and favourite things and turns it into a piece of art that will last through the years. Not seeing what you're looking for listed? Just send Stephanie an email with what you're looking for, as a custom graphic designer she can create the perfect art piece for you.
Love Designs doesn't just create one type of art though, they create custom graphic design art, specializing in custom keepsakes that go far behind just milestone boards! Whether it be a gift for an expectant or new parent, a mother or fathers day gift, family art or even wedding programs or announcements, Love Designs can turn whatever you envision into a statement piece sure to have everyone talking! Looking for that perfect family art for the living room? Or a custom name design for a birthday gift? They've got you covered! Not super fabulous in the home decor area (much like me?) – they also offer framing of your new art, so one less thing you'll need to worry about.
I was pretty excited to learn that we had a custom created design from a company that was featured in the 2016 Oscar Celebrity Gifting Experience too, Love Designs offers affordable custom keepsakes that are both elegant and beautiful, capturing important memories before they slip through our mommy brains!
Love Designs is generously offering British Columbia Mom fans 10% off their orders! Just use code "bcmom10" at checkout. Discount code expires May 8, 2016 so make sure to use it promptly! We hope you'll discover a piece of art that speaks to you!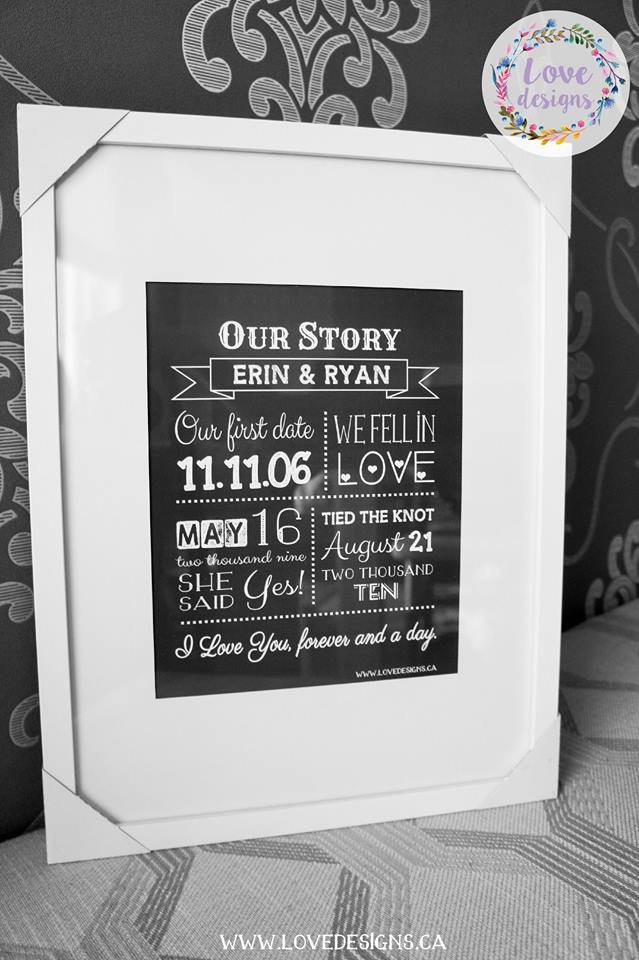 Exciting news…. not only do British Columbia Mom fans have exclusive access to the discount code, we also have an amazing giveaway happening! Enter below to win Custom Personalized 8×10 Love Story Digital Printable – prize will be emailed to winner. Open to residents of Canada.