Calling all prince, princesses and superheroes of all ages! It's one of our favourite times of year and you're invited to experience a day of magic alongside some of our favourite characters. The 8th Annual Princess & Superhero Tea to benefit the Children's Wish Foundation tickets are officially on sale – don't wait to grab yours, they sell out every year!
This event is up there on the list of Alivia's favourites and each year she meticulously marks it on her calendar and lays out her Princess attire for the day. If you have a little one who loves dress up, loves a day of mini pampering and of course, loves Princess' and Superheroes, you won't want to miss this.
Party time aside, there's so much more to the Princess & Superhero Tea Party. Each year, the Langley community and more come together to grant a wish to a local child diagnosed with a life-threatening illness. This year, your support of the Princess & Superhero tea party will help us to grant a magical wish for a very deserving little boy — Jaxson.
When Jaxson was three years old, he was diagnosed with kidney cancer that had spread to the lungs and brain. In just over a year, he's been on a long journey that involved intense treatment in hospital and many scary moments for the whole family. But now four, Jaxson is finished treatment and beginning to resume a normal childhood – but it's taking time.
Jaxson has a big personality with a silly sense of humour and a huge love for Thomas the Tank Engine. He lives for playing outside with friends and cherishing the time he spends with his family. His parents say his determination to never give up helped them to appreciate every moment, good and bad, as things could change instantly. They continue with monthly follow ups with Jaxson's doctors and are working on building his strength and muscles so weakened by treatment.
When Jaxson learned he could have a wish with Children's Wish, his eyes lit up with a big smile and he said "Oh boy oh boy!" He's chosen to go to Disneyland to meet Mickey Mouse and all his friends, a gift so much deserved.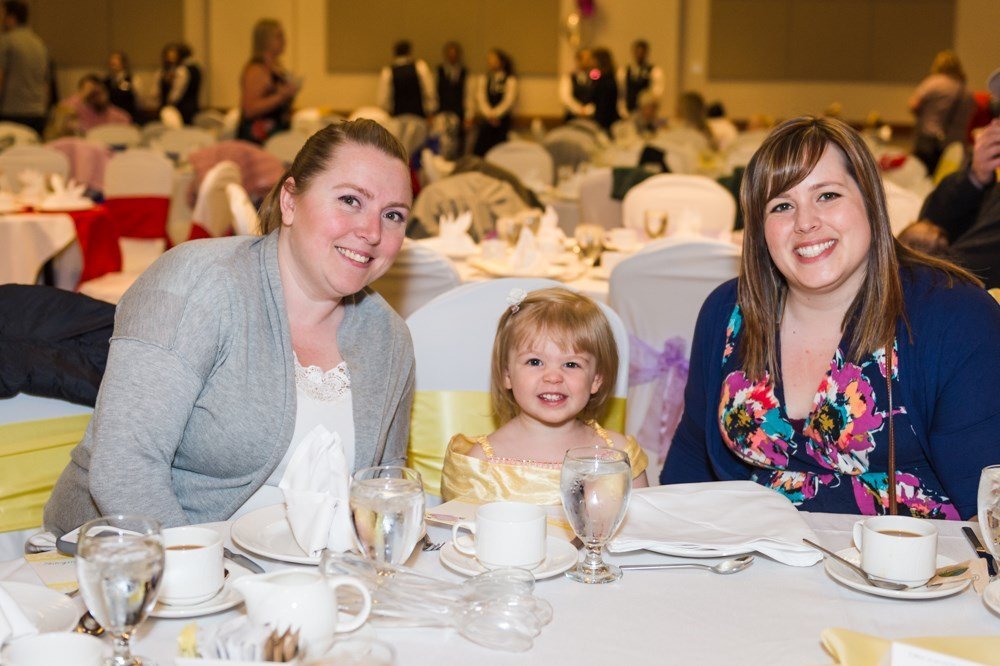 We have been huge supporters of the Princess & Superhero Tea for the past 4 years and have seen just how much work is poured into the event to make it magical for every attendee, big and small! Your ticket includes an elegant high tea inside the Coast Langley City Hotel & Convention Centre, access to crafts, pampering, dancing, singing and so much more. This event is an enchanted day overflowing with magical fun!  Regal princesses, brave superheroes, and unicorn princesses mix and mingle with their favourite characters, as they enjoy an action-packed party filled with all things Princess and Superhero! You don't want to miss it.
Don't forget to check out the back wall which is full of silent auction goodies that also support The Children's Wish Foundation and get us one step closer to granting Jaxson's wish! I've picked up BC Lions tickets, a plane tour, a wine basket and there is usually 20+ things to bid on!
IF you happen to be planning a Disney trip any time soon, this is also the perfect event to have a bit of fun with. We went last year just before our trip to Disneyland and Alivia was able to share with the Princesses that she was going and they all shared in her excitement.
Event Details
Date: June 9th,  2019
Venue: : Coast Langley City Hotel & Convention Centre at Cascades Casino Langley – 20393 Fraser Hwy, Langley BC V3A 7N2
Parking: Ample free parking in the Convention Centre parking lot
Time: 10:30 a.m. – 1:30 p.m.
Tickets: Tickets are $40 per person, or $140 for a family of four. Children under the age of 2 are free however they do not receive a seat (they can sit on your lap). Don't forget, your ticket includes everything! Your only job is to show up and have a magical time. Grab yours now!
Connect with Children's Wish Foundation
Website | Twitter | Facebook
This post is shared with you in partnership with the Children's Wish Foundation.