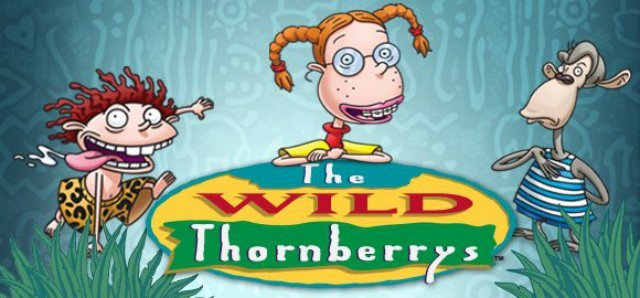 Join the wacky, and definitely wild, Thornberry family on their fantastic adventures across the globe as they travel in their ComVee (communications vehicle) in search of different animal species to capture on film in Wild Thornberrys: The Complete Series brought to you by Shout! Factory. This is no ordinary globe-trotting family. Youngest daughter Eliza, after a strange experience with a shaman, now has the ability to talk to and understand animals, leading to many learning experiences and mishaps along the way. With Darwin the chimpanzee, the 'foundling' feral little brother Donnie and older sister Debbie who is your stereotypical teenage girl, the Wild Thornberrys never have a dull moment.
With its vibrant animation and charming storytelling, plus an all-star voice cast featuring Lacey Chabert (Party Of Five), Tim Curry (The Adventures Of Jimmy Neutron: Boy Genius) and Flea (The Red Hot Chili Peppers) The Wild Thornberrys an epic adventure that's fun for the whole family.  Produced by Klasky-Csupo for Nickelodeon, The Wild Thornberrys premiered in September 1998 and aired until 2004 with reruns airing on Nicktoons and CBS from 2002-2007.
Originally aired on Nickelodeon, and now available at Walmart, this 15-DVD set is jam packed with insights into the lifestyles and habitats of different animals, especially thanks to Eliza, hilarious situations courtesy of the whole family, and voice talent brought to you by names you may recognize like Tim Curry, Lacey Chabert and Flea.
My kids have really been getting into the Wild Thornberrys since having the collection, and seem to have Thornberry marathons on the weekend. I love it when my youngest excitedly comes up to me with new animal facts, or funny stories about things that the animals have said. This will make a great set to pack for travelling on our own adventures too!

Connect with Shout! Factory Kids


Facebook

|

Twitter
Shout! Factory and BCMom would like to give you the chance to win the Wild Thornberrys: The Complete Series on DVD to put under your tree this Christmas. Enter below!
a Rafflecopter giveaway