We love toys that get kids moving, and having multiple purposes or features, like the ability to use it indoors or outdoors, adds to the longevity of a toy. One of the most played with toys in both our houses is a PlaSmart PlasmaCar. It's the first thing my son hops on to when he visits his BFF Livvy, and now that he has his very own, he uses it several times a day; when he needs a drink or anything from the kitchen, that is his only mode of transportation.
The multiple award-winning PlasmaCar is kid powered, no batteries needed, reducing the Christmas Day scramble in the junk drawers (or is that just me?). While assembly is required, hubby managed to put it together in less than five minutes, taking less time than it usually takes to get toys out of their packaging. No pedals, or foot power required, making this a great toy for all ages and abilities. The power to go is all in the steering wheel and innovative design, so put your feet up and wiggle away, literally!
We had the pleasure of featuring PlasmaCar in last year's gift guide and it very quickly became a household favourite for all of the kids, but with only one it was a game of taking turns, or piling everyone on at once! Now that we each have one, we just had to take them to the track to test them out outside, and why not make a race out of it? The kids had already mastered navigating the PlasmaCars from one end of the house to the other, so we figured we'd switch it up a bit with an endurance challenge around the track, it was a hit!
Now, we'd be lying if we titled this post that the PlasmaCar is fun for all ages and didn't demonstrate it right? Well, With a 220lb weight limit, you can bet my husband and I got in on the fun too! With a little bit of bending, we were easily able to hop onto the cars and set forth on our own race, with a little advice from Breton first of course!
Because there are no pedals or gears, the races were pretty evenly matched on a flat surface, even when it was kid vs adult, and we all had a blast! Nothing fuels a kid more than the possibility of beating their parent at a race, let me tell you….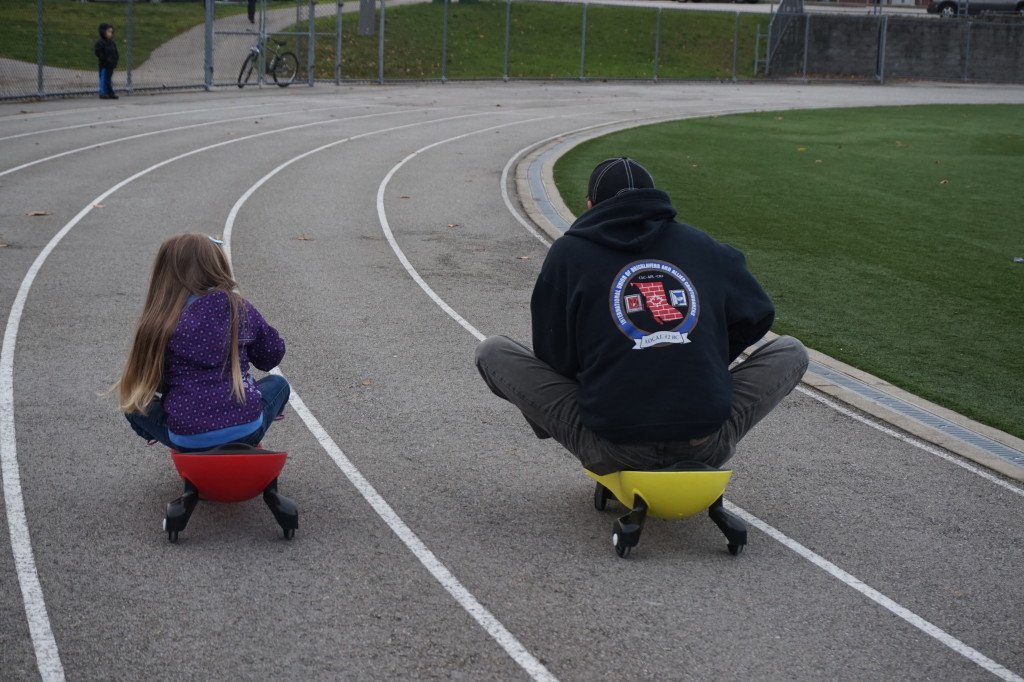 These nifty cars can reach speeds of up to 6km/hr provided you have a smooth flat surface, and once you get the hang of it, turning corners or going around obstacles is a breeze even in the tightest spaces. You can even reverse, quick turn the wheel to stop, and, if you are like my son, use your feet to steer while your hands are busy collecting food or toys (he has other stunts, but I wouldn't exactly encourage them without a helmet and something for your nerves). After having the PlasmaCar in our house for just a week, he's mastered using it! We encourage the physical activity and exploration, and it's kind of fun to chase him.
Interestingly enough, it also makes a great science discussion piece; our oldest can explore natural forces like inertia, friction and centrifugal force in super fun way which helps make practical sense of topics discussed in school.
I love that the PlasmaCar is lightweight, so not only can I bring it in and out of the house easily for trips to the track or a friend's house for some races, but my 4-year-old can carry it to different parts of the house and it's easy enough for him to maneuver and "park" at the end of the day, giving me one less thing to pick up after bedtime.
It should be noted, however that use of the PlasmaCar on hardwood floors may result in scuffing and/or scratching, but after a full year of use in Tara's house, the 'damage' was negligible and easily buffed out with a little TLC on mop day. We do recommend checking your wheels for rocks or debris if you decide to take it for a spin outside and bring it back inside – just in case.
This has easily been one of our top holiday gift guide items 2 years running, and we are so happy to be able to give another one away this year! That's right, one lucky reader will win a PlaSmart PlasmaCar of their own! Enter below!
Want to TRIPLE your chances of winning? Visit our friends over at Raincity Parent & This West Coast Mommy for more chances to win a PlasmaCar!