If you have lived in Vancouver very long, or even visited over the past few years you're likely to remember a few big changes to the Vancouver Aquarium. My most fond memory is definitely of the Orca statue that used to reside outside the old aquarium entrance, years and years ago I remember being super excited as a kid to get to splash in the water and toss in coins. The aquarium has been going through a few big changes over the last few years and that included an entirely new (temporary) entrance at the other end of the building while they worked on the biggest expansion in their history!
I was one of the lucky winners from www.yoyomama.ca and was able to experience the new expansion on opening day! It was such an amazing experience to introduce my daughter to some of the great memories I had growing up. Most specifically… the iconic orca statue has returned and is prominently displayed outside the new entrance!
A group of us lucky winners also received a souvenir coin to commemorate the event, it is absolutely beautiful and already tucked into Alivia's memory box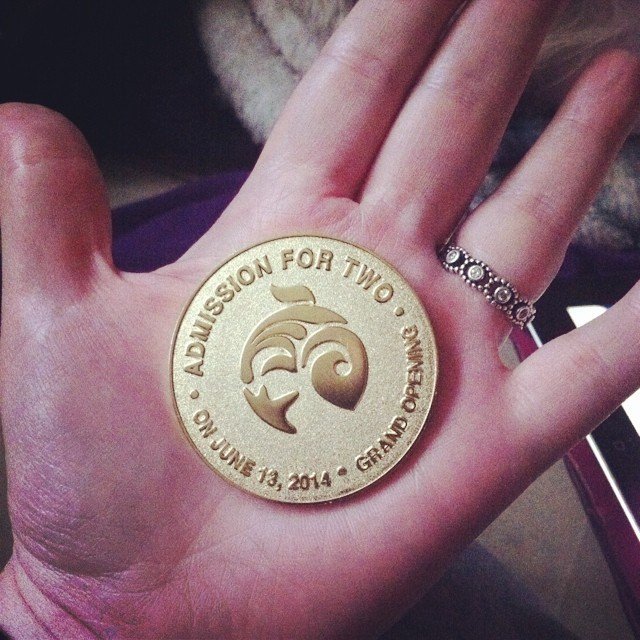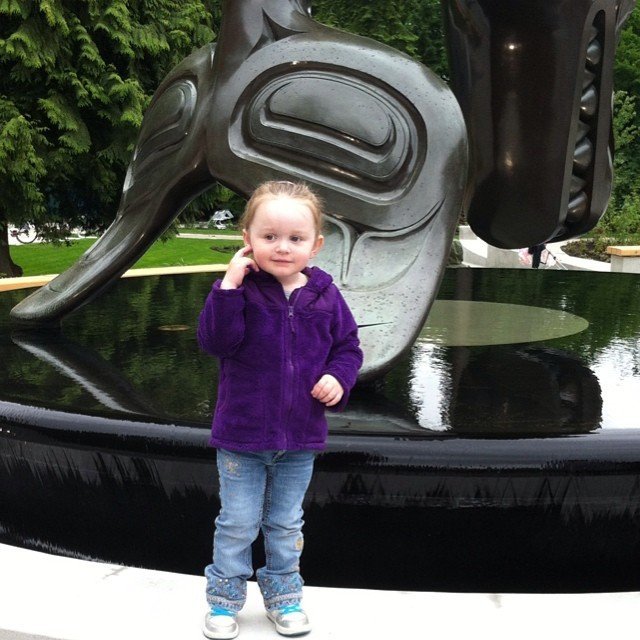 The aquarium was pretty great to us and actually supplied us with 2 golden coins, that gave us entry for 4 and with littles 3 and under being free we were able to maximize the passes! My friend Rhiannon, my momma & I headed to the aquarium with 3 kids bright and early and started to check out all the new areas. Most notably is the new entrance; with dedicated lines and open check out counters the payment process is much quicker and there is plenty for the kids to see while you wait in line without having to worry, the old entrance was very close to the parking lot which definitely made standing in line for extended periods of time a bit of a hassle, that has been completely re-vamped and offers a much safer alternative.
As soon as you walk into the new entrance you'll notice a new courtyard area with outdoor seating for the new cafe! It is pretty great that you can grab a snack on your way in or out without having to tackle the huge line at the cafe located by the belugas. During the summer this courtyard will be home to concerts, educational programming and special events. Overlooking Stanley park it's a great place to just sit and enjoy some music.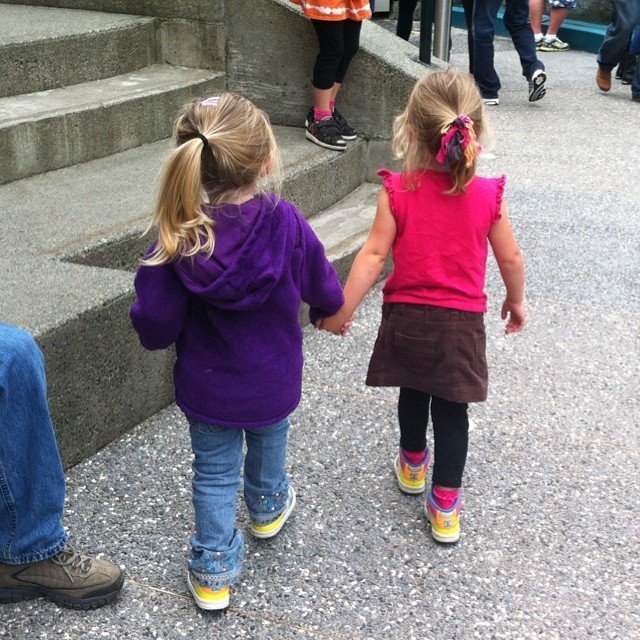 I could probably write up a HUGE post about everything that is new and exciting at the Aquarium but I really think this is something everyone needs to experience! If you have little ones, they have really opened it up to be fun and interactive for them. Make sure to check out ClownFish Cove and the interactive learning room where staff lead the children through touching (gently!) crabs, starfish and more.
Now more than ever, The Vancouver Aquarium needs our support, yearly memberships can be purchased at the box office or online and directly helps their conservation efforts and caring for the animals. As a non-profit society you can feel great knowing that you are supporting an amazing cause!