I had the great honour of attending ChickAdvisors very first Showcase Vancouver event in June at the Rosewood Hotel Georgia in Vancouver, British Columbia.
Tickets for this event went on sale a couple of months before the event and were a very reasonable $25. This included entry into the venue, a high tea setting and a slew of awesome products to review, try and take home!
As a full time working mom to a very energetic toddler I find it pretty hard to find time for "me". Shaving my legs before going to the pool? Pretty much happens 5 minutes before I have to leave to take the monkey for swimming lessons. Eyebrows? When they are pretty close to caterpillar status. I'm sure millions of moms out there can relate, I decided when my friend Helisa told me about this event that it was going to be a treat to myself, a whole afternoon of laughs, fun and beauty with some girlfriends!
Before we even had a chance to review the products we were pampered with delicious appetizers and desserts; all of which definitely got my seal of approval! I had a bit of an incident and dropped my delicious chocolately goodness on my plate… it was delicious none-the-less.

Soap & Glory Sexy Mother Pucker XL Extreme plump lip shine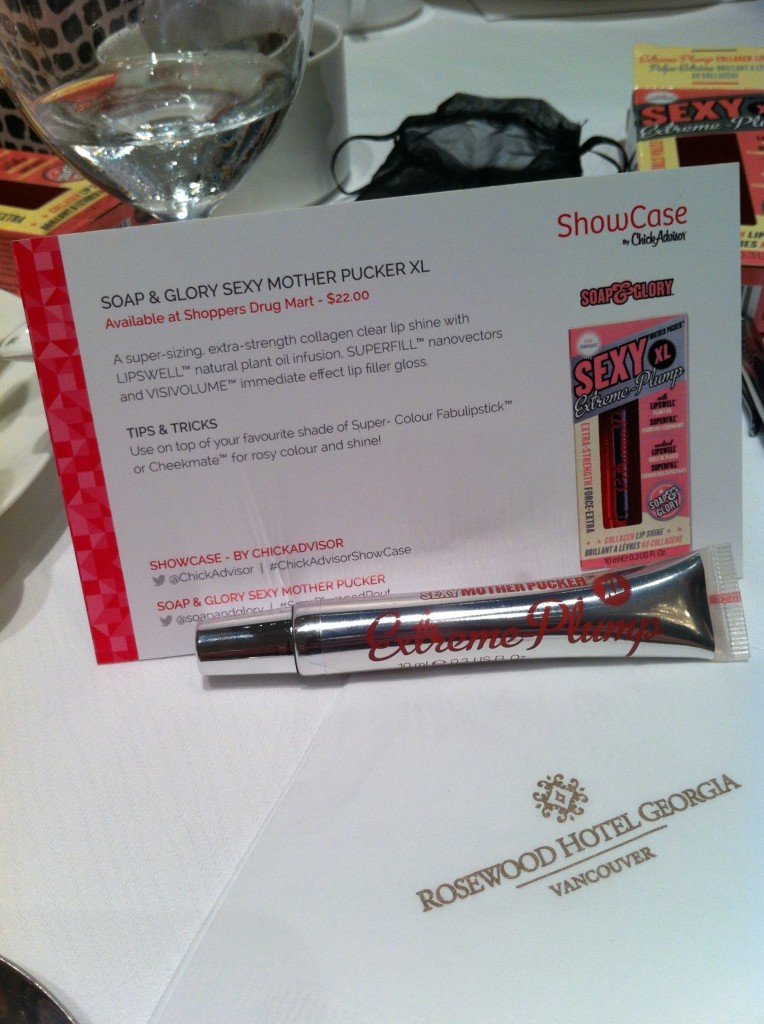 I was hesitant to try this product at first, previous experiences with lip plumpers have been a little terrifying, bee-stinging, bright red lips weren't my idea of sexy! I was pretty impressed with this lip shine, it went on smoothly with a great applicator and you really didn't need to apply much to get the desired effect. The sensation on my lips after applying took a little while to get used to and definitely did distract me for a few minutes, the box does warn you however that the product will immediately "plump, buzz, tingle & zing!" and it definitely delivered. All in all, I will continue to use the product for big nights out but I feel I would have to re-apply a bit too often for everyday use. I would definitely recommend trying the Original Strength before the XL.
No Dark Shadows complexion enhancer
As soon as this product came out I was excited to tear through the packaging and try it out, one of biggest problem areas is dark circles under my eyes that only seem to get worse as the day goes on. Regular concealers just sit in the lines and make them more noticeable, No Dark Shadows however delivered flawless coverage! The applicator is genius, you twist and click as much as you need and can blend with the same brush, I do recommend sealing it with a translucent powder to prolong wear. The shade I was given was a perfect match to my skin tone and I've already tossed No Dark Shadows into my everyday make-up bag. Definitely a five star product for me.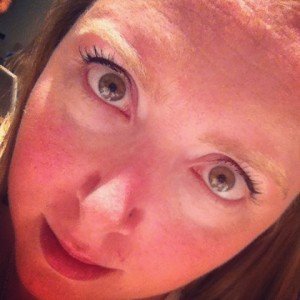 GOSH bronzing shimmer powder
I am a huge fan of GOSH products so I was pretty stoked to get to try their new illuminating bronzer; unfortunately the very first thing I noticed when it arrived at the table was the glitter. Oh.. the glitter! Moms of the world understand that glitter is like a ninja.. you think you got it all and it shows up a week later.
We were provided with a make-up sponge to apply the bronzer and that definitely proved to be difficult, it was hard to control the amount applied and to focus on highlighting areas. I found it much easier to blend with my hand instead of the sponge. One of the lovely ladies at our table discovered that we could brush off the top layer and most of the glitter on the top layer would come off. Once you got down to the actual compact it was easy to appreciate the product, the colors work well for any complexion and really do give a beautiful shimmery, summery look to your skin without having to use a lot of product.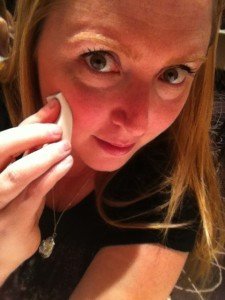 Skinny Cow Dreamy Clusters milk chocolate
Anyone who knows me knows that chocolate is a food group in my house, I had high hopes for a low calorie option to throw in my purse for a quick snack but unfortunately this was not it. I was not a huge fan of the waxy taste the chocolate left in my mouth. They may be a great option for someone looking for a quick, guilt free snack but it is not for me.

Rocky Mountain Soap organic sugar scrub
I think sugar scrubs are awesome for everything from relaxing bubble baths to super quick showers, they buff your skin to a sheen and if you are lucky enough to find a great organic product with no additives you can feel great using it everyday. I was immediately impressed with the smell of french lavender from this scrub and found myself smelling my hand even after we had moved onto a new product! The balance of sugar to oil is perfect in my opinion, when rinsed off it leaves your skin feeling soft, supple and glistening. Perfect for my everyday routine!
 Kleenex Expressions by Isaac Mizrahi

When we arrived at Showcase:Vancouver, this beautiful little box was sitting at each place setting at the table, right away I was in love with the design on the box and found it something I would display proudly around my home. When it came time to review I wasn't overly impressed, it felt like regular tissue in a bit of an over-priced box. I don't think I would go out of my way to purchase this unless I managed to find it on an awesome sale.
Soap & Glory Heel Genius foot cream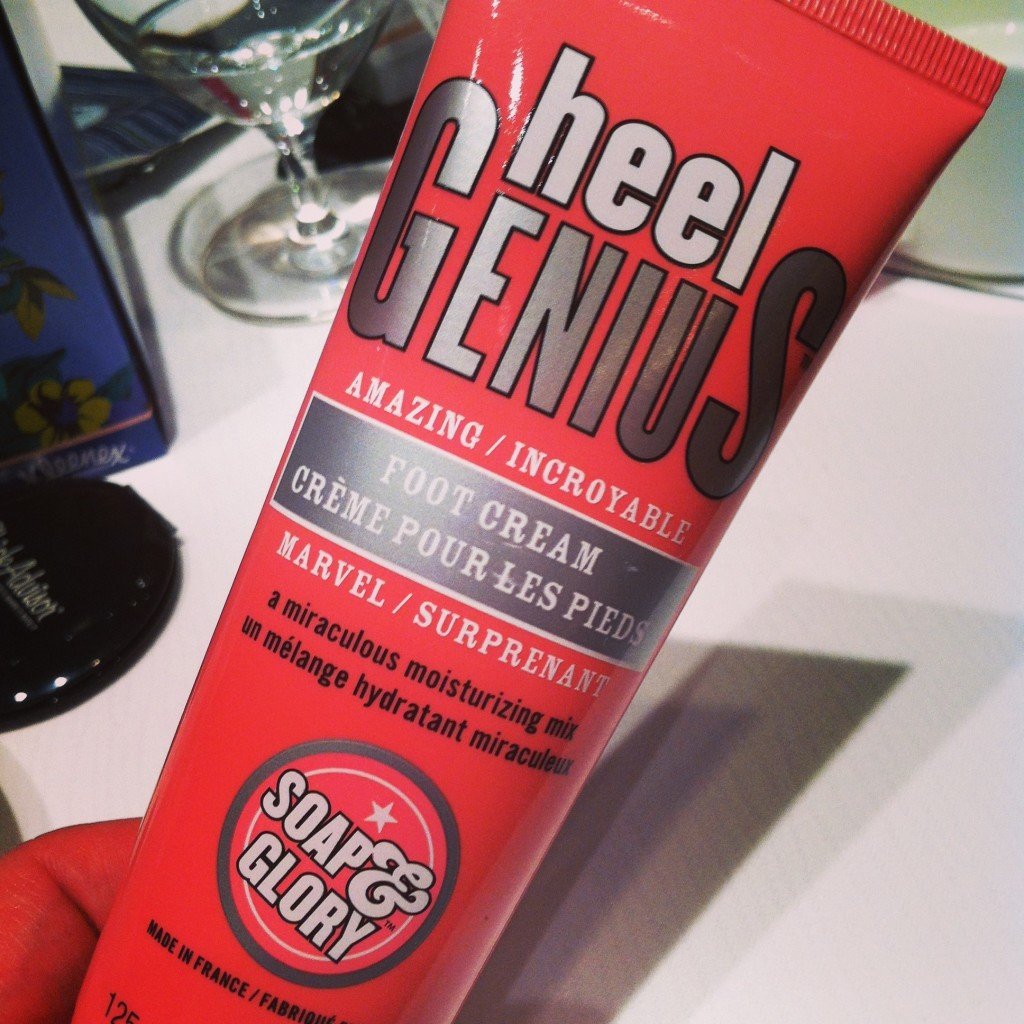 I have not so pretty heels in the summer time, walking around in flip flops all day seems to do a number on the skin! I was drawn to the beautiful soft pink bottle and the word "AMAZING" on the packaging, pretty big claim they were making… and proving. Immediately I noticed a difference in my feet after applying, the product goes on thick with a very faint scent and rubs in smoothly. I was most impressed by the fact there was NO residue left behind after applying, your skin drinks this stuff up. I've already decided this is my new summer weapon, welcome to my arsenal Heel Genius.
Skinny Cow greek frozen yogurt salted caramel
Chickadvisor really thought of everything. Pampering, chocolate and… frozen yogurt. No one thought I would take a silly picture enjoying mine but little do they know.. 😉 I did find that this product was up there with the chocolate snacks though, not one of my favorites, I could appreciate that it was a low calorie option and did enjoy the flavor. I'm not sure I would go out of my way to purchase them again, but I am curious to try some of the other flavors they offer.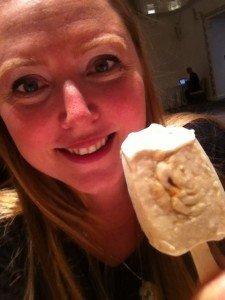 No Bleeding Lips secret lipliner


I don't really wear a lot of lipstick so I wasn't sure this would be a great product for me but it was brought out with a great lip colour that really showcased how well the liner worked at maintaining your color; regardless of how bold it is! It's easy to apply, translucent and small enough to toss into your purse for everyday wear.
Bourjois Paris color boost crayon
This product is definitely one of my favorites from the show, it glides on super smooth and I loved the coral color and found it matched great with my complexion. Combined with No Bleeding Lips, these two products are a power house of color, wear and last. The crayon tip makes it much easier to apply than a regular lipstick, the tip allows for precision application.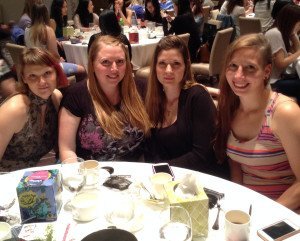 What are my final thoughts on the event? A total hit. I am thrilled I was able to attend and felt the ChickAdvisor team went out of their way to make the event fun, memorable and exciting. The buzz that circulated the room as each new product was distributed really kept the mood up-beat and fun. I am looking forward to attending again when they return to Vancouver. I definitely recommend grabbing a few tickets for you and your girlfriends to attend.
I was lucky enough to attend with a few close friends including Jenn from EnterHereCanada.com. Make sure to check out her blog for her reviews on the great products, along with her guest blogger Ashley.
Interested in what I had to say about the products while at the show? Check out my ChickAdvisor Profile: @lilmonke
Did you attend as well? I'd love to hear your thoughts on your favorite products from the show in the comments section.