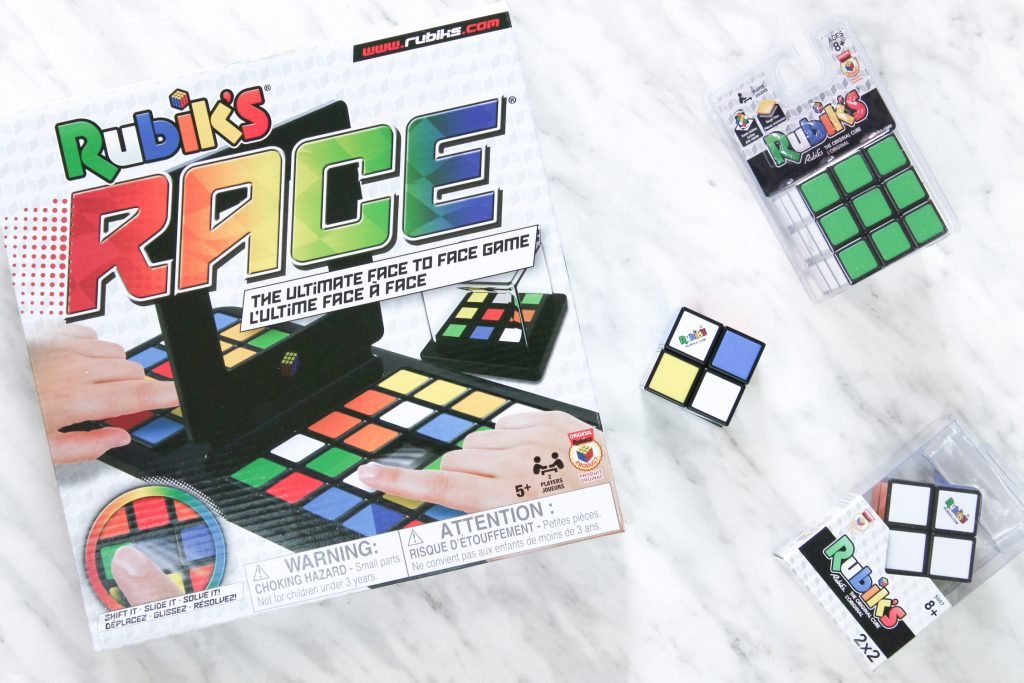 There are a few toys that have lasted the test of time from when I was a child. Anyone remember the weird telephone on a string toy with the wobbly eyes? One toy that has lasted both in popularity and being loved by all ages has definitely been none other than the Rubik's Cube.
Small story for you. 2 years ago, all Alivia wanted for Christmas was a Rubik's Cube. I have no idea where she saw one, but she was adamant that Santa bring her one. We managed to find one, wrapped it all up and she was so excited Christmas morning. That is until Dad opened it up and started playing with it. Can you see where this is going? The funnest part of the Rubik's Cube is solving it and seeing it solved, so when A saw it all messed up she was a little disgruntled.
I was determined to bring back some happiness in this story and spent literally HOURS online learning how to solve this tricky little 3×3. I wish I was kidding. I spent hours learning about the white cross, the 4 corners, the yellow face, you name it and I was ON IT. I learned about permutations, the golden number (it's 20 by the way) and just about every mathematical thing I could about solving this little cube. Worst part? I never could solve it. C'est La Vie.
In hindsight, we probably should have started with something a little bit easier? Thankfully, Rubik's has something for every skill level to help you master the cube and be a hero amongst few.
Start easy with The Edge puzzle, the easiest of the Rubik's puzzles by far and a great starting point for learning how to master the bigger cubes.. This single layer puzzle is designed to give you the skills to start working up towards the larger solves and a basic understanding of how the cubes work. It's slim enough to sit in your pocket! With only 192 permutations, it's a great introduction to someone interested in Rubik's Cubes. [Grab Yours Here]
Once you've mastered The Edge, you're ready to move up the original Rubik's Cube puzzles! The 2×2 puzzle, a gentle introduction to the 3×3 puzzle is still challenging for fans young and old. Unlike The Edge that has 192 permutations, the 2×2 cube has over 3.6 possible permutations and only one solution. Are you ready for the challenge? [Grab Yours Here]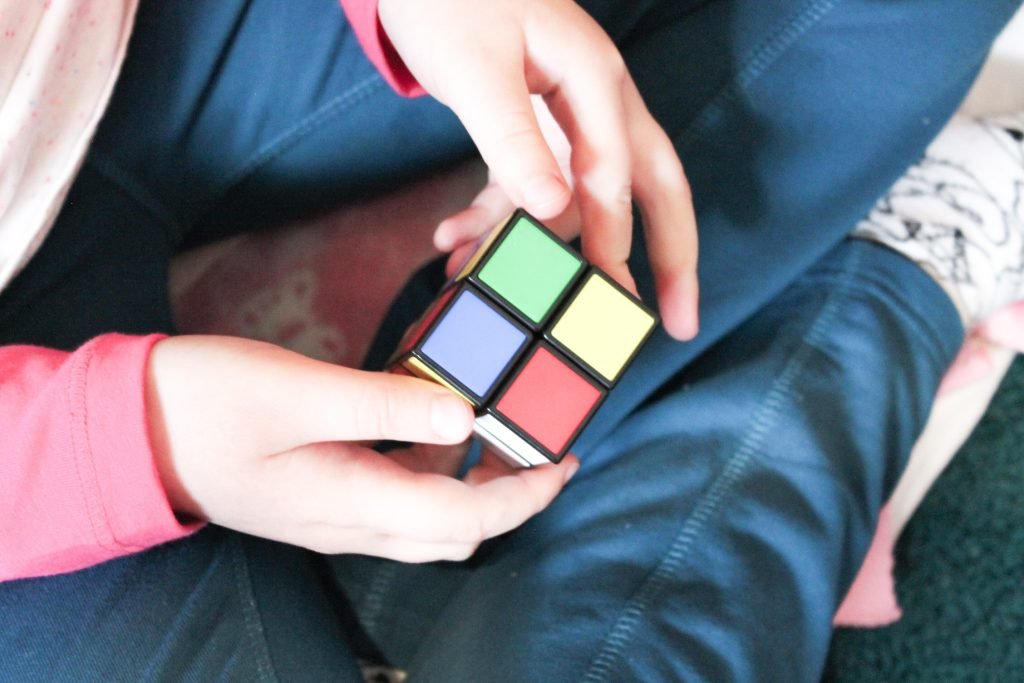 Lastly, and definitely not least –  one of my favourite cubes to play with is the 3×3 classic cube. One of the most recognizable of the Rubik's Cubes products and arguably one of the most difficult puzzles to complete. Ready for this? The 3×3 cube has over 43,252,003,274,489,856,000 combinations and only one solution. That may sound super scary, but with a few tips from seasoned puzzle solvers you'll be a pro in no time (and showing off to the kids.. just saying!) [Grab Yours Here]
Rubik's Cubes have come a long way over the past 40 years, including improved core design to prevent core popping, easier sliding to be able to flick them around at super speed with a smooth glide and now, they're stickerless. No more cheating with this puzzle!
Rubik's was kind enough to send us one of each of their puzzles as well as their newest addition to their puzzle games. The Rubik's Race is the only Rubik's game that is designed for two players to play head-to-head. If you're a fast puzzle solver, or looking for a challenging game that gets both your fingers and brain working at super speed, this is one you'll want to add to your shelf.
Rubik's Race is an innovative mix of Rubik's Cubes iconic puzzle-solving and a unique slide puzzle design that creates the ultimate face-off. Be the first to match your 3×3 center on your side of the board and bring down the divider and you've won! Don't be fooled though, it takes some speed, dexterity and quick thinking to match the design on the cube scrambler. One thing to note is that there is nothing holding the pieces into the board, so one little knock and pieces can go flying. It's best to play on a stable surface.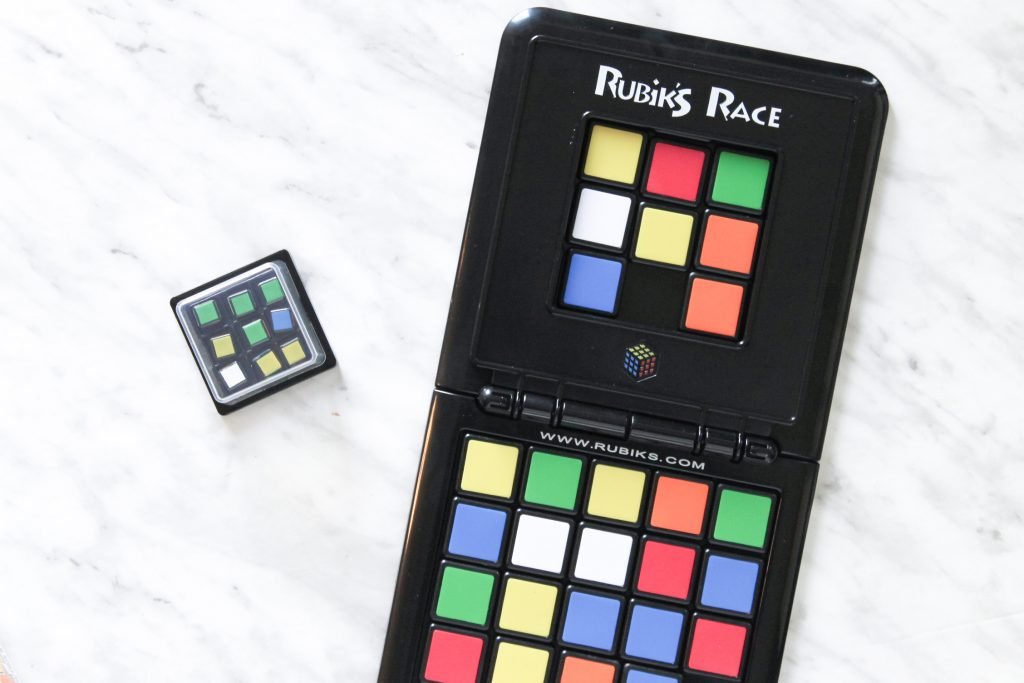 With the current state of uncertainty with time inside and needing ways to keep kids engaged and having fun, the Rubik's Cube is a wonderful, affordable brain challenging puzzle that the entire house can enjoy.
Rubik's has generously given us a prize to share with you! One lucky winner is going to win a Rubik's Race game of their very own to challenge your family! Want to win? Enter below!
[Thank you to Rubik's Official for providing these samples to review. This contains affiliate links. As Amazon Associates we earn from qualifying purchases. Want to work with us?]