I had the extreme pleasure of meeting Sarah Wall from Gnu Santé at the Leading Moms Conference last month, immediately she introduced herself and was full of warmth, speaking proudly of the product her company had in the gift bags for the event. I only had a few short moments to chat with her before the flood of women came in for the conference but from what little I had heard, I was hooked.
To give you a bit of back story; If you look up "picky-eater" in the dictionary, there should be a picture of my 3 year old right next to it. A year ago we struggled with getting her to eat anything. For 6 months she didn't gain any weight, had a broken sleep schedule, horrid temper tantrums, bruises showing up on her back and dark circles under her eyes. Of course, being a first time mom – I completely panicked. I went from blaming myself, I had scarred her, she would never eat anything other than popcorn and fruit snacks because I was trying to force her to eat! We did our multiple trips to the pediatrician who for all but the last visit reassured me everything was fine, on the very last visit she joined in my worry and referred us for a barrage of tests at children's hospital. Again… mom panic. I was not about to put my daughter through being poked, prodded and further traumatized if there was another way.
I started asking a lot of questions and it was recommended that we give her a nutrition rich drink daily, in hopes that it would kick start her appetite and get us out of the vicious cycle we were in; I dove right in. My crazy coupon prowess came out and I stocked 6 months worth of this drink in our closet (at $10.99 for a 4 pack.. you can imagine the retail cost of that!). The only problem? I had no real idea what was IN this product. I knew it had vitamins, nutrients and protein.. but, from where!? It was also extremely high in sugar and I would cringe when Alivia would ask for her "chocolate milk" everyday.
I wish I had met Sarah sooner. I wish I had met the creator Ron Kendrick sooner. I wish I had been introduced to Gnu Santé  and their product Gnubees SOONER.
So, what exactly IS Gnubees?
It's peace of mind in a pouch. A tasty, easy to grab snack you can feel great giving your kids. Gnubees contains 15% of daily values for each of the 26 essential vitamins and minerals, plus 5 grams of fibre and 7 grams of protein in every single pouch. They come in 3 delicious flavours that were painstakingly created in their on site lab; rockin' raspberrita, orange you glad? and go bananas!
Gnu Santé believes that just because you CAN create a product that will last forever on the shelf, doesn't mean you should. They will never use artificial ingredients, processed sugars or anything genetically modified. How amazing is that? Gnu Sante believes in providing our kids with the best quality product, with the best quality ingredients. Because they CAN. Just because it tastes like a "treat" doesn't mean it isn't great for them!
I find it difficult some days to trust what I see on the grocery store shelves, we are bombarded with "natural" "low fat" "high protein" "good for you!" slogans but in reality, how much do we really know about what is going into it? How long has it been on that shelf, what is their manufacturing process? I love that I can trust the ingredients in Gnubees, because nothing is hidden. What you see, is what you get. Not sure about an ingredient? They'll explain what it is, and why it's in there. I love that!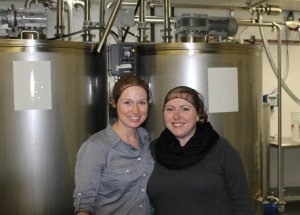 I loved what Gnu Sante was offering to parents so much, I emailed Sarah and asked to visit their head office located in Burnaby, British Columbia, I was blown away when she told me the stock I was staring at in their store front was just made the day before. They believe smaller batches more often help to maintain maximum freshness, they want to deliver the absolute best product they can to their customers.
Gnubees isn't available in brick and mortar stores yet to help keep costs down, but you can still order from their website. Their $5 delivery fee for the lower mainland is incredibly reasonable. The product arrives directly to you from their production plant, guaranteeing a fresh, delicious product every time. When I brought our box home and let Alivia dive in, she was in heaven!
why we love it;
As I mentioned above, we have been giving Alivia a nutritional drink daily for quite some time, the break down is approximately $3 per bottle of questionable ingredients and the bottle is half the size! Gnubees offers a balanced, nutritional snack with organic ingredients, it is gmo-free and sweetened with zero refined sugar – that's right, zero! It's easy to transport and ready to drink, win-win!
Gnubees doubles as a baking ingredient, at least in our house! Helisa has successfully made muffins and banana bread with the Go Bananas! pouch and will keep experimenting(and I'll keep eating them!) Why not add a little bit of added nutrition to your holiday baking? Apple sauce can replace oil in a recipe, so can Gnubees with a little bit of tweaking.
$5 delivery! It's worth it to stock up and keep them on hand.
Picky eater approved!

Which flavour would your kids like most?
{Disclaimer: We were provided samples to facilitate our review, all opinions remain our own.}