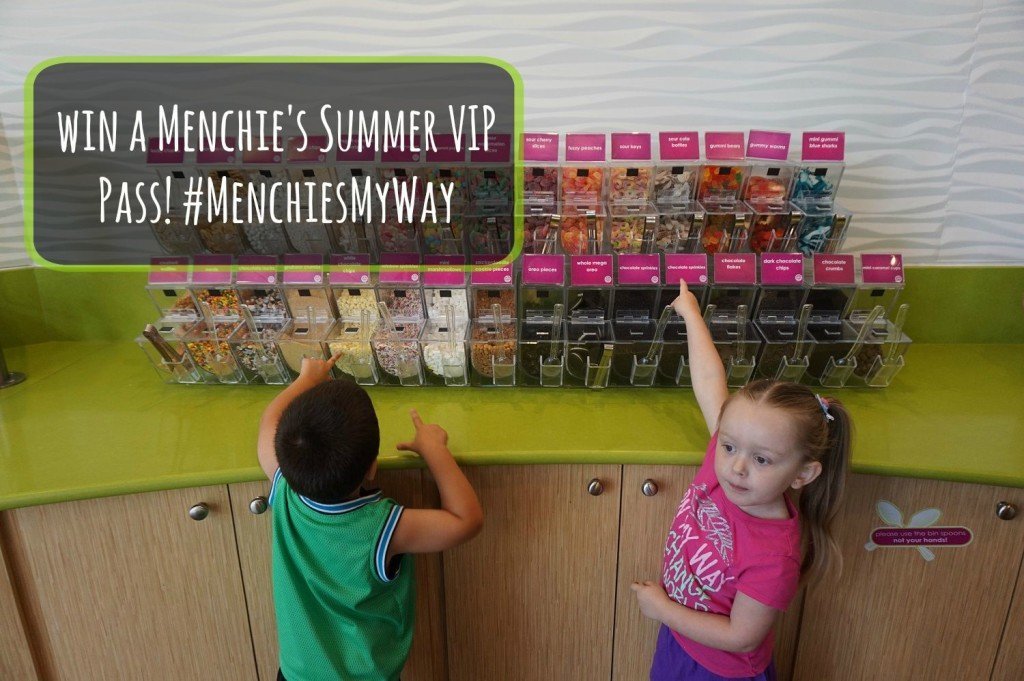 It's really no secret that I have a little bit of a sweet tooth, and with summer in full force I've been known to make a few ice cream trips… fact is, it's probably not the healthiest option and there aren't very many places to go to customize your treats – which is half the fun! We absolutely love being able to create anything we're craving at Menchie's and as you can tell by the cover photo, we have a couple of other fans in our house too! With a selection of over 50 different toppings that appeal to both sweet and savoury cravings (and super sweet, like those kids) there really is something for everyone at Menchie's!
When we were approached to be a Menchie's Summer Ambassador, how could I say no? Not only do we get to test out our creativity with making #MenchiesMyWay – but you could win the chance to be a Menchie's Summer Vip; you'll receive a pretty rad 7 FREE visits to your local location where you can create, sample, indulge and enjoy – All courtesy of Menchie's and British Columbia Mom! Make sure to scroll to the bottom of the post to find more ambassadors – giving you more chances to win!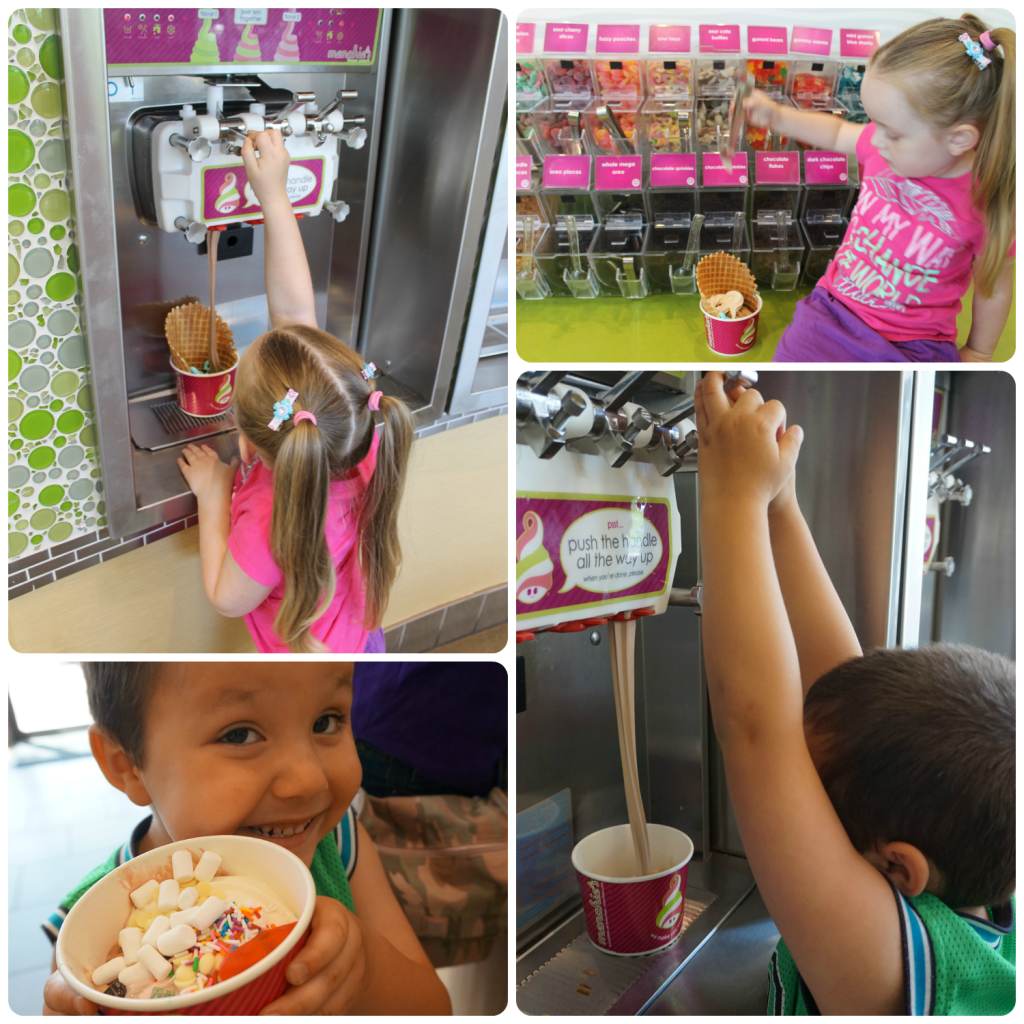 We visited our local Menchie's location at High Gate Village in Burnaby B.C. on Monday and let the kids run the show – first impressions of this fabulous store? Smiles. Nothing but big, bright smiles. The store is totally open concept, full of vibrant colors and the staff was wonderfully kind – even with 3 kids running under foot! We asked them to give us the run down on how things work and we absolutely love that you are full in control of your Menchie's experience. From how much yogurt goes in your cup, to which toppings or sauces you choose, right down to waffle cup or no waffle cup (no brainer.. always waffle cup!).
Menchie's is also super fun friendly – with a big chalkboard to entertain the littles while we finished off our treat it was wonderful! The kids weren't too thrilled about being interrupted during their snack though….
The littles obviously gravitated to anything and everything gummy and bright colours, while Helisa chose chocolate nutty flavours. I'm a bit of an in-betweener with my treats – I went with cheesecake and chocolate frozen yogurt topped with cheesecake bites, mini marshmallows, strawberries, and my weakness – watermelow gummies. Fab-u-lous! If you happen to be an Oreo fan like Helisa & I, we highly recommend testing out the newest flavor – Oreo Cookie! Top it with any number of cookie toppings (right down to actual, whole oreos) and you have a fabulous, indulgent treat to enjoy.
So, now you know why WE love Menchie's, we want you to love it to! Enter to win below!
Win a Summer VIP pass to Menchie's!
Delish frozen yogurt from @menchies_ca! I'm calling mine camp cheesecake – #MenchiesMyWay @bcmomdotca pic.twitter.com/RnSf0YyUIi

— Tara (@bcmomdotca) July 15, 2015
How to enter:
1) Visit your local Menchie's and snap a picture of your #MenchiesMyWay mix
2) Follow
3) Tweet or share a photo of your creation on Twitter and/or Instagram – make sure to include the hashtag #MenchiesMyWay: "My Creation Name" and tag @bcmomdotca & @Menchies_CA
4) Come back here and enter a link to your post in the widget below.
5) Contest ends August 17, 2015. Get those entries in!
I get to choose the winner based on your top notch presentation and super creative names – so be silly, clever, have some fun with it! You can enter as many times as you like during the contest period on each platform but you must use a different photo and a different name for each entry. I've included an example above, good luck!
(Open to residents of Canada, all entries must include a photo to be considered for the Summer VIP Prize, make sure to include the #MenchiesMyWay and tag both accounts for your entry to be valid – we will be confirming entries!)
Looking for a couple more chances to win? Visit these other ambassadors and tag them in your creations!
Angie @ In my 30's and it's time – Ends 07/29
Whitney @ Macarons & Mischief – Ends 08/31
{Disclosure: We're Menchie's Summer VIP Digital Ambassadors and were compensated for this post. All opinions are our own and not influenced by sponsors.}