Ah Summer! The season that brings us beach, BBQ and outdoor weather, vacations, tans and ice cream trucks. It also, for some of us, brings family reunions, company picnics or other large gatherings. Having attended a few of these types of events myself, I know first hand that if the kids are not happily busy, the party does not run as smoothly. Many have opted to rent a clown or magician to entertain the kiddies, and this is ok for some of the kids. But let's be real, this type of entertainment appeals to a smaller age range and is usually only booked for a couple hours. What if you could book your company picnic or family reunion somewhere where kids and adults of ALL ages can have a blast,or rather, a splash? Splashdown Park in Tsawwassen BC has water-slides for all ages, pools, a hot tub, picnic grounds, BBQs,  and more, all set on 7 acres – plenty of room for the whole clan or office!
On our recent visit to Greater Vancouver's only water-slide park, we were greeted by friendly staff and given some $1 off coupons for food…coupons are a sure fire way to get me to smile and each admission will come with one. We walked through the gate and the youngest could hardly wait for us to put our stuff down as he took in the view of all the water-slides and pools available to him. We settled in by the children's water park in the picnic area and took in the spacious grassy lawn on which to spread towels and blankets, the numerous large tents equipped with BBQs, the beach volleyball courts and the basketball court (sign out balls at guest services) and noted that this would be a great spot to gather a few families to spend the day together.
We spent hours going non-stop with the kids down every single slide, and I have to say that Splashdown is extremely family friendly with lots of things that the 5 and under set can do. Something that is often a challenge when going swimming is that our son is too young for the water-slides, even though he is very capable and loves them. At Splashdown Park, he could go on all but three slides and you have no idea how much this excited him. He was up the stairs and down those slides on repeat for four hours!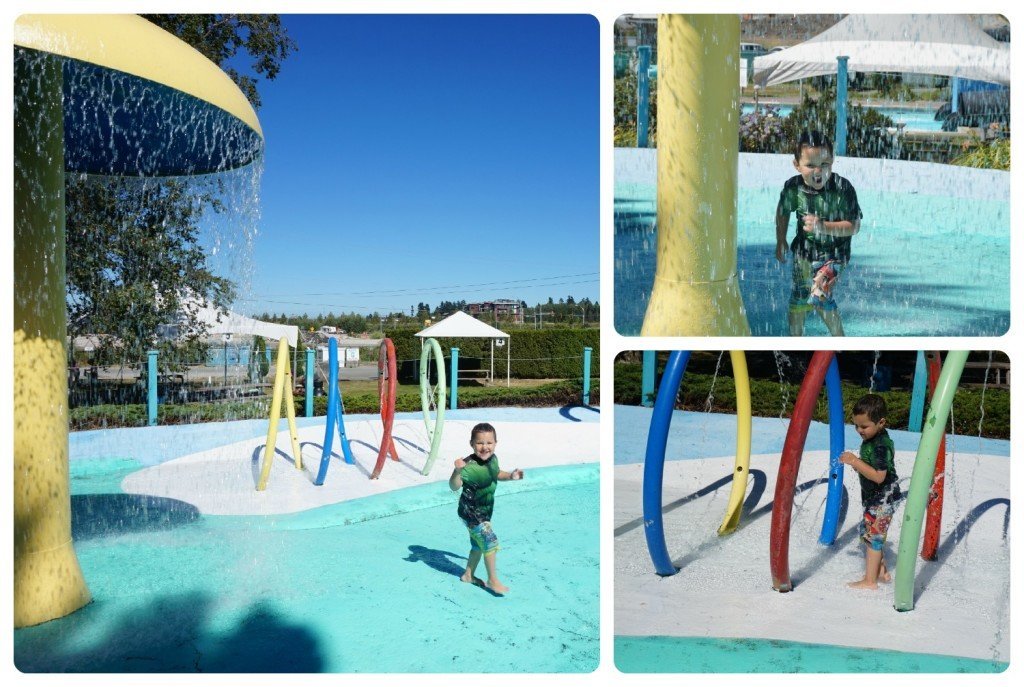 And let us not forget the pool we bobbed around in, the kiddie slide ares and the spray park! It was so relaxing to be able to sit on a blanket while I watched him zip up and down the small kiddie slides and splash in the catch pools while I caught my breath. When it comes to stair climbing, this little guy has me beat! The splash park, just behind the small slide area, is a great place to play with the tots, and Bean took a run through there as well for a different kind of water play.
My daughter, 10, enjoyed many of the same slides as her younger brother and they often would race each other down starting the same time at different slides since there are several that land in the same catch pool – Oliver Twist, Kamikazee, Whipper Snapper and more, adding an element of competition to the day. And, while she had a ton of fun with her brother, she was excited to go on the bigger slides meant for bigger kids. This included all three slides that use inflatables to ride down on – the Black Hole, the Bonsai Blue Run and Big Jim's River Run. With both my husband and I there, it was easy for us to switch between kids to give each of them some time with each of us. Amelia used her time with me to maximum potential. I don't often ride water-slides at indoor community pools, but with the heated water and the blazing sun I was raring to go.
Aside from the water features, Splashdown Park has a Sweet Shop, a tasty concession stand, lockers, comfortable change rooms and an arcade. We enjoyed some tasty ice cream and had a sit in the hot tub to ward off any small chills before we left, promising that we would be back.
Attraction details:
Where: 4775 Nulelum Way, Tsawwassen, B.C. V4M 4G9
When: May 30 – September 13 (Hours)
Price: 
Under 48″ – $17.99
Over 48″ – $23.99
Seniors – $10.99
Tots 3 & under – FREE
* Twilight hours discount + family passes available, visit splashdown.ca for more information.
* Sign up for the Splashdown Park newsletter and receive a $2 savings coupon for up to 4 family members.
Groups: Perfect for family reunions, corporate parties and picnics and birthday parties. Included in your booking:
Park Admission for each person in the group
A Reserved Area
Balloons (excluding corporate events)
Lunch: Hamburger, hotdog, or veggie burger, potato chips, beverage
Full use of all waterslides, facilities and vendors
With temperatures soaring, now's the perfect time to get your pants wet with #SplashdownBC and spend a day at the slides!
Splashdown Park has generously given us a pair of tickets for one lucky reader! Enter below.
a Rafflecopter giveaway

Do you plan to wet your pants with #SplashdownBC this summer? 🙂