As a mom, it's pretty rare that I get to take time for myself to do pretty much anything that isn't mom-related. This includes any trips to the mall that aren't for new kids clothes, school shoes or doctors appointments. I was pretty excited to be given the opportunity to Live Grand thanks to the BCLC Daily Grand contest and grabbed one of my fave ladies – Sara Paley from Sara Paley Photography to go on a mini shipping spree. What would you spend some free money at the mall on? Sharing what I love right now, how I splurged just a little bit, and why I'm making more time for me.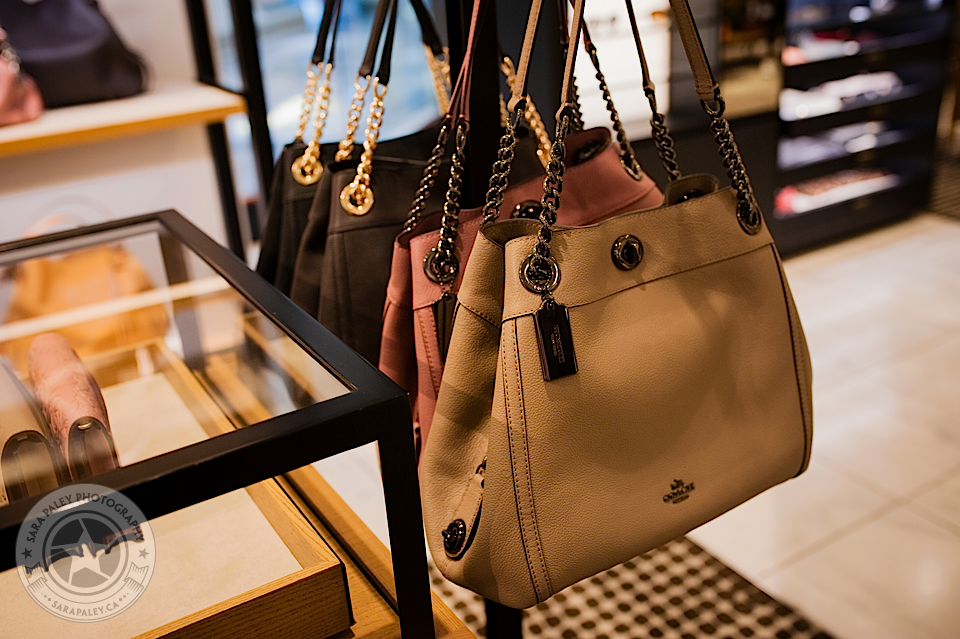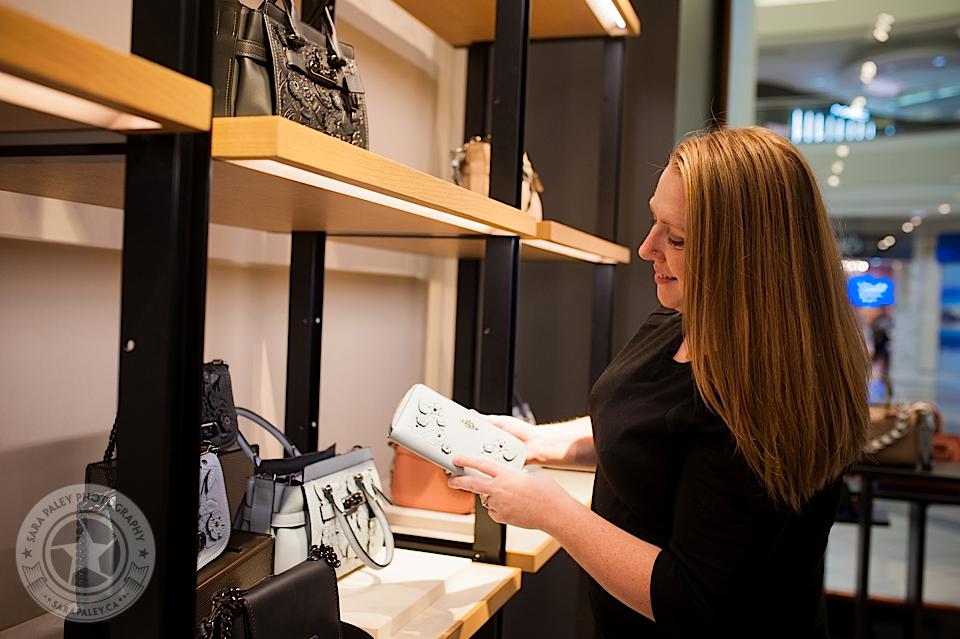 It wouldn't be a mom trip to the mall for me without a stop in to one of my favourite stores, and I will admit I have been longing for a new bag for some time! First stop on our shopping spree was to the Coach store at Metropolis at Metrotown, I won't lie it was kind of nice to shop for something that gave me huge smiles without second guessing myself on the price tag!
I found a beautiful new bag and a matching (well… matching to my tattoo) wallet that is my new fave! Whether you love purses, wallets, accessories or the like – there's plenty to scope out at the mall and I think every mom deserves a new bag! As my other half would say.. a good bag is an investment, and I'm all for investing in my purse happiness.
So what would you do with $5000 to spend at Metropolis? Or any mall for that matter? Would you play it safe or splurge a little bit? Admittedly, I did a little bit of both! I grabbed a few things that we needed around the home. Including a new wireless blue tooth speaker from Chapters Indigo to please the other half, I stopped by and picked up some of my favourite Aveda Rosemary Mint hair care and may have wandered my way into another one of my favourite stores….. where naturally, a little bit of silliness ensued.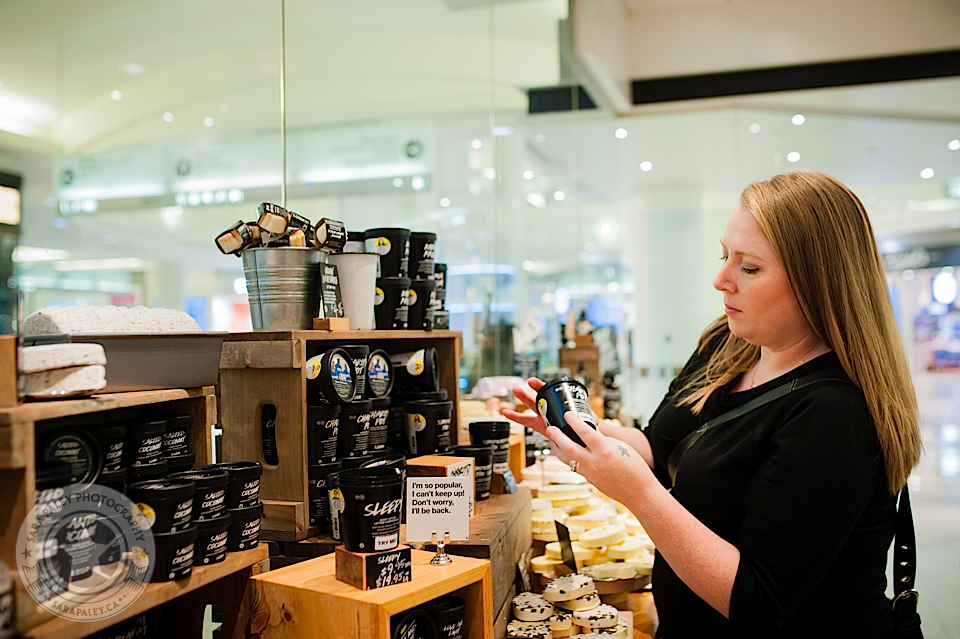 By stopping by Lush, I not only made myself a promise that I was going to stock my bathroom with some of my favourite bubble bars, bath bombs and my favourite Charity Pot lotion but this also meant I was going to make more time for myself at home – these goodies weren't going to waste! By taking a little bit of time for myself to splurge on some of my favourite items I wouldn't normally do regularly, it gave me a chance to be present and enjoy each and every choice I made which was wonderful!
Our trip wouldn't have been complete without a visit to check out some of the new goodies at the Apple store, or a wander through Mac for a little skin care and makeup update, both of which Sara and I ended up leaving with some new must-haves!
As we were wandering through the mall kid free, both of us couldn't help but dream about Living Grand! With the Daily Grand Lottery you could win $1000 a day for LIFE. Whether you chose to spend it all responsibly or splurge just a little bit, there would be plenty to go around with that much life changing winnings. I have to admit, with that sort of winnings, I probably would have picked up a few more electronics  I've been coveting for some time! Whether you love electronics, make up, purses, clothes, accessories or just about anything in between, with $1000 a day there would be some serious fun to be had.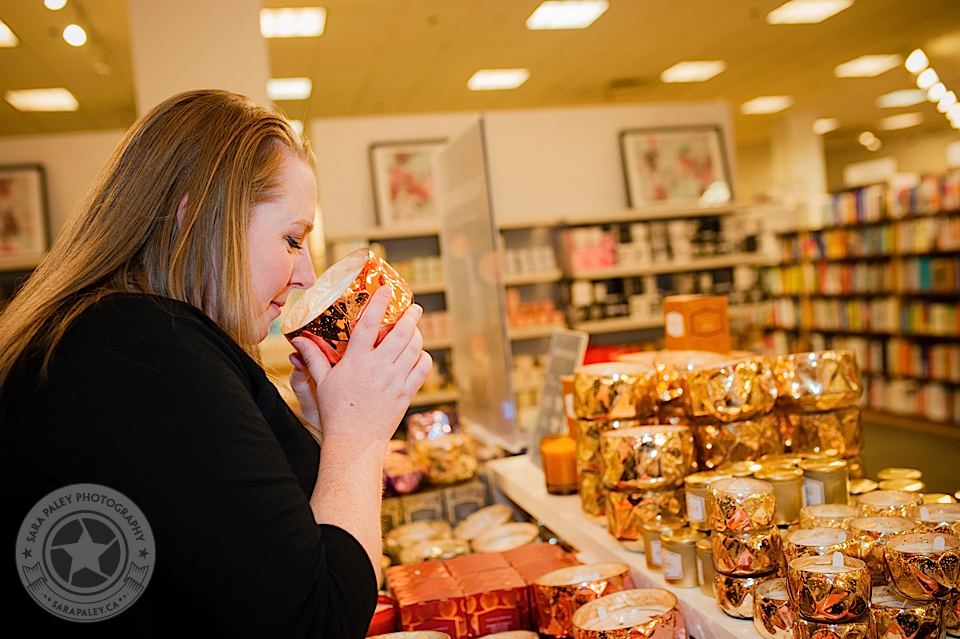 The Daily Grand wants to give you the chance to experience living grand and send you on a shopping spree of your very own! Even though the $50,000 contest has ended, the fun isn't stopping and 4 lucky lucky shoppers who are present at Metropolis at Metrotown on October 28, 2017 from 11:00am-4:00pm and have purchased a Daily Grant Lottery ticket from one of the participating lottery booths at the mall will be eligible to win 1 of 4 $5000 Metropolis at Metrotown Gift Cards to get a head start on their holiday shopping and more!
To be eligible to enter, purchase a DAILY GRAND ticket from any of these participating Lottery Retailers for the Oct. 16th or later draw day. Then on October 28th, present your DAILY GRAND ticket(s) to event staff at Grand Court between 11:00am – 3:50pm who will validate it as being eligible and provide you with an entry ballot(s) in return that can be entered into the upcoming draw time. (Promotion Conditions)
Whether you choose to spend it all on yourself, spread it around the family or stock up on items to donate during the holiday season, $5000 can buy a LOT of joy at the mall and we're super excited to see who is going to win. We'll be at the mall hanging out, so make sure to say hi if you see us and don't forget to enter!
BCLC and The Daily Grand want to give British Columbia Mom fans the chance to go on a mini shopping spree of their very own and we are giving away a $100 Ivanhoe Cambridge gift card valid at any of their Canadian shopping centres!  Want to win? Enter below and use #LiveGrand!
{Disclosure: This post is sponsored by the Daily Grand Contest and BCLC, all opinions and shopping spree fun is our own. Please play responsibly. All photos included in this post courtesy of Sara Paley Photography}