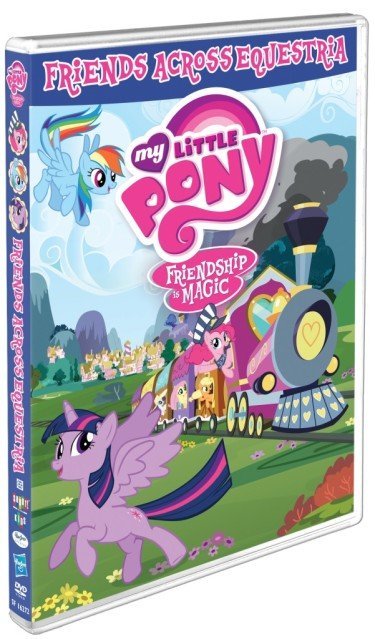 If there were a such thing as a My Little Pony Ambassador, I am almost positive that Alivia would be the perfect fit. At any given time on any day we are either watching My Little Pony, playing with My Little Pony figures, or talking about them! I don't mind it though, as I've mentioned in the past it has been fun to watch the modernization of the show and seeing how it has changed from the show I remember growing up.

Are you ready to make new friends with the most powerful magic in Equestria? The newest DVD release of the phenomenally popular My Little Pony – Friendship Is Magic contains 5 episodes and will arrive March 1, 2016 in the U.S. and Canada from Shout! Kids in collaboration with Hasbro Studios. This DVD includes some of our favourite episodes that touch on acceptance, friendship and overcoming challenges. 
Every Pony has learned the very valuable lesson that there simply is no power greater than the magic of friendship. Join Twilight Sparkle and her very best friends — Applejack, Rarity, Pinkie Pie, Rainbow Dash, Fluttershy and, of course, Spike — as they spread the word and the wonderful power of that friendship throughout their home of Ponyville and beyond, across the vast kingdom of Equestria! 
With a 110 minute running time, and 5 episodes, this is the perfect gift for even the littlest My Little Pony fan, with a fun bonus feature Sing-A-Long, you can join every Pony and immerse yourself in the magic of Ponyville!
My Little Pony – Friendship Is Magic: Friends Across Equestria Episodes Include:
Make New Friends, But Keep Discord
Slice Of Life
Amending Fences
Made In Manehattan
The Mane Attraction
Bonus Sing Along!
My Little Pony – Friendship Is Magic: Friends Across Equestria carries a suggested list price of $14.98 and is now available for pre-order at amazon.com, amazon.ca, and shoutkids.com.
Connect with Shout! Factory Kids
Facebook | Twitter
Do you have a My Little Pony fan at home? Make sure to enter below for your chance to take this magical DVD home with you!




a Rafflecopter giveaway

Good luck!