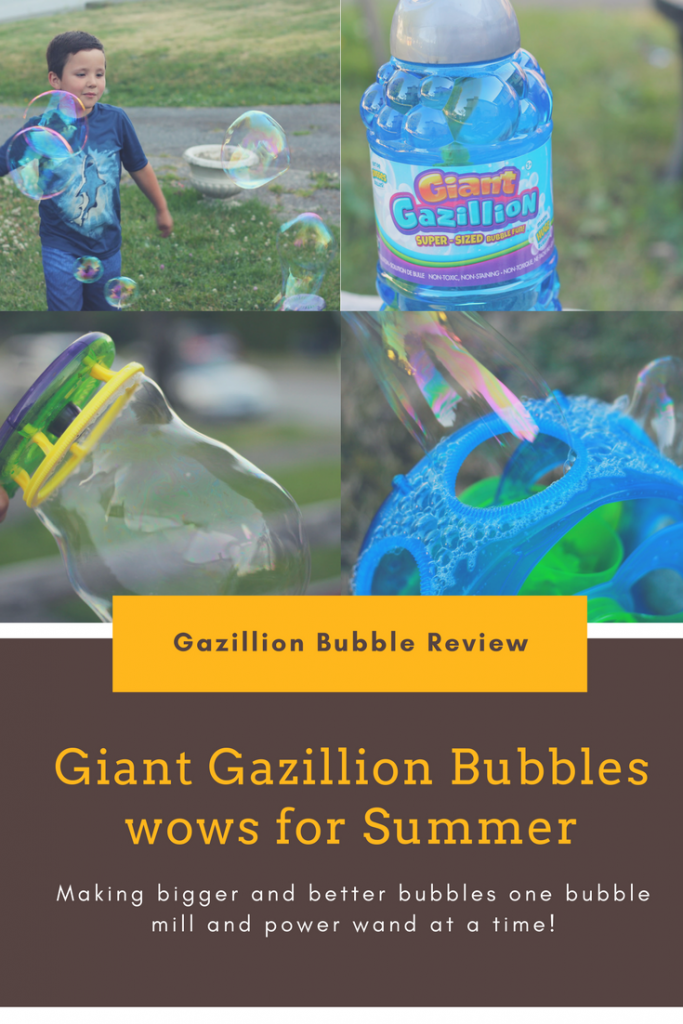 Bubbles are a simple, yet essential part of childhood. Gazillion Bubbles knows that kids of all ages delight in a bubble's gentle flight on the breeze, racing to pop them, dancing in them, and begging for more, and they bring a smile to adult faces too. Delicate, colourful, simple, fleeting; they could almost be a symbol of childhood itself. From pure joy and entertainment to discovering the science behind bubbles and experimenting with different wands and solution, bubbles can provide hours of play.
For all the pros however, this playful pastime is not without its cons. Many a tear is shed over spilled bubble juice, and if you are the bubble blower, you could hyperventilate trying to keep up with the demand. Gazillion Bubbles has an all new Giant line of bubble toys that are sure to bring some super sized fun to any backyard, party, or park, while saving your breath and reducing spillage.
We had an absolute blast with the Gazillion Giant Bubble Mill in the yard with the kids. The size of the bubbles was pretty impressive and the littles had an impromptu dance party among them. The best part (for me) was not having to blow them myself. Just add the 3 AA batteries, not included, fill the reservoir with bubble solution, turn on, and enjoy the silly antics and squeals of happiness from nearby children. Be mindful to not overfill though or you'll end up with a sudsy party instead. A small amount of solution goes a long way in the reservoir and makes for quite the party.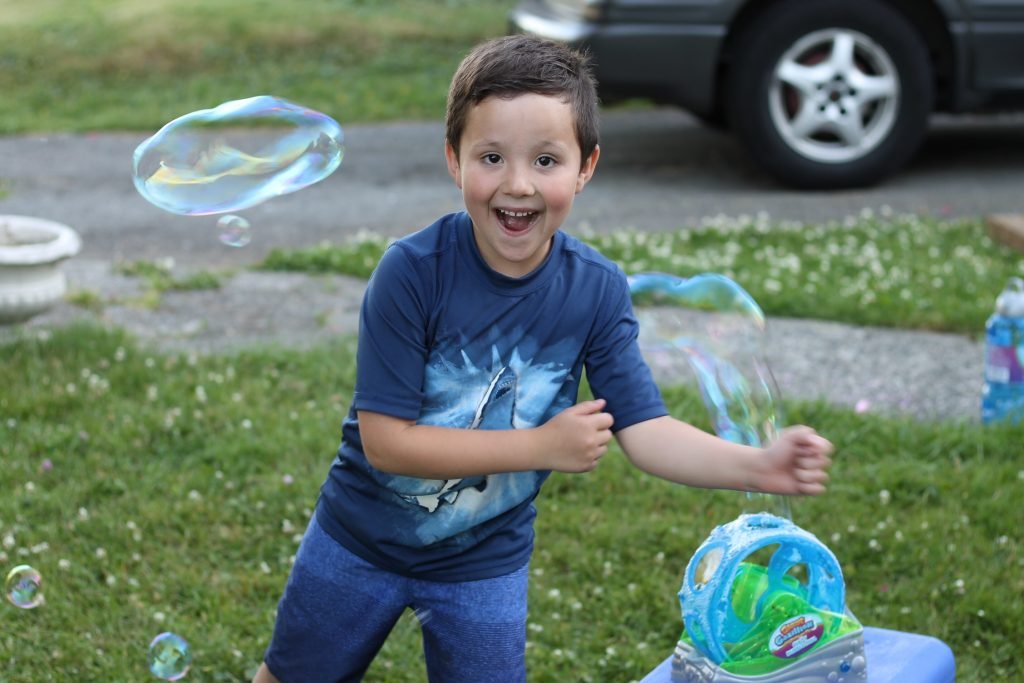 B's favourite though, was the Gazillion Giant Power Wand; he immediately had the knack of getting the biggest bubbles possible with this battery-powered bubble wand. Us adults might have been a little disappointed in our lack of bubble rocking skills but B quickly showed us his trick and with a little practice we were all able to produce huge bubbles at the touch of a button.
For the bubble wand, we recommend laying the tray on a flat surface and fill about 1/3 of the tray with solution. This provides enough depth to get a good dip each time. For the wand, holding it at a slight angle is optimal for rocking those giant bubbles.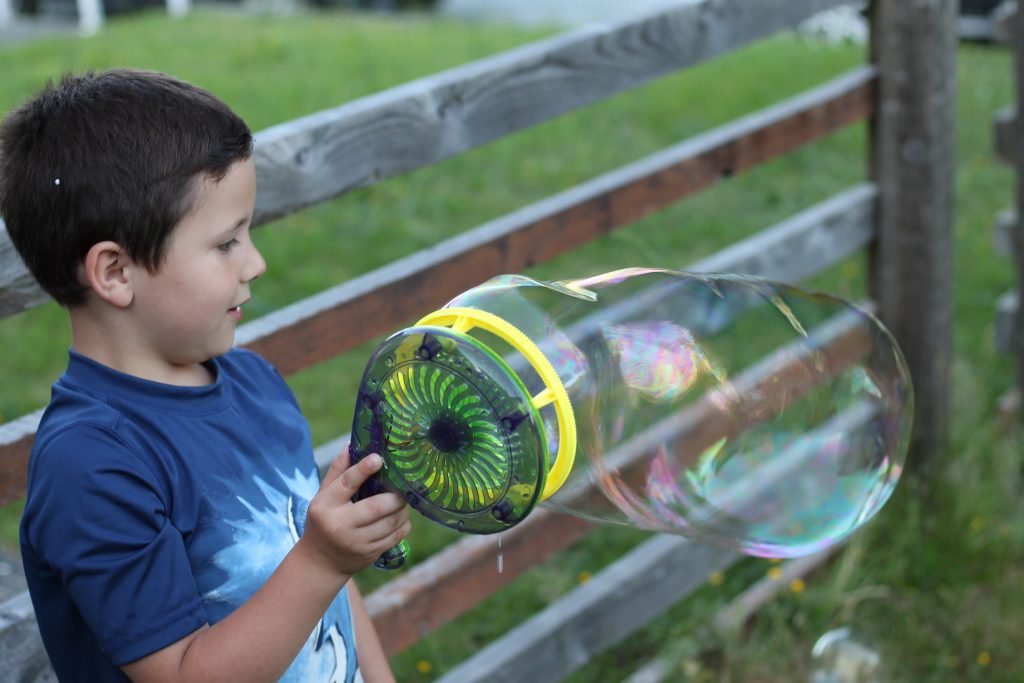 To aid in making the biggest and best bubbles around, an extra special bubble solution was crafted in a lab to create bigger and more elasticized bubbles than any other formula while still being non-toxic, and eco-friendly. And, of course, because it's a Giant line, you can buy this specially formulated Giant Gazillion Solution in a giant 2L bottle! Included is a special giant wand so you can blow those bubbles old school.
It's no surprise that while playing in the yard making giant bubbles, we attracted a little bit of attention from the neighbours, and soon there were nearly a dozen of us playing in the bubbles – kids AND adults alike. We will definitely be packing the Gazillion Giant Bubble Mill and the Gazillion Giant Power Wand on our next playground playdate!
When the bubble party is over, maintenance of your bubble machines is relatively simple. Rinse under warm water to wash away any residual bubble solution and allow to dry – that's it! This keeps everything moving smoothly and prevents any bubble residue from gumming up your bubble plans.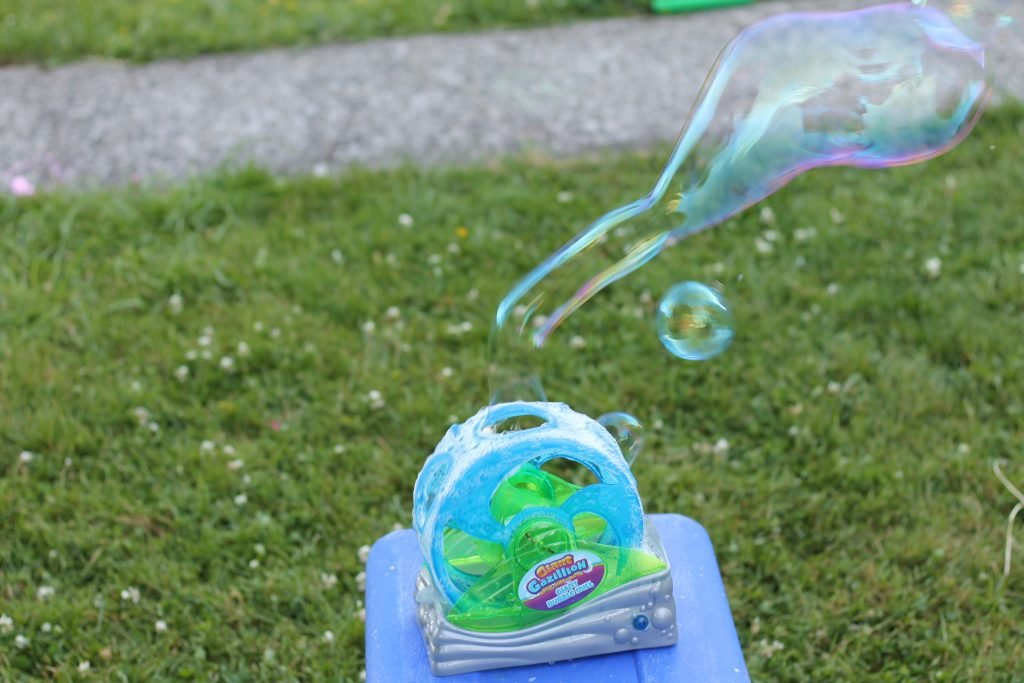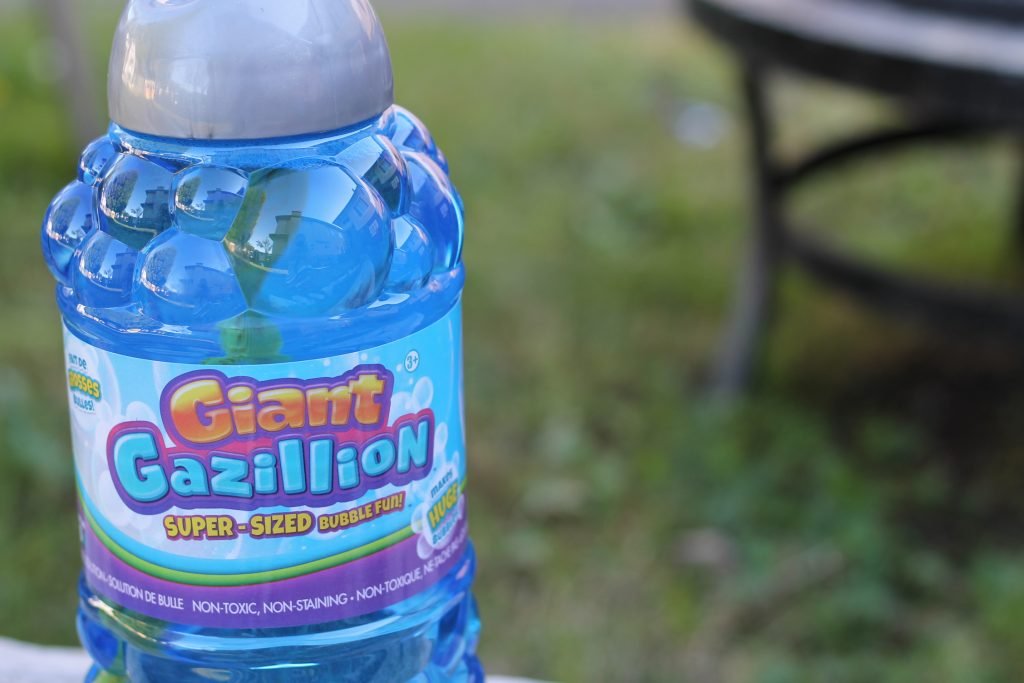 You can find your own Gazillion Giant Bubbles products at Toys R Us or Walmart Canada, or you could win your own here! Giant Gazillion has generously given us a Power Wand to share with one lucky reader. If you're interested in winning – enter below. Contest is open to residents of Canada who have reached the age of majority, contest ends July 28, 2017. Good luck.
Gazillion Bubbles Power Wand

{This post is brought to you in partnership with Gazillion Bubbles, all opinions and bubble dance party plans are our own. Good luck!}