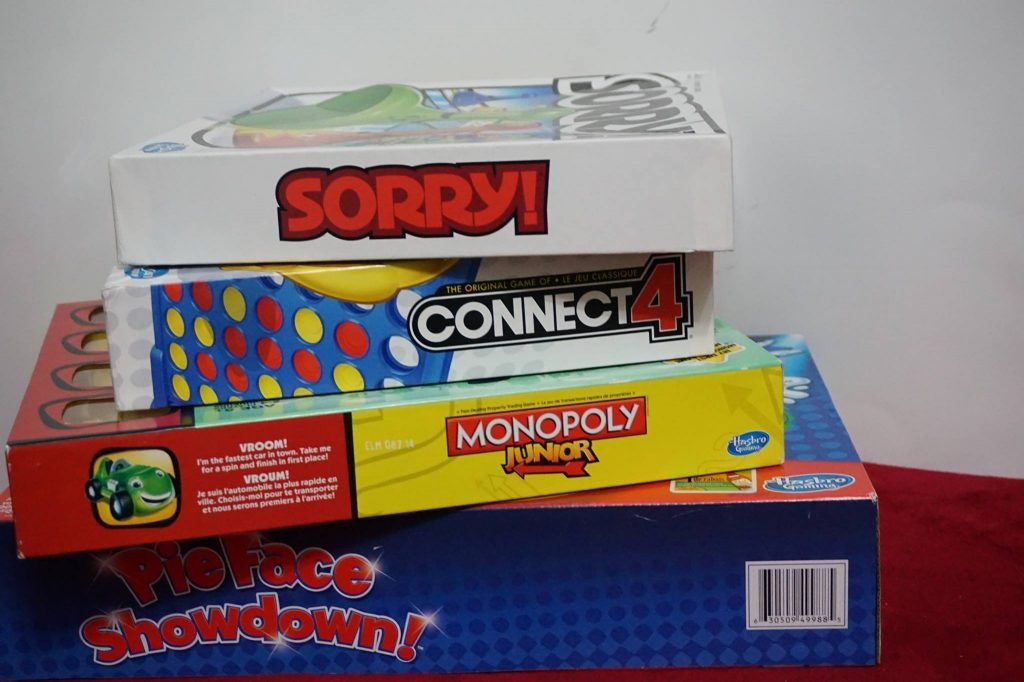 When it comes to activities our kids enjoy, family game night is at the top of the list. There's seriously nothing better than tucking away the electronics and sitting around the table as a family with a board game. There's sure to be a lot of laughs, it's great bonding time, and there's always snacks…total win! It also brings out our competitive sides, which often starts with choosing which game to play. Hasbro has a huge selection of games to choose from, and we are very happy owners of several of them, both original and Jr versions. However, when Hasbro sent us Pie Face Showdown, there was no question of what we would play!
Pie Face was one of the hottest games last year, and Hasbro has not only kept the original, but they've added another version. A, dare I say, more competitive version? Pie Face Showdown pits two players head to head with button mashing action. Fastest button pusher wins! The other? Pie face…which also kinda sounds like a win, doesn't it? The games comes with a sponge you can wet and use in substitute for whipped cream, making it easy to play often and a lot less messy, but we were pretty keen on whipped cream.
You guys! This game is crazy fun…even as an adult. And lemme tell you, competition gets fierce between my husband and I.
Note the game faces…
Hubby laughed so hard he had to leave the table! We played over and over and over again, using a whole can of whipped cream; happily, all of the pieces are easy to clean! Pie Face Showdown is a winner hands down.
But what about those times when the kids want to play a game, but everyone is busy? Hasbro has some great games that can be played either alone or with other players!
Simon Air is a bit of a flashback to the Simon game I played as a kid, only much more updated. With cool new touch-free technology that allows adding in a new move with swiping action, you'll have to work a little harder to follow the leader. This is certainly a fun take on a an old classic and has quickly become a new fave with the kids. Test your memory, challenge your friends with Hasbro's Simon Air!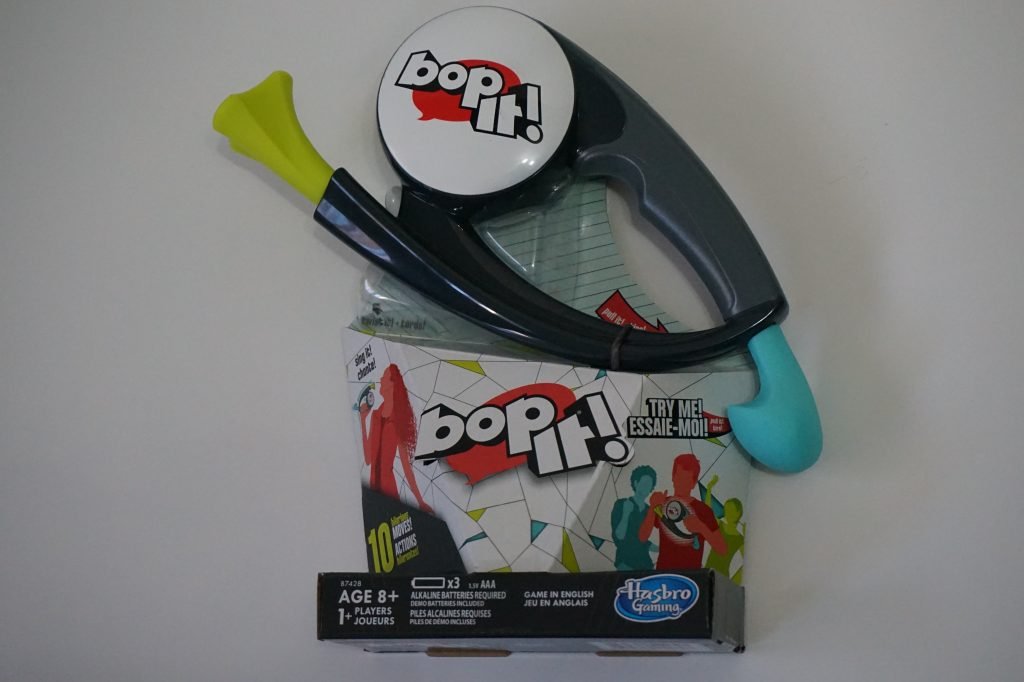 Another updated game that my kids loved to play is Bop It!. Also with new sensor technology, the new Bop It! comes with 10 new moves like Drink It, Comb It, and Selfie It. It's a pretty hilarious and challenging game that can be played alone or in Pass It mode. You can also choose to play Classic Bop It! without the new action moves, or Beat Box mode with sounds only. I was the Bop It! champion in the house with the older version, so I have high hopes for setting high scores with this new one, but I have a sneaking suspicion the pre-teen in our house might own me on this one.
Have a little one who isn't quite ready for games yet? Play-Doh is a favourite of all ages and there are oodles of different colours and themes to choose from! It's non-toxic, so safe for even the youngest of fans, and it is truly a great sensory play item. Playing with Play-Doh fosters fine motor skill development as well as creativity, and it's just plain fun; I still enjoy it! Hasbro has introduced some fun new Play-doh lines this year, including Frozen, Cupcake Factory, Minions and so much more, there is a fun Play-Doh starter kit for just about every fan, and plenty of fun add-ons to keep the fun going!
No matter who is on your holiday shopping list this year, Hasbro has a perfect fit; from toddlers to teens and beyond.
Connect with Hasbro
Website | Facebook | Twitter | #HasbroFamilyGameNight
Special thanks to Hasbro for the goodies we received to facilitate this review, but also for giving one of you lucky readers a chance to get you game on and win! We have a copy of Monopoly Empire up for grabs! Race to own some of your favourite top brands like Nerf, Levi and Virgin. Enter below!