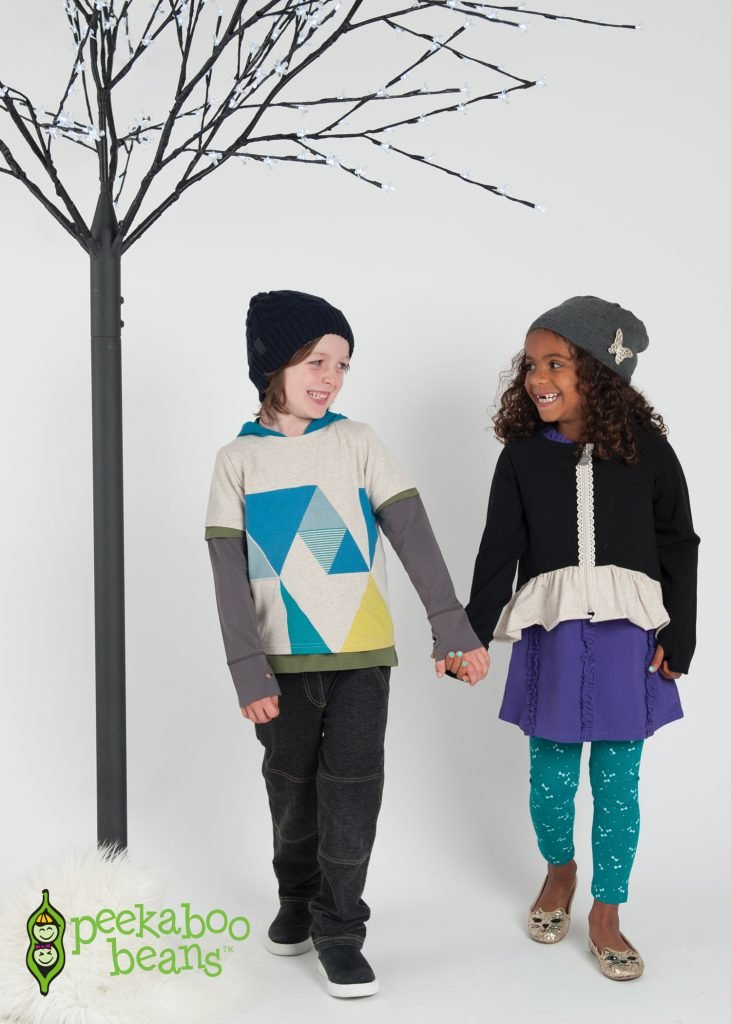 Peekaboo Beans is a local brand of children's clothes that are designed to be played in, to become your child's favourite things to wear, and yet be durable enough to pass on, all while being both stylish and safe for the environment as well as our kids. And comfortable! They lack the tags and trapping many other clothes have, meaning no snaps or buttons, making them easy to put on and take off…essential for independence in young kids. Made with soft and stretchy quality material, flat-locked seams and twill taped hems for comfort, Peekaboo Beans is ideal for kids with sensory issues too!
They almost sound too good to be true, but we've had many different items over the last few years that very quickly became B's favourite to wear and when he's done- we've passed on every single thing he has outgrown, despite them being worn nearly every other day – and washed over, and over again!
This season, my own Bean is rocking some great pieces from Peekaboo Beans, including his absolute favourite pair of pants! I love that the clothes look great as an outfit when paired together; nearly all their clothes are mix-and-matchy, and make great layers too. Each piece also looks great when paired with something out of their wardrobe, and really helps eliminate those wild and crazy outfits they seem to put together when dressing themselves sometimes.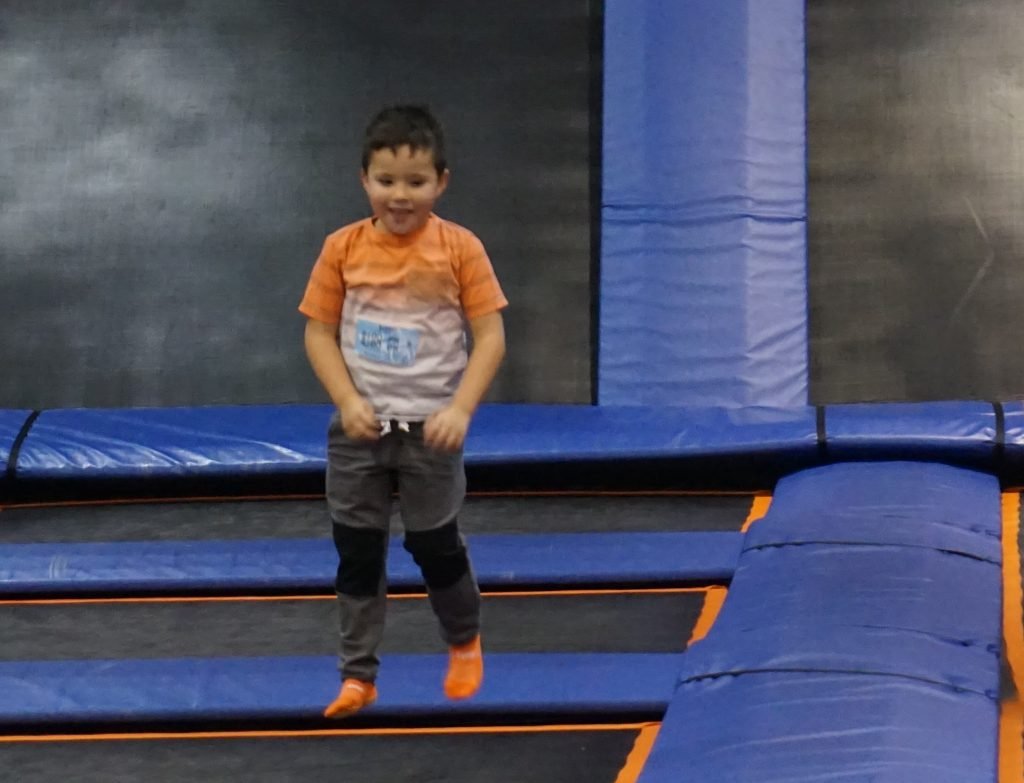 Bean's favourite part of his Peekaboo Beans is how comfortable they are during all of his various stages of play. From school, to the trampoline park, even under his snowsuit to go sledding, his Mudslide pants are his absolute favourite thing to wear, and he wears them often! I was so impressed at how durable they are, even after many washes.
He also has the Stand Out Tee & the Style Peak Tee which has long sleeves and a hood. They look so good layered together on extra cold days too! Bean loves the thumb holes in the Style Peak Tee and they were the first thing he gleefully found and the hood is extra cozy. I love that these pieces will be stylish for the next few kids who get to enjoy them with the colour-blocking and simple graphics that are pretty timeless. Most of the Beans gear matches throughout each season as well, so you never have to worry that one item will no longer be "in style" down the road, they'll all match seamlessly together making building a Beans wardrobe easy, and stress-free.
Have a little girl? Peekaboo Beans has adorable and functional styles for girls too that are perfect for play! A has had her favourites since first being introduced to Peekaboo Beans two years ago, and to this day her absolute favourite hoody still looks brand new! She loves that her Beans gear is easy enough for her to grab out of her drawer, match up to her day and put on without any help from mom and dad – and I love seeing the adorable, durable styles!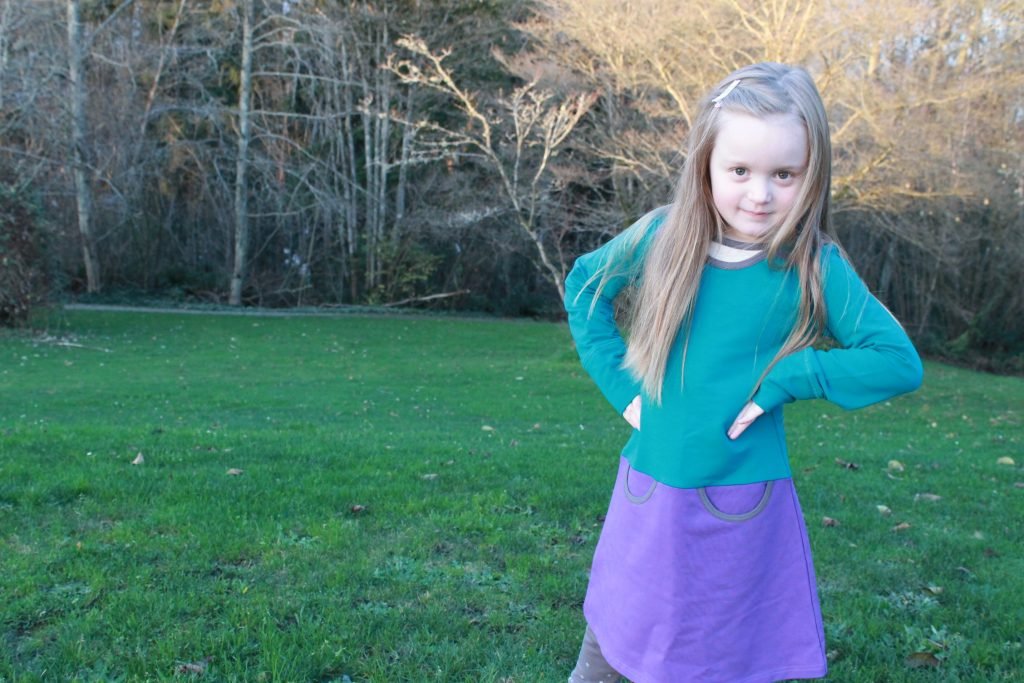 A loves pairing her Show Stop Leggings with her Picture Perfect Dress, and how cute are the drop waist pockets? And if you peek at the one photo.. you can see there is also comfy, cozy thumb holes in this wardrobe staple! I personally love that this dress is made with thick cozy fabric, making it great for Fall/Winter and looks adorable with either runners or boots.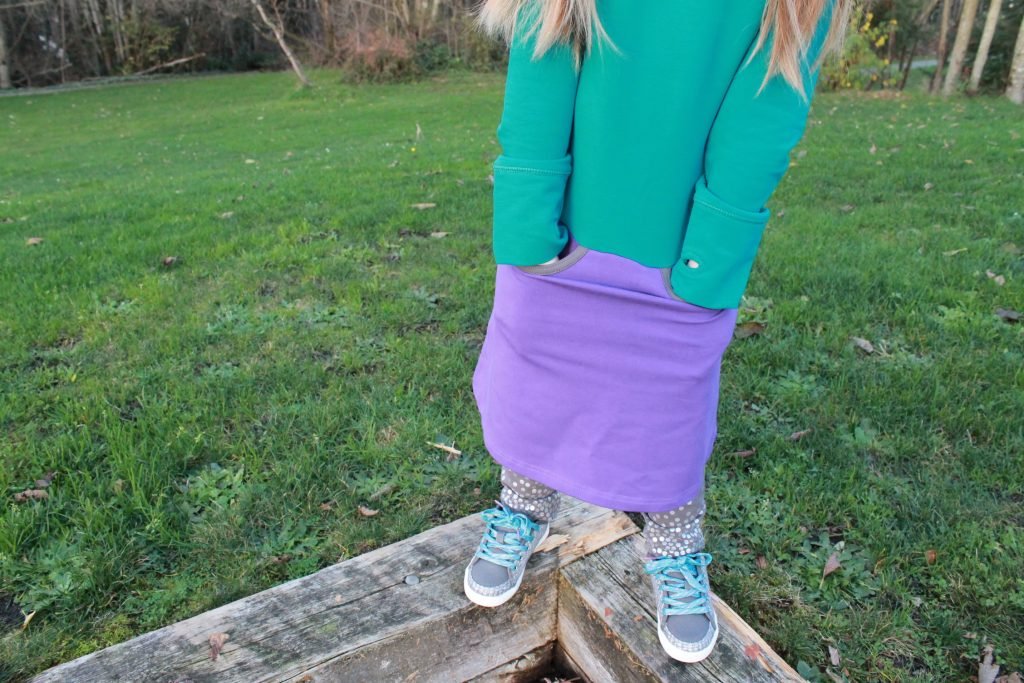 There are so many adorable items to choose from and unlimited ways to mix and match them! Boys, girls, even baby beans; buy your favourites  now by shopping online, or consider hosting a party and reaping hostess benefits, the choice is yours.
Connect with Peekaboo Beans
Website | Facebook | Twitter | Shop | #PlayingwithPB
What piece of Peekaboo Beans cuteness would you buy first?
{Disclosure: Peekaboo Beans provided us with these stylishly adorable items for review purposes, but we have been Beans fans for sometime and as always, opinions are our own.}