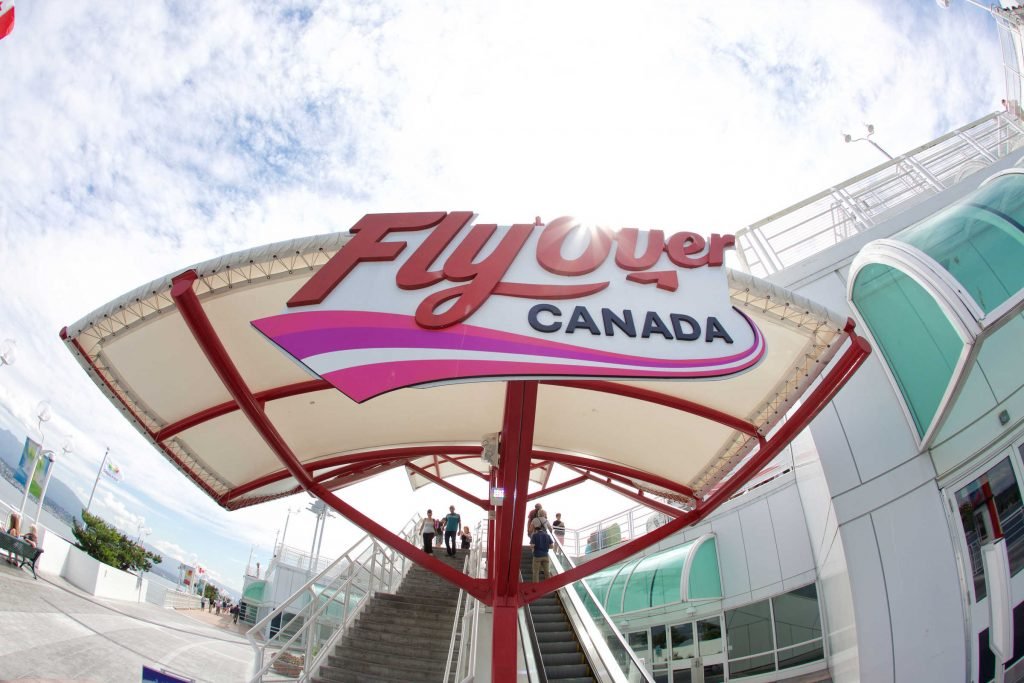 Are you looking to "get away" for Spring Break but don't want to deal with the hassles airline travel, "are we there yet?" from the backseat or the expense of a big vacation? FlyOver Canada has an amazing opportunity for you that is sure to keep the entire family entertained.
Spring has sprung in Vancouver and with it, a new chance for family fun and adventure has blossomed. Take a walk down to Canada Place's iconic sails and get ready for the trip of a lifetime – no passport needed!
This spring break, in addition to the everyday magic of the FlyOver Canada experience, you can also enjoy FlyOver America back-to-back for one low price. Even better, BC residents receive 25% off. This deal is only happening until April 14 so make plans so you don't miss out.
If you haven't experienced FlyOver Canada before, you get to experience a coast to coast adventure across Canada. The breathtaking view came from the best of over 100 hours of footage so you can enjoy the very best of our beautiful country.
When you've done exploring the majesty that is Canada, strap in for the 10-minute flight ride that will show you 25 incredible destinations from a completely new perspective. You will glide, dive, swoop and soar, take in America's most beautiful scenery. Hawaii, Alaska, New York and so much more await you on this adventure.  
You could spend your whole Spring Break in airports trying to see all of these amazing places, or you can catch a glimpse of each during a total ride time of 17-minutes!
Here's what you need to know to plan your trip:
Dress for the weather

– the lineup is partly outside so you will be experiencing perhaps the full spectrum of Vancouver weather before all of these fabulous destinations. Stay warm and dry to ensure you have the most fun possible! Once you're inside you can de-layer and stash everything under your seat.

Make it a family "Staycation"

– kids under 12 need to be with someone who is at least 14 years old to be allowed on the ride so bring down the entire family.

Be aware

– riders must be at least 40" tall to safely FlyOver Canada and FlyOver America.

Plan your schedule

– FlyOver Canada is open daily from 10 am to 9pm.

Get your tickets

– grab yours here:

www.flyovercanada.com

and don't forget that BC residents receive 25% off their tickets.
Wondering what you will see?
We don't want to spoil the surprise for you, but you'll see an incredible eye-opening adventure across the country that may include places you recognize and places you'll want to add to your bucket list stat!
In Canada, you get to enjoy a sneak peek of:
Dawn – Canada's North; Hudson's Bay near Churchill, Manitoba
Schooner – Twillingate, Newfoundland
Iceberg/Coast Guard – Iceberg Alley, Coast of Newfoundland
Fjord/Cliff Drop – Gros Morne National Park, Newfoundland
Kayakers – Riviere Rouge, Quebec
Night – Toronto, Ontario
Dawn at the Falls – Niagara Falls, Ontario
Classic Boats – Muskoka, Ontario
Cowboys and Combines – Wheatland Hutterite Colony in Rockyford, Alberta.
Rocky Mountain Train – Alberta/Rocky Mountains
Craggy Mountain – Mount Louis, near Banff, Alberta
Mountain Lake Seasonal Transition – Lake Magog, Mt. Assiniboine Provincial Park, British Columbia
Heli-Skiing – Near Bella Coola, British Columbia
Vineyards – Blue Mountain Winery near Okanagan Falls, British Columbia
Seaplane – Lower Mainland, British Columbia
Canada Place – Vancouver, British Columbia
Beach Paddlers – Tofino, British Columbia
Northern Lights – Canada's North
When you're all done that, here's a full list of the US places you will see:
Lighthouse – Petit Manan Lighthouse near Milbridge, Maine
Lobster Fishing Village – Corea, Maine
Fall Colours – Heart Lake, Lake Placid, New York
Urban Night – Chicago, Illinois
Niagara Falls – Niagara Falls, New York
One World Trade Center – Manhattan, New York
Florida Keys – Mud Keys, north of Key West, Florida
Mississippi River – Near Red Wing, Minnesota
Lake Calhoun – Minneapolis, Minnesota
Barnstormer – Near Balltown, Iowa
Cowboys & Longhorns – Along the Pedernales River near Johnson City, Texas
Clouds & Tetons – Above Jackson Lake, Wyoming
Mountain Peak – Mount Teton, Grand Teton National Park, Wyoming
Mesa – Colorado River near Moab, Utah
Bikers – Rampage Ridge near Virgin, Utah
Jets – Near Page, Arizona
Vineyard – Napa Valley, California
Crater Lake – Crater Lake, Oregon
Fairweather Range – West of Glacier Bay National Park, Alaska
Skiers – Mount Tsorill, Northwest of Haines, Alaska
Surfer – North Coast, Maui, Hawaii
Hawaiian Coast – Napali Coast, Kauai, Hawaii
Golden Gate Bridge – San Francisco, California
Statue of Liberty – Liberty Island, New Jersey
Space – United States of America
Check out this cool video for a preview:
We hope you enjoy this exciting opportunity and have so much fun this Spring Break!
{This amazing event is shared with you in partnership with Flyover Canada, all opinions are our own and this is a favourite event of ours!}