One of the beloved annual traditions we have is bringing our own family circus out to see a real Circus featuring actual circus families who live and breathe their art. Heart-stopping moments, thrilling daredevil stunts and incredible acrobatics and aerials, all topped off with some cotton candy. I'm talking, of course, about the Royal Canadian Family Circus, and they're bringing back the iconic Big Top and some incredible new talent to the Lower Mainland.  From May 9 – June 9, 2019 the Royal Canadian family Circus Spectac! 2019 will be here wowing audiences for a total of 34 spectacular shows as they launch their 2019 Canadian tour.
While going to the circus has become a tradition for us, one of the things we love is watching the traditions of the performers. Generations of families devoted to their craft and passing it on to the next. The Flying Cortes Family? 4th generation trapeze artists from Columbia! The Dominguez Motoswing Act? A 5th generation troupe, also from Columbia who will wow the crowd with daring acrobatics, each performer being launched from a motorcycle swing. Yep, you read that right! And of course, our dazzling Ringmaster and Daredevil extraordinaire, 9th generation circus performer, Joseph Dominic Bauer from Switzerland!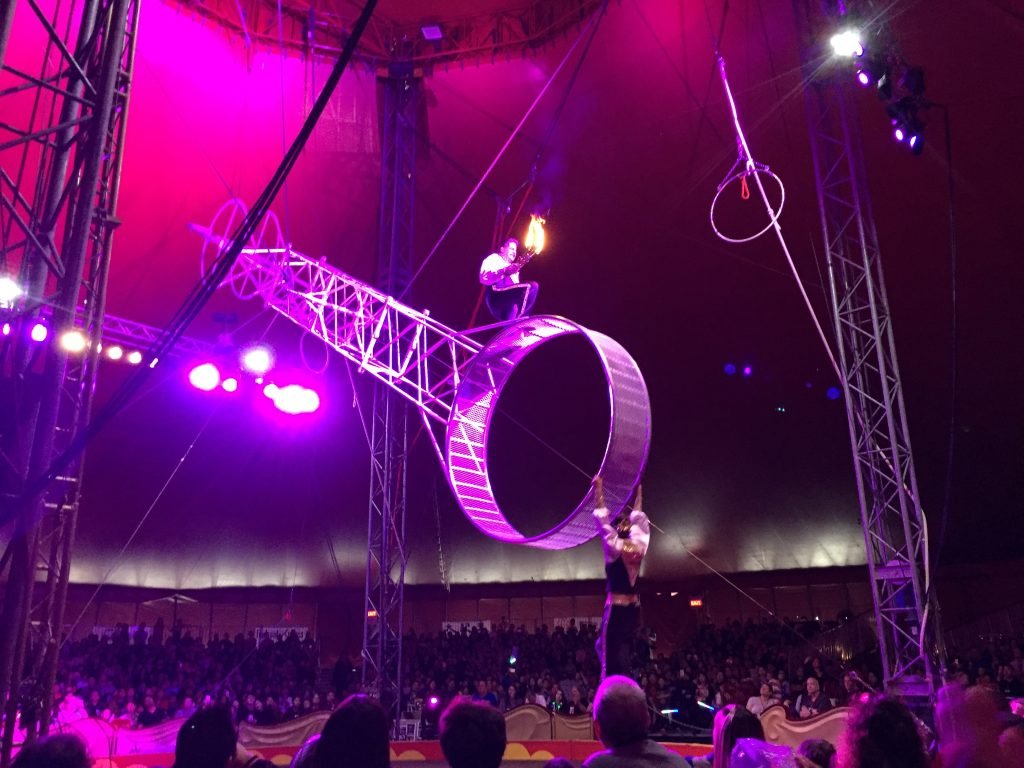 There's also a husband and wife juggling duo from Russia, Chinese acrobats, and contortionists, the death-defying Dominguez Motorcycle Globe that will have you holding your breath and on the edge of your seat, and some comedic relief that's sure to get some laughs. All this and much more, under the Big Top for The Royal Canadian Family Circus Spectac! 2019.
Take the family and run away to the Circus for one day … it's simply Spectac!® 2019

BRITISH COLUMBIA Royal Canadian Family Circus TOUR SCHEDULE
Richmond, BC – Lansdowne Centre, May 9 – 20 (16 Shows)
Tsawwassen, BC – Tsawwassen Mills, May 24 – 26 (6 Shows)
Surrey, BC – Guildford Town Centre, May 31 – June 9 (12 Shows)
For showtimes visit the circus online at www.royalcanadiancircus.ca Tickets are available for purchase on-line or on-site at the Royal Canadian Circus Big Top Box Office on show days from 10am-8pm! Looking for a great deal? I know we always are! Use our promo code bcmom and get 2 tickets for the price of one! Promo code is redeemable online. Also, children 3 and under are free if they are occupying laps rather than seats.
Want that up close and personal experience? To see the exciting action RIGHT UP FRONT? Upgrade to exclusive VIP seating OR, Plush Ringside Seating! It's an exhilarating experience your family will never forget. VIP and Ringside seating is limited so don't delay!
And now, for the grand finale, the Runaway to the Circus Contest! This is a generous giveaway so amazing you may have to read it twice.
Thanks to The Royal Canadian Family Circus, we have five family four packs of tickets to give away to our readers plus one incredible grand prize of eight VIP Ringside seats, a behind the scenes tour, introductions as Honourary Ringmaster plus goodies and pony rides for the kids! Yep, you read that right. We have SIX prizes to giveaway! Ready to win? Read on!
a Rafflecopter giveaway




I'm getting excited just thinking about it! What circus act are you most excited to see?
{This post is shared with you in partnership with The Royal Canadian Family Circus.}