I remember back in grade school learning about the Dead Sea and being rather fascinated. We discussed things like how nothing could live in it because of the extremely high salt content, and that swimming in it would be more like floating, which you could do effortlessly if you chose. We also talked briefly about the health benefits associated with floating in its waters and the spa appeal, though that interests me more now than it did then.
I've always wanted to travel there and experience it myself, but of course travel is expensive, especially with kids. I have, however, had a chance to do what I consider the next best thing; to effortlessly float, buoyed by 800 lbs of Epsom Salts and have my stress, worries, cares and even self float away for a time. And, I only had to travel a couple of kilometers to do it. Float Sense, which recently opened a new location in North Burnaby, provides the perfect tranquil environment to try this unique relaxation experience. The whole space is so cleanly designed with a total zen feel, and the staff are extremely friendly and knowledgeable, able to answer any questions or concerns you may have. Combine this with some pretty stellar hours of operation, perfect for working around work, child care and extra curricular activities, there's a spot available for you to float – pretty much anytime you need it.

Since this was my first float, I wasn't quite sure what to expect. 90 minutes seemed like a long time to be alone with my thoughts in a virtually sound proof tank of water and I was both really excited and a little nervous. I was also very curious about the whole thing from a chronic pain standpoint. The thought of taking ALL of the pressure and stress off of every muscle and joint sounded rather heavenly, and I am certainly open to additional health benefits. The anxious side of me had several questions however.
Would my thoughts run amok with anxious analysis of anything and everything as they often do when I am seeking serenity, or mostly, sleep?
And speaking of sleep, what if I fall asleep? Could I drown?  Or more probable, what if I won't wake up?
Do I wear a bathing suit or…?
Should I shave my legs for this?
What if my anxiety gets the best of me and I need out?
I easily found all the answers to many questions on the Float Sense FAQ page and found even more in-depth information on how to prep and enjoy my float on their How To Float page.
I was put even more at ease when I arrived by the warm staff and the truly calming environment that they have created, chatting and sipping tea while I toured the facility.
When I saw the float pods, I was pleasantly surprised; roomy enough to stretch my arms and legs out out nicely, softly lit with your choice of calming colours (or dark if you prefer), and easy to get in and out of. Not at all what my mind had pictured.
When it was finally time to step inside, I was kind of surprised at how my body bobbed up in an instant float, and even better, how I could rest every single muscle and let the salt water do all the work. No tense neck muscles from trying to hold up my head, and it was kinda of fun to float back and forth a bit and stretch inside the pod before closing my eyes and quieting my mind.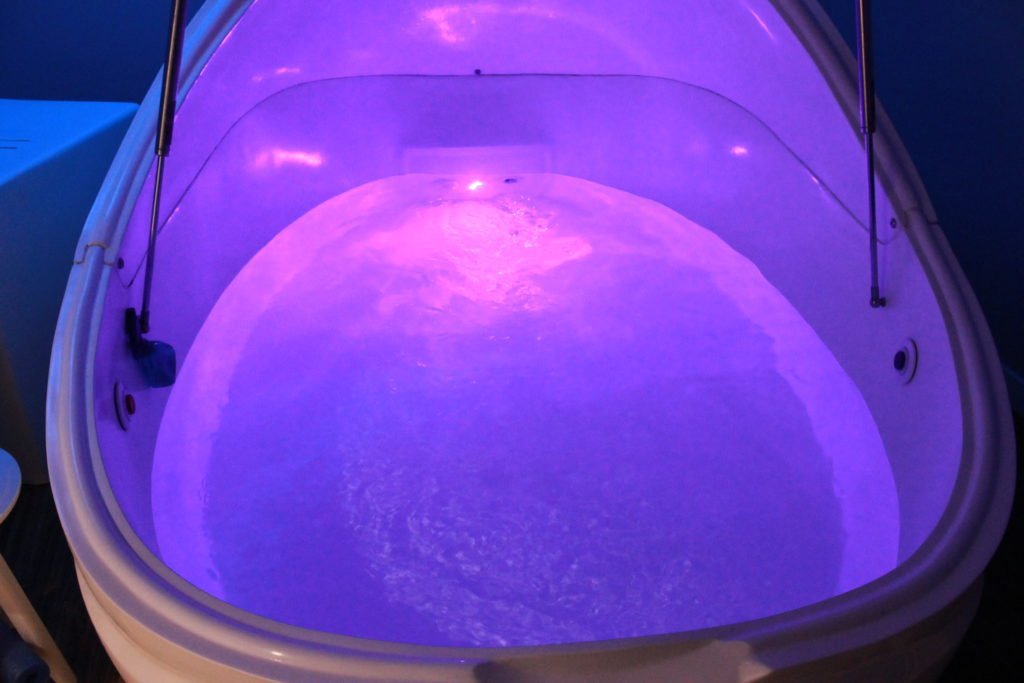 My 90 minutes was up all too soon, though I may have fallen asleep. But I felt ah-may-zing! Floating really helped relax my neck and shoulders, my chronic pain trouble spots. With no need for my muscles to work and a great reduction in outside forces on my body, I emerged refreshed having quite literally soaked away the aches, pains and cares of the day.
Floating is not only great for your body, giving muscles and joints a much deserved rest, but your mind gets a much needed rest too. It was a very zen like experience. Sure my mind circled and wandered for a bit, but calmness did come as I peacefully bobbed. Being an anxious person, I welcomed it. I felt lighter afterward not just from being physically rested and rejuvenated, but my anxiety was replaced with calm, and it was a great relief to have my train of thought take a break and reassess its choice of track.
The fact that my skin felt silky smooth after a cleansing shower was a bonus, as was the high quality, locally sourced shower essentials, so no need to pack your own shampoo! It's also worth noting that their bathroom, which is impeccably clean, is fully stocked for any emergencies you may have or personal items you may have forgotten… right down to fixing that post-float hair ladies, the battle is real.
Tara and I had such a wonderful time at Float Sense, literally bathing and basking in nothingness for more than an hour. It's pretty much every blogger and parent's dream, amirite? The pricing on the floats is pretty reasonable for the amount of time you're relaxing, we highly suggest treating yourself.
After the craziness that was a two-week March break and subsequent struggle to get back into a routine, we are pretty excited to be able to offer one of our readers the chance to experience Float Sense for themselves! One lucky fan is going to win a pair of floats, one for them and one to share. This is the perfect chance to take a loved one on a much needed relaxing adventure. It's important to note this prize will be redeemable at either Burnaby location. Enter below!