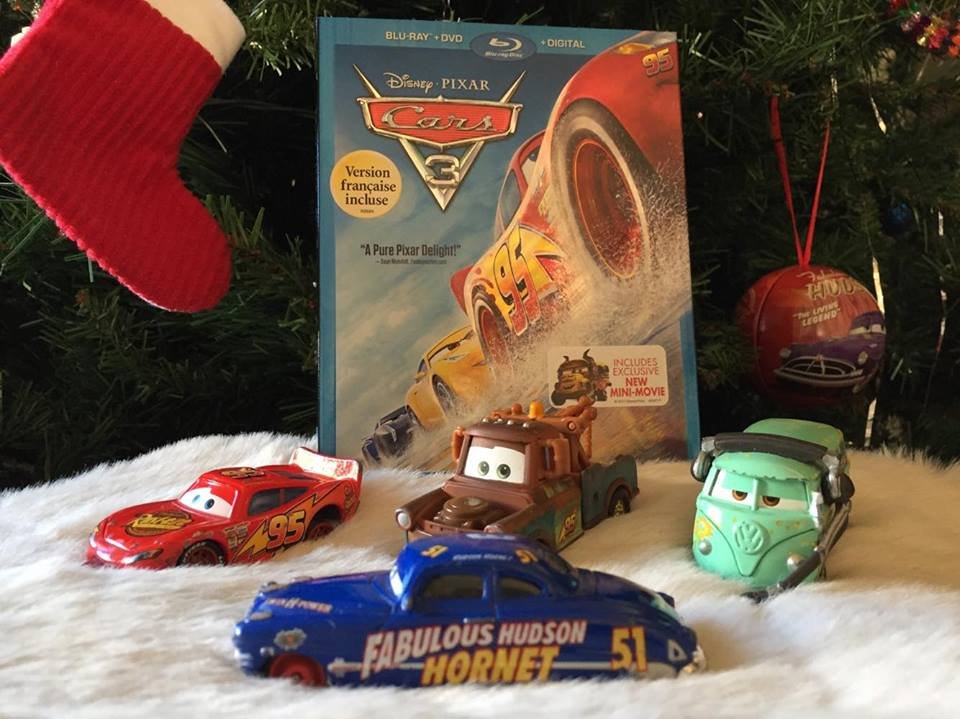 My little guy is a HUGE fan of Disney's Cars franchise. Seriously. Ask him anything. He's quite the little collector too and likes to frequent thrift stores on treasure hunts looking for rare 'new'  Cars characters to add to his collection which is nearing 100. That seems like a lot until you consider that each movie has 100-ish characters, and many of them with multiple paint jobs or accessories, various daydream sequences etc. and some of them quite rare. So really his collection is just beginning.
And now that the third, and in my opinion best, installment Cars 3 has been released, there's a whole slew of new characters to get to know. And the best way to get to know new characters is to watch them! We fell in love with the trilogy finale in the theatre and knew it was a must have for our growing Disney collection. Now Cars 3 is available on DVD and Blu-Ray in a store near you…just in time for Christmas!






LIGHTNING MCQUEEN is a world-champion racer who's riding high with five Piston-Cup wins under his hood. Suddenly, he finds himself faced with a new generation of racers who threaten not only his dominance in the sport—but the confidence that got him there. Determined to get back into the pole position, #95 must decide if his love for racing is enough to fuel the comeback of his life.
From sleek new high tech race cars like Jackson Storm, demolition derby racers like school bus Miss Fritter and NASCAR racers from the 50s like Louise "Barnstormer" Nash who is named after a real race car driver, there are so many stories woven throughout the film,  spanning generations and even touching on moonshine running! We love finding out about their character inspirations, the people behind the cars, not to mention the pretty witty names they come up with.
We also get a better look at how Doc Hudson, once known as the Fabulous Hudson Hornet got his start in racing and his inspiration. There are many parallels between Cars 3 and the original Cars movie, between Doc's life and Lightening McQueen's, though if you haven't seen it yet, I don't want to spoil too much! But while Cars 2 felt a bit like a Mater's Tales spin-off, Cars 3 truly feels like a sequel; and it's one we'll watch again and again.
Do you have a Cars fan in the house? Because we have one copy of Cars 3 on DVD/Blu-Ray to give away to one lucky reader!
Disney Pixar Cars 3 Blu-Ray/DVD

{Disclosure: Disney Studios Canada generously provided us with this DVD for review purposes. All opinions are our own.}