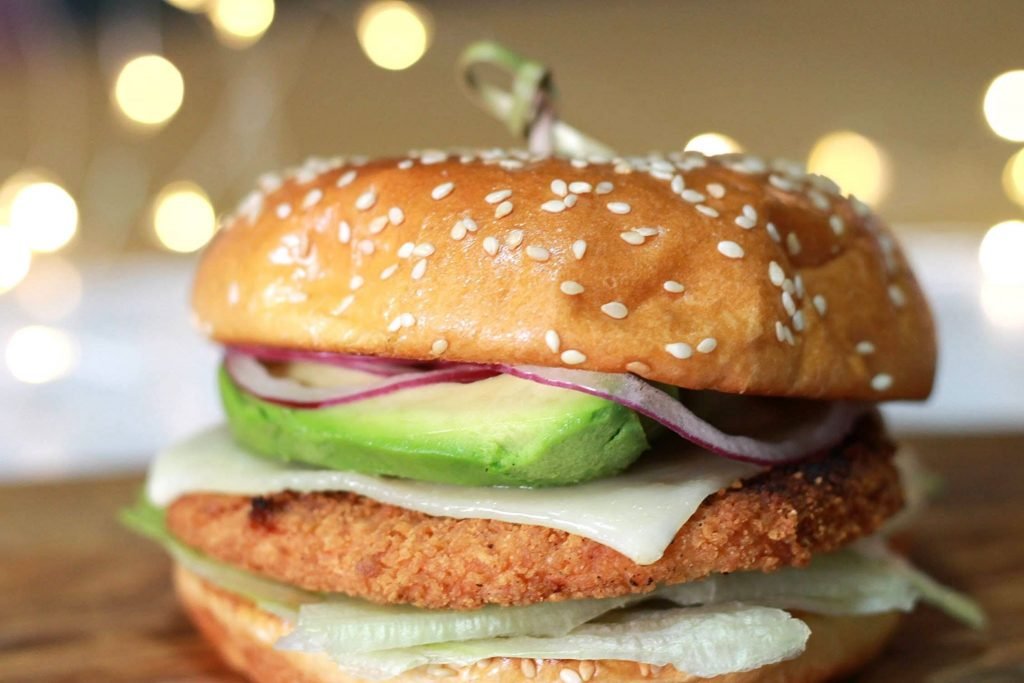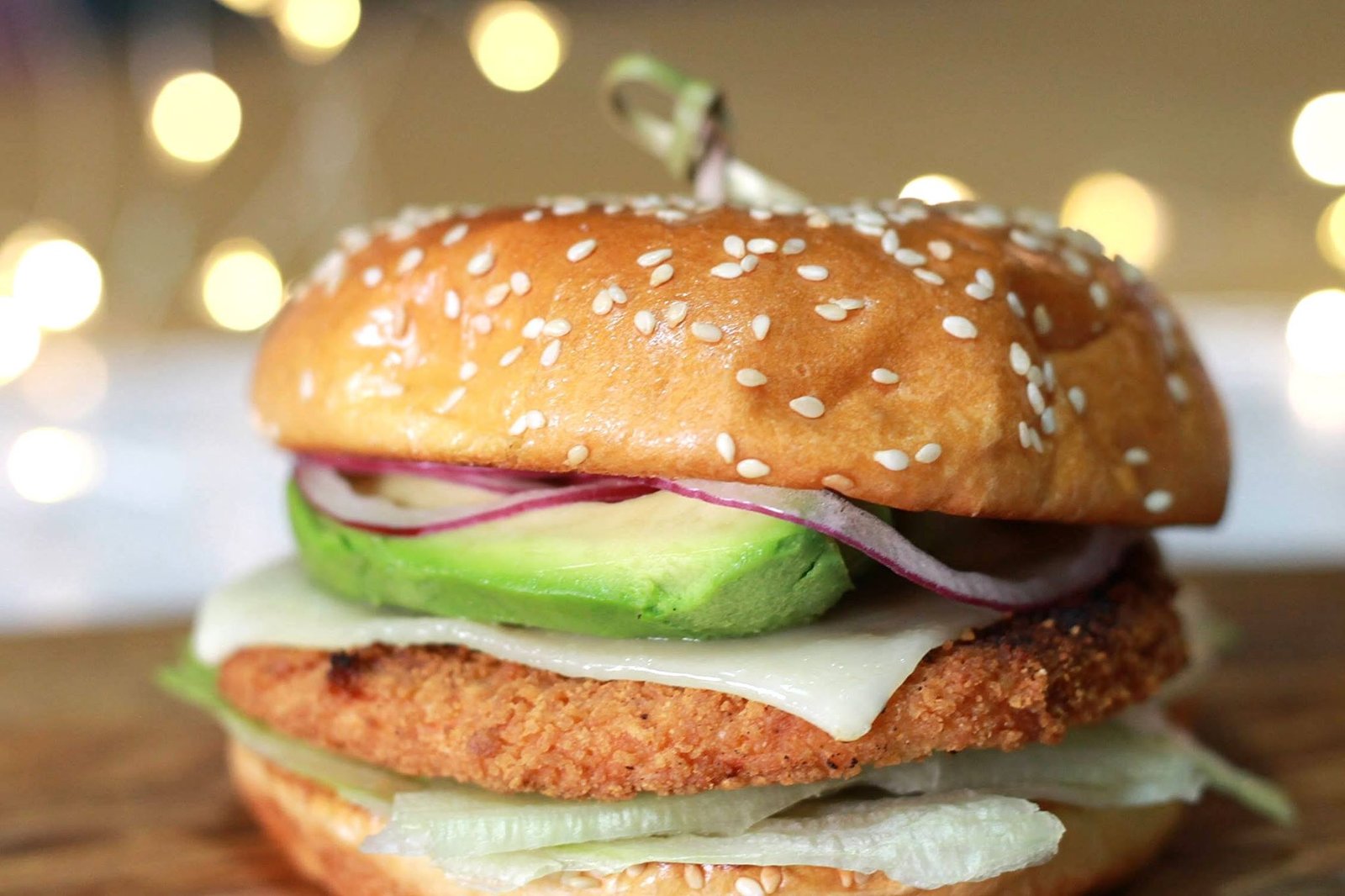 I'm holding on to Summer as long as I can at this point. It feels like it blew in super slowly and then bam, it's back to school time, wait what? With Summer slowly rolling into Fall, I'm amping up my recipe box with some easy weeknight meals that can be made with items we usually already have on hand but still are different enough that the family doesn't get sick of the same thing when we're in a rush.
You guys know how much I love an easy weeknight meal. Recently, I shared our 30-minute baja fish tacos and the response was incredible so I knew we'd be sharing another super easy weeknight meal that you can pull off with pretty close to no-planning (hello weeknight time saver!) and today I'm sharing one of my personal favourites. The weeknight chicken burger.
Full disclosure, even though Janes is a sponsor of this post, my freezer is literally always full of their products. From Pub Style Chicken Strips to ultimates battered fish and ultimates chicken wings, they've been a brand we've loved for a long time that has always made our weeknight (and game night!) meals super easy, affordable and delicious. And our California Chicken Burgers using Janes Pub Style Chicken Burgers are no exception – both flavourful and juicy while satisfying even the pickiest eater at the table. Burgers are so versatile that you can add any toppings that suit your personal tastes and these are just a few of our favourites.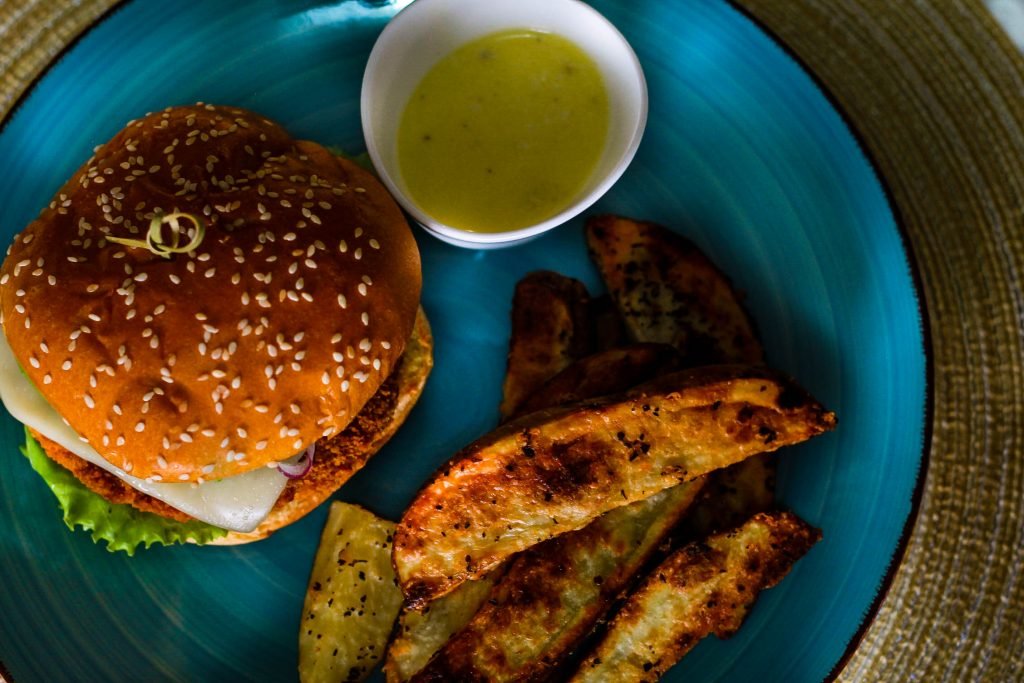 One of the best parts of having Janes Pub Style Chicken Burgers on hand is they are not only low in saturated fats, there's no hydrogenated oils or artificial flavours. You're getting good ingredients with no preservatives that you don't need to feel guilty pulling out of the freezer after a long day. Mom win? You know it.
My favourite part of this recipe is that you probably have most of what you'll need already on hand, and if not it's easy to grab a few small staples on the next grocery shop to get you through a few meals. Janes Pub Style Chicken Burgers are a super affordable (and often go on sale at the local grocery store – stock up alert) and an easy option to have on hand for weeknight meals. They make pulling together a family meal on the fly super easy (even if you end up with a few extra neighborhood kids!). We love pairing our burgers with an easy side salad or baked french fries. We're splurging and going with fries for this recipe!
Let's get cooking.
To start with this recipe, you'll want to preheat your oven to 425 degrees celsius according to the Janes Pub Style Chicken Burgers box instructions, and start prepping your french fries.
Cut washed russet potatoes into ¼ inch strips and toss generously with olive oil, salt and pepper, basil or your favourite french fry seasoning and parmesan cheese (optional). Lay fries in a single layer on a baking or pizza sheet and do the same for your Janes Pub Style Chicken Burgers. Pop into the oven and set your timer for 10 minutes for a flip and get to work on your garlic aioli spread.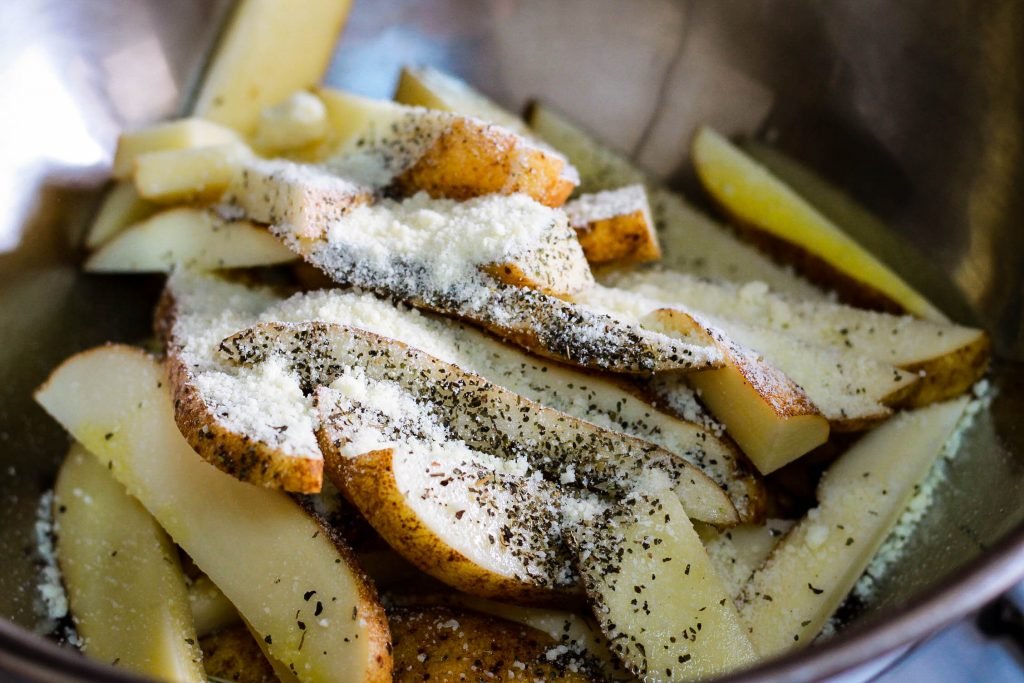 In a small bowl mix together mayonnaise, lemon juice, minced garlic, salt and pepper and slowly whisk in olive oil. I highly recommend doubling this recipe, you won't regret it! Set aside in the fridge to chill and prep your buns.
I always find hamburger buns to be a personal preference thing, whether you choose to go with traditional buns, kaiser, ciabatta or brioche, it's entirely up to you. For this recipe I opted for brioche because yum, and I chose to toast ours which is entirely optional.
You can skip this step if you prefer a softer bun, but I've found with the garlic aioli that toasting it keeps the bun crunchy and the spread where I want it. If you have a toaster oven you can pop them buttered side up to get a bit of colour, or in a non-stick frying pan set to medium-low heat and toast for 10-20 seconds per cut side.
At this point you'll want to flip your Janes Pub Style Chicken Burgers and french fries and set the timer for an additional 15 minutes.
We keep our weeknight burger toppings pretty simple, lettuce, red onions, avocado and if you fancy, a slice of sharp cheddar.
When the timer dings, you're set for dinner!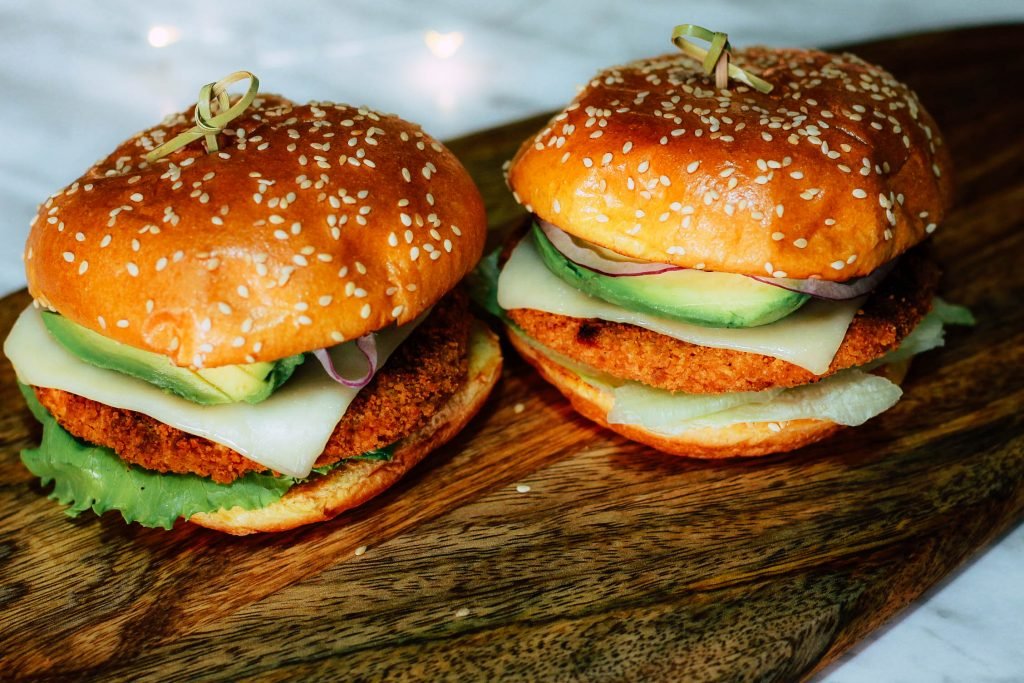 Lay it out
We like to build our own burgers at home and lay out a cutting board in the middle of the table with our toppings and it's basically a free for all. I highly recommend doubling up on the garlic aioli for fry dipping and being super generous with it on your California Chicken Burger – it's delicious!
While we made this meal with the Janes Pub Style Chicken Burgers you can also try it out with the Janes ultimates Tender & Juicy Chicken Burgers if you prefer to go the unbreaded route. Either way, they are both a family favourite in our house and the result is equally delicious.
Weeknight Vibes
From start to finish, you can complete this meal in 30 minutes. Want to shave a bit of time off? Prep the potatoes and garlic aioli the night before, or use a store bought sauce if you're super pressed for time or ingredients and you're set for an easy weeknight meal that the entire family will love.
Recipe serves 4 – make as little or as many as you like, the recipe is generous!
Weeknight California Chicken Burgers
This weeknight recipe has perfect summer vibes with crispy chicken, creamy avocado and a delicious garlic aoili!
Ingredients
For Aioli Sauce (double up for extra dipping sauce)
4

tbsp

mayonnaise

1

minced

garlic clove

2

tsp

fresh lemon juice

4

tbsp

extra virgin olive oil

salt & pepper to taste
For Oven Baked French Fries
4

large

washed russet potatoes, cut into 1/4 inch slices

1 1/2

tbsp

extra virgin olive oil

1

tsp

dried basil

or your favourite fry seasoning

salt and pepper to taste

1/3

cup

grated Parmesan cheese

optional
For California Chicken Burgers + Serving
1

box

Janes Pub Style Chicken Burgers

1

pkg

brioche hamburger buns

or your favourite type

1

large

avocado sliced

1

pile

washed romaine or iceberg lettuce

the crispier the better

1/2

red onion, sliced thinly

sharp cheddar cheese slices

optional
Instructions
Preheat your oven according to your Janes Pub Style Chicken Burgers Box (425 degrees)

Toss sliced russet potatoes in a bowl with olive oil, seasoning and parmesan cheese

Lay potato slices and Janes Pub Style Chicken Burgers in a single layer on a baking or pizza sheet, for this recipe we used 4 burgers but you can add as few or as many as you need

Pop both trays into the oven and set timer for a 10 minute flip reminder


In a small bowl mix together mayonnaise, garlic cloves, lemon juice and salt and pepper to taste, mix well and slowly drizzle in olive oil. Adjust seasoning as needed, then place in the fridge to chill.

If you're toasting your buns, this would be the time to do it! Brush any open sides of your hamburger buns with melted butter and place in a medium-low heat frying pan and flip every 10-20 seconds. Keep a watchful eye, they can burn quickly.

By now your timer should have dinged, flip the fries and Janes Pub Style Chicken Burgers and reset the time for an additional 15 minutes.

Next up is prepping your toppings. Lay out your toppings on a cutting or serving tray to serve at the table, our favourites include avocado, red onions, lettuce, a sharp cheese and if we're feeling fancy, some crispy bacon.

Enjoy your last few minutes before the dinner rush begins when the final timer dings

Assemble your delicious chicken burgers and enjoy!
This is one of our families favourite weeknight meals and is incredibly adaptable to personal tastes. Whether you're prepping during a crazy weeknight rush or cooking for a group on the weekend, you can make as few or as many as you like and it's sure to satisfy the entire family.

{Disclosure: This post is shared with you in partnership with Janes Family Foods. All opinions and food love is my own. I hope you'll enjoy our easy weeknight dinner with your family!}