If you are planning a wedding, birthday, some sort of shower, or other large festivity, there's one item that really has the power to make or break an event. Sure, gatherings are really about the people, I know this. But when it comes to party items, I'm talking about cake. Think about it.  An okay cake might be eaten, but not really noticed, or talked about.  A really great cake becomes a gorgeous centre piece, talked about around the room, ooohed and ahhhed over, photographed, and savoured when eaten. Really bad cakes will be talked about and photographed too, but we are talking about the difference between an Instagram shot and one sent to cake wrecks.
After attending several parties featuring stunningly beautiful, and incredibly moist and tasty Creative Cake-A-Tiers cakes, I knew exactly who would be doing cakes for my kid's birthdays. If you have a theme, character, item or idea that you'd love to see in cake form, Kelly the talented, and Certified Baking and Pastry Chef, can do it all, and is always up for a new challenge. In fact, she revels in challenges and loves bringing your whatever you can imagine to life – all in edible form!
We did, in fact, have a bit of a challenge, as we tossed Kelly a new design to conquer for Amy's 11th birthday. Since her birthday was set in Climb Base5, a rock climbing gym, Amy had the idea of a climbing wall cake. Tall yet slender, angled like the walls at the gym, and little 'rocks' on the walls. Tall order? Maybe. But Creative Cake-A-Tiers didn't shy away from the task, and the result was exactly how the birthday girl had imagined it! And, while I had imagined the 'rocks' being done with little rock candies from the store (which I figured would be easiest), Creative Cake-A-tiers went all the way and molded each and every little climbing rock by hand! The bright contrast of the climbing rocks was beautiful and looked quite like the walls we were going to climb.
You know you've got an awesome cake when even the location hosting your party gushes over it, that certainly made Amy feel super "cool" at her party!
Both my kids are born in the same month, so you know I had to get Kelly to do Breton's cake too. When asked how he would like his cake, he asked that it be tall, and brown with flames, and orange hot wheel track. She nailed it, and he still talks about his hot wheel cake! But, when you scroll through the albums full of cakes that Creative Cake-A-Tiers has previously created, you can see that our requests were actually quite tame in comparison. There are some incredibly elaborate works of edible art if you need inspiration or are just looking for a little eye-candy.
Creative Cake-A-Tiers also does gorgeous cakes for adults as well, whether it is a birthday, retirement, baby shower, every occasion can be an occasion for cake! She has even done a few naughty cakes for bachelor(ette) parties, so definitely don't be shy to share any of your cake visions.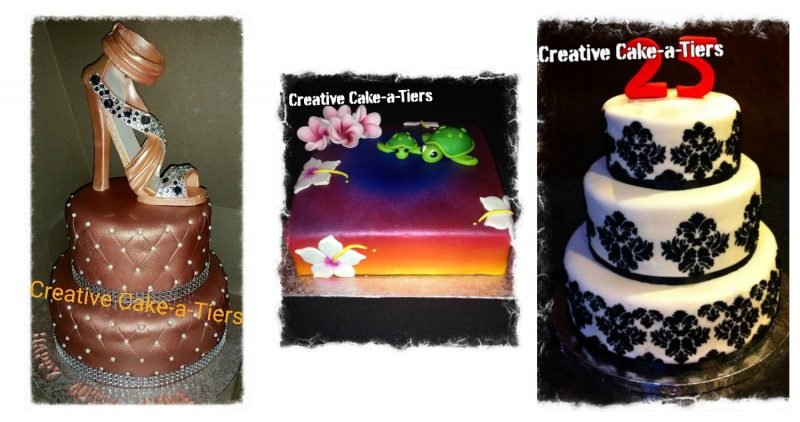 She also creates elegant and unique wedding cakes that seem like a perfect match to their intended couple. Hoping for a many tiered cake for aesthetics without actually needing a lot of cake? You can get fake tiers decorated with the real ones and no one will be the wiser!
Tara's daughter Alivia also requested that Kelly make her cake this year. A wanted a winter-y cake, but NOT Frozen themed, mom wanted a combination of fondant on the top layer but buttercream on the bottom. The result was beautiful, fit all the criteria, and was super scrumptious; even the glittery snowflakes were edible!
As you can see, Kelly is talented in both fondant and buttercream, she does cupcakes, cake pops, even cookies, and her creativity knows no bounds. Plus, there is a dizzying array of both cake flavours and filling options (our current fave is cookies and cream!) to tantalize your taste buds.
When I have an occasion where I really need the cake (or cupcakes, cake pops or cookies!) to shine, my first contact is Kelly at Creative Cake-A-Tiers. She makes the whole process so simple and hassle-free, while delivering a product that will truly help make that occasion look and feel even more special than it already is. And she does it all for the love of cake!
Connect with Creative Cake-A-Tiers
Website | Facebook