It's hard to maintain a sense of style when you're the mom of an infant. Everything needs to be wipeable, or, at the very least, machine washable. And forget jewelry or accessories. Tiny hands and curious minds make accessorizing difficult at best, and can be downright dangerous when you factor in small beads and tiny airways.
Tiny Teethers makes adding a little flair to your mom uniform easy and safe. They offer a variety of necklaces featuring different styles and shapes of beads, in an array of vibrant colours and calming neutrals. Not only are their necklaces beautiful for mom, they're visually appealing to babies and completely safe to chew.
Yes, you read that correctly. Tiny Teethers makes their necklaces using BPA-free, food-grade silicone (the stuff pacifiers and bottle nipples are made of) and natural wood beads, which means you can wear stylish accessories and your baby can chew on them. It's a win-win situation.
I was skeptical before I saw the product. I was worried it would look like I was wearing a toy around my neck. My fears were completely unfounded though; the necklaces look like regular jewellery. The colours are bright without being garish or infantile. The designs range from more elaborate like the gorgeous Dahlia Collection, to more basic like my personal favourite, the Sage Collection. There's something for everyone, including those with very simple taste. The Exclusive Pendant is perfect for those who want a casual, unobtrusive look, and it was the piece my baby gravitated toward most (it's the perfect size for tiny hands to grasp).
The necklaces are also great for distracting curious hands while breastfeeding. Instead of pinching my skin, or trying to get her fist in her mouth while latched, my baby loved fiddling with the beads.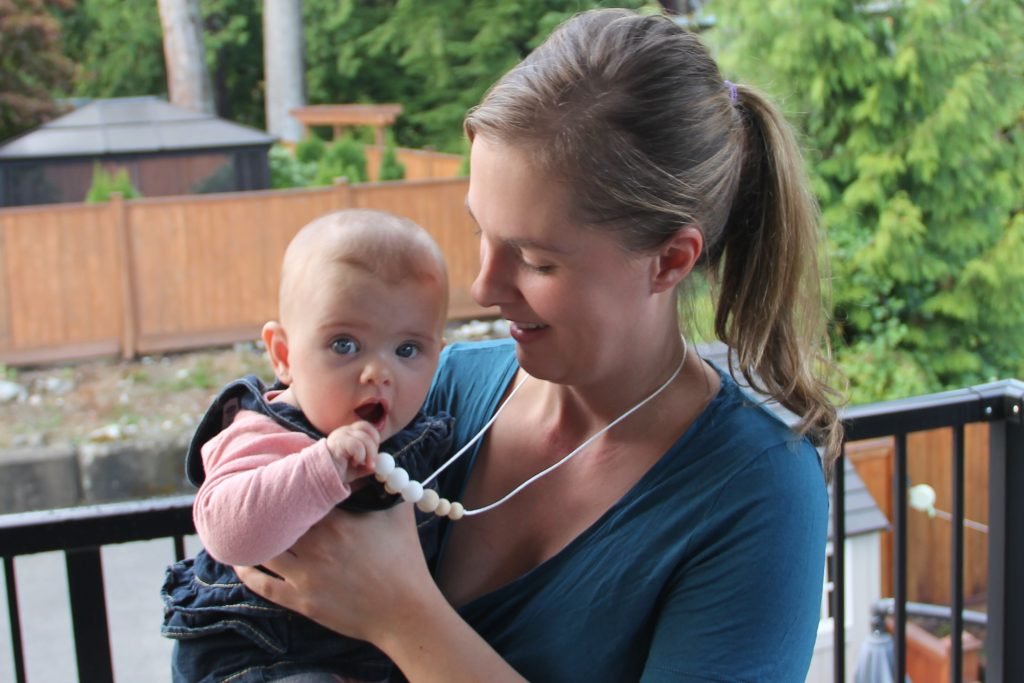 Babies can have even more fun with Tiny Teethers' other products, like their adorable teethers, made from the same BPA-free, food-grade silicone as their necklaces, and pacifier clips. My baby and I both love the pacifier clip. It features a string of silicone beads that my baby loves to hold and twiddle, with a loop at one end to easily secure the pacifier, and a wooden clip at the other end to attach the pacifier to a baby's clothes or carrier. I was concerned that the wooden clip may be large and cumbersome but its smooth surface and rounded edge make it unobtrusive while still being large enough to easily fasten and remove.
I love that Tiny Teethers makes their products with mamas and babies in mind, and I especially love the concern they show for Mama Earth. When you're finished with your Tiny Teethers product, you can return it to be upcycled into someone's art project instead of sending it to the landfill.
Tiny Teethers makes products that help moms feel a bit more glam, and teething babies a bit less miserable. I love how effortless it is to throw on one of their pieces and instantly feel a little more pulled together (let's not mention the day-3 hair or coffee stain on my shirt, okay?).

Hillary (with two Ls please!) is a coffee-loving, gin-drinking, cancer-surviving, baked goods enthusiast. She's stumbling her way through this parenthood thing, trying to avoid screwing her kids up too badly, and dreaming of the day when she can use the bathroom without a captive audience. Read more at Hillary with 2 Ls (please) and follow Hillary on Twitter, Instagram, and Facebook.