Every family creates their own holiday traditions. For us, the one Christmas tradition we cannot do without is a visit to Bright Nights in Stanley Park. Seeing my children's excitement as they take in the magic of 3 million lights in stunning displays, brings me back to years of my own childhood Christmases. Bright Nights is a truly enchanting experience that everyone will love, from the very youngest to the young at heart.
Before we were even in the main entrance I was already giddy over the free parking! This is a rare occurrence in Vancouver and definitely something to be excited about. The entrance into the Bright Nights Train Plaza where all the light displays are, is by donation (Suggested donation $4/person) to the BC Professional Fire Fighters' Burn Fund. With these donations as well as a portion of the train ticket sales, they have raised over 1.4 million dollars  to support burn survivors and their families since 1998. There's nothing better than having an amazing time creating memories and giving to a great cause at the same time.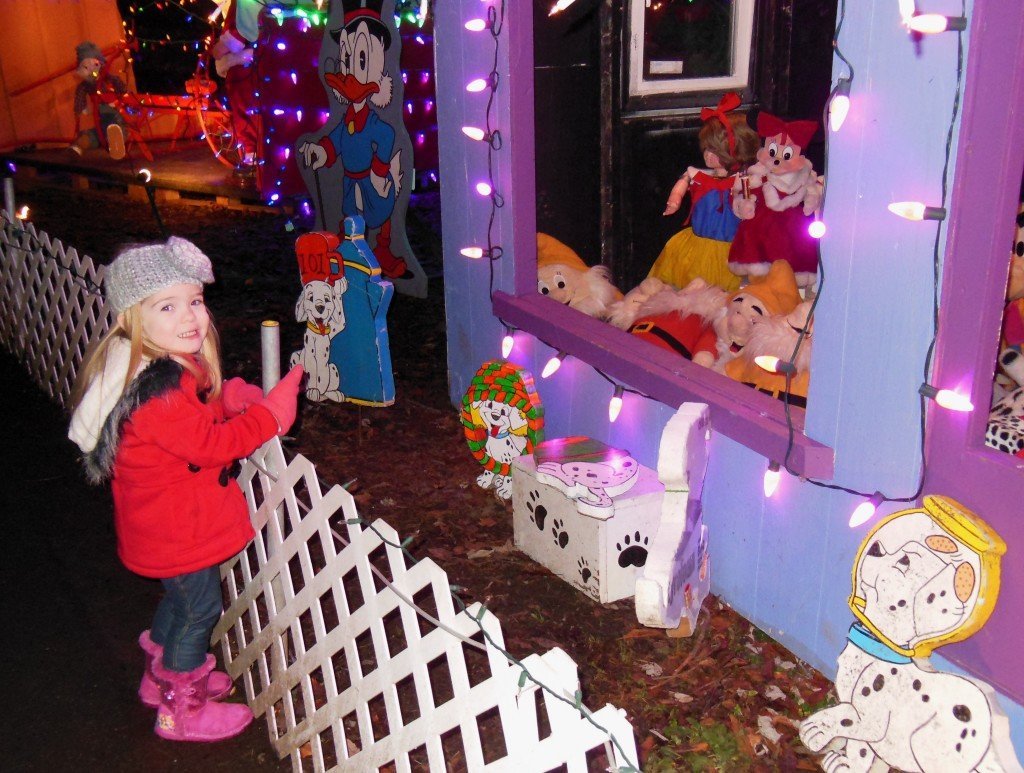 As a mom of a two year old girl and an eleven year old boy, I am incredibly grateful when I can find an outing that interests both of my children. My son Dylan kept reminiscing of our visits to the Christmas train in years past and was thrilled to see displays he recognized. Even though I've been to Bright Nights more times than I can count, I felt like I was experiencing it for the first time with my daughter Scarlett. I loved seeing her face light up as she saw characters she recognized such as the Grinch and Mickey Mouse.
We took our time exploring all the light displays in the plaza. A few of our favorites were the large Canadian flag, Rudolph the Red Nosed Reindeer and baby Jesus in the Nativity scene. There was even an old fire truck there that the kids were able to climb up in with the help of a local fire man. There really is something for everyone. Pretty soon we were enticed by all the amazing smells coming from the food vendors around us and there were plenty of great choices from organic popcorn, roasted chestnuts and pistachios, to churros and hot dogs. We definitely needed some hot chocolate to warm up our hands and insides!
Our favorite part of Bright Nights in Stanley Park is riding on the Christmas Train. This 14 minute ride takes you over bridges, through tunnels, past live entertainers and thousands of twinkling lights arranged into magical little scenes. Scarlett was over-the-moon excited that much of the music we heard on the ride as well as several displays, were from the movie Frozen. I can only imagine how many smiles were brought to the faces of children upon seeing Olaf, Ana and Elsa along the train ride.
After the train ride, we wandered over to Santa's Workshop where the old petting zoo used to be. More beautiful lights greeted us as we entered the courtyard. There was a tented coloring station set up for the little ones outside, but seeing as it was a pretty chilly night, we headed right into Santa's Workshop. Once inside, we got to check out all the charming miniature town and train exhibits. For $5 you can get a photo with Santa. Seeing as one of my kids thinks he's too old, and the other one terrified of the big man, we avoided the line up and just watched and waved from the sidelines before heading home.

Whether this is an annual family tradition for you, or you are looking for something special to do over the holidays, I encourage you to experience Bright Nights in Stanley Park for yourself next year!
For more information check out www.brightnights.ca
Did you visit Bright Nights this year? What was your favorite attraction?
Tiffany is a newly single working mom of two amazing children. She loves to laugh, even if it's at herself as she navigates co-parenting, being single for the first time in her adult life, and raising a toddler and a preteen. Keep an eye out for more adventures from this Undomesticated Mama.
{Disclosure: We were provided with complimentary passes in exchange for our review, all opinions expressed are our own, your experience may vary}