Join us next week for the 18th annual Early Care & Learning Conference, this will be my first year attending and I am so eager to hear the keynote address from Dr. Laura Markham from AHA! Parenting.
Dr. Laura Markham is the author of Peaceful Parent, Happy Kids: How to Stop Yelling and Start Connecting, which continues to rack up five star reviews on Amazon as parents attest to the power of her approach of connection, coaching, and parental self-regulation
Do you have a strong willed child? I know I do, and I know she gets it from her mom and her dad. I also know most of the battles we have are from mis-communication and not knowing how to direct discipline in a positive (see: not an even bigger fight!) way.
Dr. Barkham's keynote address will be on Friday January 16th from 7:30pm-9:30pm and she'll be covering basics of the peaceful parenting approach including:
Connection
Loving guidance instead of punishment
How children develop self-discipline
Emotional intelligence
Parental self-regulation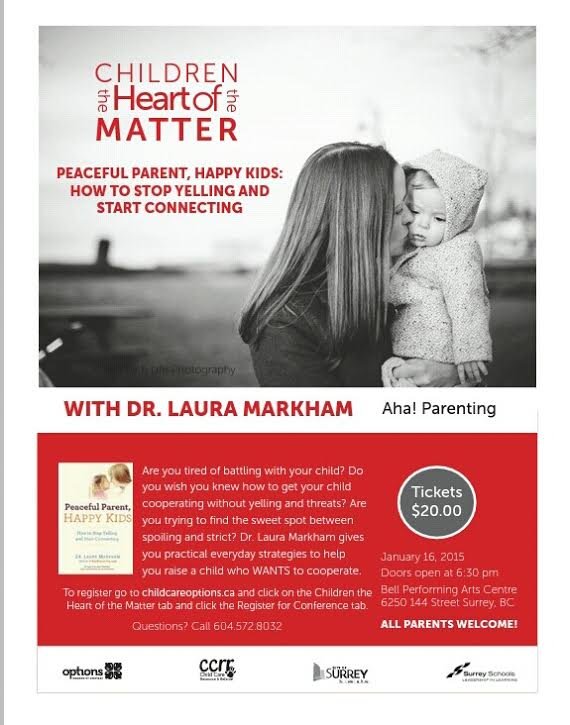 When I first saw the event information for the seminar, the first line caught my eye "Are you tired of battling with your child?" This challenged me because yes, I am so tired of it every single day. I am not a perfect parent by any means so I am grateful for any tips and tricks I can get to parent, without yelling. The conference promises to offer numerous workshops, speakers and resources to get you on track with parenting peacefully!
Tickets for Friday night are only $20 and include access to some fantastic shopping opportunities as well, Options Resources happens to be located fairly close to my office and I am often popping over to check out what new educational toys they have, I highly recommend a visit if you are looking for toys that will continue to grow with your kids, or just some super fun arts & crafts supplies! Make sure to hit up an ATM beforehand, there isn't one located at the venue.
Event details:
When: January 16 & 17, 2015 (open to the public)
Where: Bell Performing Arts Centre – 6250 144 Street, Surrey
Tickets: Grab them here
Friday night only $20
Friday & Saturday $120
Saturday only $115
Workshop spaces & selections are available on a first come, first serve basis.
For more information visit childcareoptions.ca
Will you be joining us? We hope to see you there!
{Disclosure: This post is sponsored, but all opinions within are my own. }