Just a few more days before our preschoolers head off to walk up the big steps at a big school! Difficult to believe it's been five years already, and now suddenly we're thrown into school lunches school drop off/pick ups and school supplies!
I am sure parents with kids already in school know the battle; you buy super cute things at the start of school and by the end of September half of them haven't come home – lost forever in the depths of that big school! I have a kind of funny memory of my mom shaving the end of my pencils to write my name on them – luckily for us, we don't have to go to those lengths anymore! Labels sure have come a long way, with high-quality labels available to smack onto pretty much anything leaving the house! 2 years ago while at the Healthy Family Expo we received a sample of Emily Press Labelss in our swag bags and admittedly, kind of fell in love! 
The labels we received were the Emily Press Write-Your-Own labels, and they certainly came in handy for preschool, but I knew heading into Kindergarten we were going to need a lot more variety for a number of supplies we were going to have to labels – because let's be serious…. I would love if the stuff made it back home!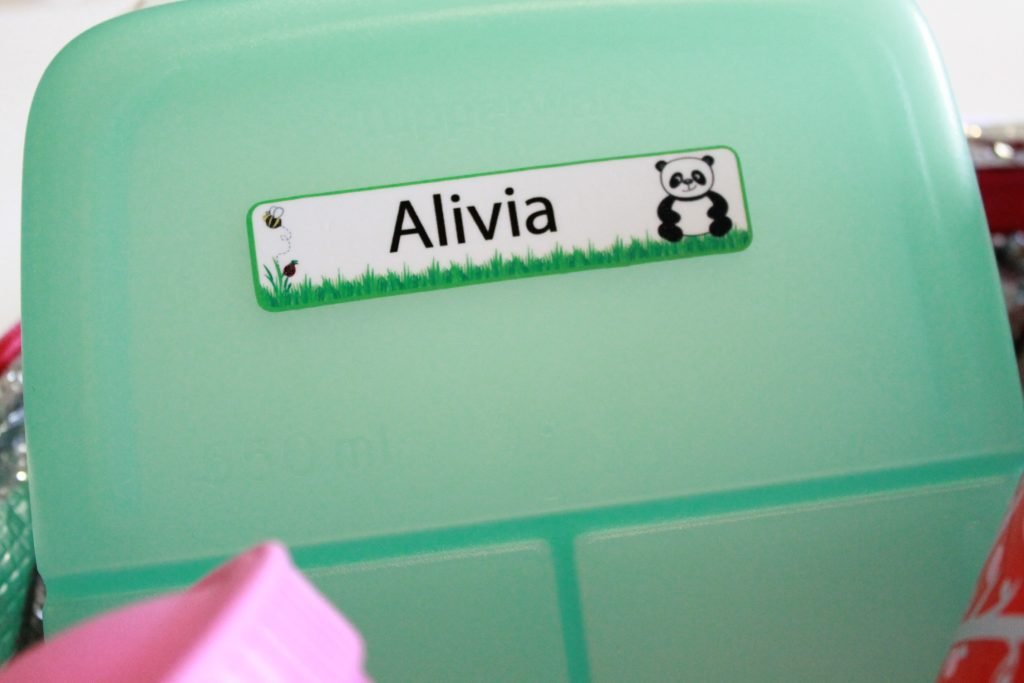 We decided to test out the Emily Press Labels Deluxe School label pack; it has enough labels inside to get you through the year – maybe even longer! You'll receive;
12 Shoe Labels
15 Classic Labels
40 Slim Labels
77 Peel & stick clothing labels
55 pencil labels (not dishwasher safe)
For a grand total of 199 labels! One of my biggest pet peeves, when it's come to ordering labels in the past, has been the process, it was confusing, and I didn't feel I had as much customization options as I would have liked. I have a little girl who loves pink, but also loves superheroes – usually I am stuck ordering "boys" labels or princess labels, and I was so pleasantly surprised with the Emily Press order process and how I could choose a feminine background but choose an icon that was a bit more personal and suited her a bit more. For these labels, A chose the butterfly & Panda, and B chose the superhero boy.
So you're probably thinking – they're labels…. right? What's so exciting about labels? How about EVERYTHING. I am seriously in love with these labels. I didn't have to pick and choose what I 'might' need, Emily Press Labels created a package that includes the perfect amount of each label and I didn't feel like I would need to order any additional ones on top of these ones.
Most schools now try to encourage litterless lunches, and while that can be a challenge with dwindling tupperware never returning home, you can circumvent this issue by labeling both the top and bottom of your containers – and with plenty of Classic Labels & Slim Labels in this package, there is enough to label both!
Another favourite? The Tag-A-Tag clothing labels that you peel and stick to any label on clothes, press firmly and it's adhered! Not only that, they are laundry safe as well so they really can take just about anything your kid can throw at them and stay put! We know kids… as soon as they walk into room they start shedding layers wherever they can and sweaters and coats are one of the most left behind school items! Tag-A-Tag them and they are more likely to make their way back home!
Regardless of what you surface you are labeling, the slim and classic labels stick firmly and securely and bonus – totally dishwasher safe so no more hand washing! If you do have items that need to be handwashed, we recommend saving the slim labels and use the pencil labels instead, they are perfect for tiny containers!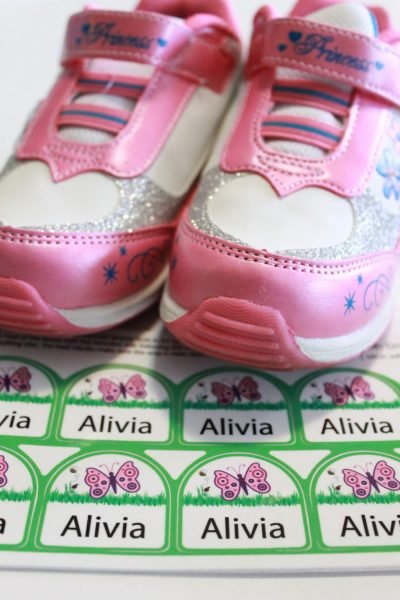 Last but certainly not least… the school shoe battle. Leaving items at school is new to me, with preschool we took everything we needed the day of and it came home at the end of the day. Not the case for Kinder apparently! We have to send a change of clothes and a clean pair of shoes to leave in the classroom. Since most families shop at pretty much the same place.. the chances of your child having the same shoes or clothes at this age are actually pretty good! So make sure to label EVERYTHING – including those shoes! We love the shoe labels, they fit inside any footware and stick securely without needing a second label on top to seal them.
I have been happily labeling away for the past few days with her first day of school coming up on Wednesday and even after having labels everything – I still have a ton of labels left to get me through the rest of the year! These labels are thick and even after peeling to re-apply, they still stick securely. I'm confident these will be perfect for this school year! Deluxe School pack is $47.95 with free shipping to both U.S. & Canada! Definitely worth the investment if you don't want to replace a lot of items throughout the school year.
Ready to get back to school organized? Emily Press Labels has generously given us TWO sets of First Class Pack labels to share with two lucky fans! Ready to win? Enter below!
a Rafflecopter giveaway

Contest is open to residents of Canada who have reached the age of majority. Contest ends September 17, 2016, winner will have 48 hours to claim their prize or a new winner will be drawn. All entries verified. Good luck!