One of the biggest challenges in our home is our morning routine, Alivia wakes up and starts playing immediately. During the weekend this is fine with us, but during the week we are on a bit more of a tight schedule and need to get out the door just a little bit quicker. I find I am constantly repeating myself with her morning routine – get up and get dressed, brush your teeth, make your bed, have breakfast and more! There has to be an easier way right? Mom's shouldn't have to constantly – and I mean CONSTANTLY – repeat themselves… right!?
I was so grateful when I was introduced to Easy Daysies by my friend Cassandra, she has been using them for quite some time and loved how easily it helped her son James learn his everyday routine! I had the immense pleasure of meeting the mastermind (and heart) behind Easy Daysies – Elaine Tan Comeau at a launch party for one of her products and got to see the entire product line first-hand, I left with an arm full of products that we have since introduced into our everyday routine and I love them! I love even more that Easy Daysies is a Dragon's Den success story – Elaine went up against the Dragon's and won them over. 
Our biggest purchase was the Easy Daysies Everyday Starter Kit; This awesome starter kit includes everything you need to help your kids get organized and start feeling just a little bit more independent. This kit includes a 2-sided Fold & Go Board (Apple Tree design on one side, Daisy on the other), plus 18 amazing, coloured, durable magnets (perfect for little hands) that you can use on your fridge, kitchen door, or pocket chart (or the Easy Daysies® Fold & Go). These magnet's are strong enough to stay on the board, or on your fridge without worrying about them getting bumped and falling off – a major selling point in our house where magnet's go under the fridge to die. 
Everything about this kit is personalizable which is fantastic, kids always seem to react and interact more with items that they know are "just for them". Add your child's name using the included dry-erase marker and help them start their routine by adding the magnets on the To-DO side, and show them how to move them to the DONE column when they've completed the task!
Magnets in this kit: Get Dressed, Make Bed, Breakfast, Brush Teeth, Pack Backpack, School, Lunch, Clean Up, Homework, Nap Time, Family Time, Play / Free Time, Lunch, Dinner, Wash Hands and Face, Bath Time, Bed Time, one blank customizable magnet. You aren't limited to the magnets just included in this kit though, Easy Daysies offers a few different add-on kits for getting dressed, bathroom routine, and special times. We chose to add-on the bathroom routine during potty training and found it incredibly helpful – no more pants up before wiping!
Final thoughts; all in all – this is a favorite of ours. Alivia is a very visual child and checks her list each day. She's proud at the end of the day when all her magnets are on the "done" side and always proudly tells mom and dad that she's finished for the day! We've found it helps foster independence and confidence, while also promoting reading, color and task recognition. Even for kids that aren't quite reading, they can easily recognize the pictured task with a bit of help from mom and dad. I especially love the detail that went into Easy Daysies, every detail is thoroughly thought out – right down to why the background is light blue. Research and experience with autistic children have shown that certain colors evoke specific responses – Light blue happens to be one of the most soothing and tranquil colors, calming little minds while developing routines.
Easy Daysies doesn't just make kids calendars either – they have a wonderful line of products to help with so many challenges in the home. From the Peek at Our Family's Week calendar, re-stickables clothing and toy organizer labels and classroom/teacher magnet sets they have everything you need to get your kids motivated, and engaged with their everyday routine!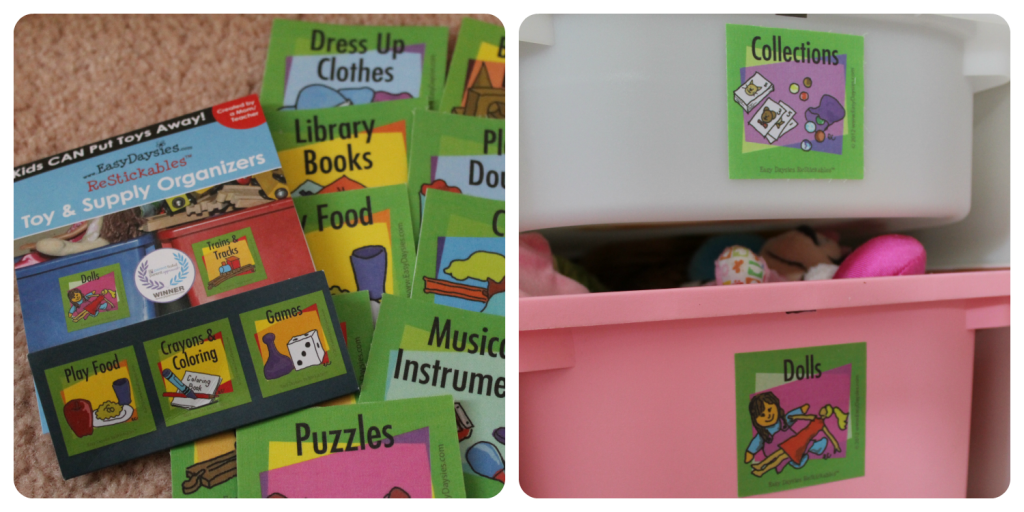 Do you have someone who would flourish with Easy Daysies? One lucky winner is going to take home an Everyday Starter Kit courtesy of Easy Daysies. Enter below!
What's your favorite Easy Daysies product? Share with us! 🙂