Ever since watching the Bee movie, my children have had a fascination with bees, the honey making process and pollination; all very good, and very many questions. Short of bee-ing able to talk to actual bees, the next best place to get information is a trip to the Honeybee Centre in Surrey, BC to talk to an actual beekeeper and watch a demonstration. I suppose the internet is useful too if you don't have a beekeeper nearby, but you won't get to taste the fresh sweet honey! And now, there's an even more enticing reason to visit this educational sweet spot; Fry's Corner Beestro is now open and is serving up a honey inspired menu that is sure to please, without the sting in the wallet.
Recently we were invited to tour the Honeybee Centre and sample some of the Fry's Corner Beestro offerings with our families and we just had to taste see what all the buzz was about. When we arrived to our tasting party, we were greeted warmly by Dilly the Clown and his companion Mango the Monkey from Click and Clown Company. This duo was a huge hit with the kids, telling jokes, blowing bubbles and making balloon animals. If you didn't see your little one, chances were that they had their attention focused on this roving children's entertainer!
We satisfied our thirst with some honey infused iced tea before heading over to watch a beekeeping demonstration. These demonstrations are only available on the weekends and holidays and are worth planning your trip around. From behind a glass wall, we were fully protected (and super curious) as the beekeeper showed us the A Bee C's of hive life.
First he used a smoker which triggers the bee's instincts  to fill their honey tummies up in preparation to start a new hive should their home be destroyed by fire; it also makes them much less likely to sting when the beekeeper begins to remove the frames.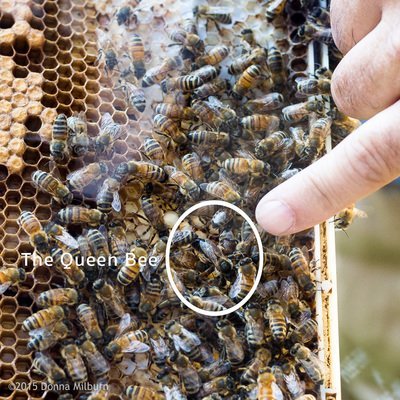 We found the queen bee and her entourage; she is surrounded by more than a dozen daughters and their job is to protect, feed and groom the queen, an idea I personally love. We learned how bees communicate with the waggle dance and even did a dance of our own, and got to taste fresh honey right out of that very hive! We also learned that only the female bees have stingers; which would have made for an interesting movie (sorry Seinfeld!).


When we returned to the Beestro after our demo, a feast awaited us. With a menu designed by a team of foodies and executed by their two chefs, these tasty honey inspired items would be right at home in a gourmet restaurant. With spinach and strawberry salad with crumbled goat cheese, walnuts and a honey pomegranate dressing, an assortment of grilled paninis including Brie and Roasted Chicken and Grilled Cheese for the kids, and mouthwatering desserts including Honey and Yogurt parfait and Honeycomb Scone with honey and Devonshire cream. I'm not gonna lie, I was up for seconds. The food created here is absolutely amazing.
With crafts to be done, a Bee mascot to meet and a fish pond to watch, the families had a fun and honey filled evening. But we couldn't leave without checking out all of the goods for sale in the adjoined shop. From actual honey in many varieties and candles like you'd expect, there are many other honey/bees/beeswax inspired items here.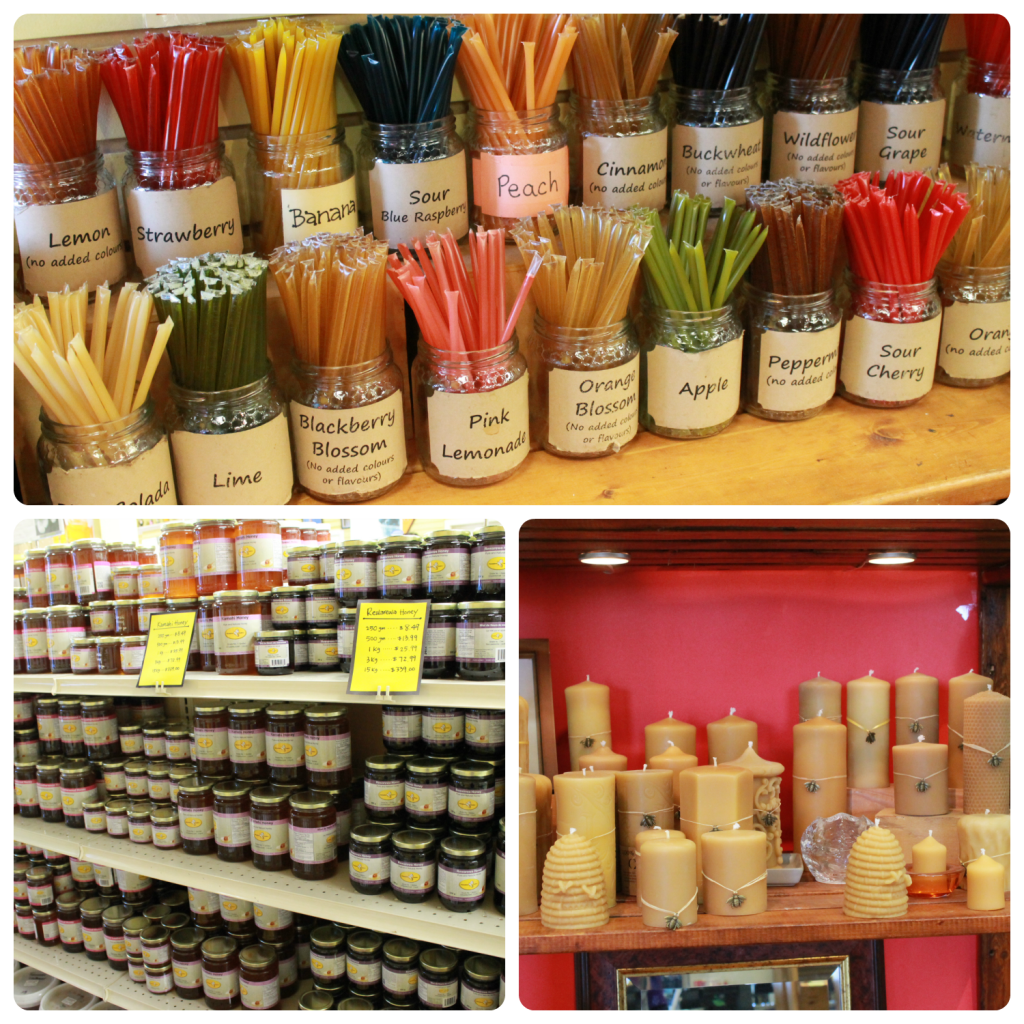 We had such a great time and a huge thanks to the Honeybee Centre for having us, as well as sponsoring a super sweet prize! One lucky reader will win a bee-utiful gift basket full of goodies from their gift shop!
Connect with the Honeybee Centre
Do you LOVE Honey as much as we do? The Honeybee Centre wants to give one lucky reader a gift basket worth $100! Enter below.
Have you visited the Honeybee Centre, share your fave memory!