Summer is in full swing and Theatre Under The Stars has won over our hearts with their Summer of Life lineup for the 2016 season. Helisa & I were invited to attend the premiere of both shows this season and I have to say, LOVE is in the air!
I am a little bit of a theatre junkie, add in some music and I am in my glory! I have been known to squeal excitedly when I have a chance to sing along to any live music that I actually know and well… this year's lineup has a few that we will ALL know.
I had the pleasure of seeing West Side Story, a Romeo & Juliet'esque story set in 1950's New York that follows the story of Maria and Tony, two star crossed lovers caught in the middle of a turf war that rages between two rival gangs. With beautiful executed songs and exceptionally alluring voices, they pull us into their love story very early on. I truly loved how the production team did an amazing job of pulling you into the era with a simple set design full of period pieces that for a brief moment made you forget that you weren't standing in the 1950's with the cast.
If you're expecting a light and airy show with laughs and tunes to get you moving, this one probably isn't for you. This haunting and passionate show tugs hard at your heart strings as you long for a "happy ending" to Maria & Tony's forbidden love. While we saw children in the audience, I personally feel there's a couple scenes that may ignite some questions that I'd rather not explain to my 5 year old. All in all? A fabulous performance by a fabulous cast – many of whom I recognized from last year's performances.
This year's stars Jessica Gillis (Maria) and Matt Montgomery (Tony) both star this year in their TUTS debut, and totally had me rooting for their fairy tale ending.
I don't think that the story of Beauty & The Beast needs much of an introduction, with a roster full of songs that many of us remember belting out from our childhood, this imaginative tale pulls us into the magical world of Belle as she yearns to teach the harrowing Beast how to love again.
There's something marvelous about watching one of your favourite classic Disney movies come to life before you. When that movie happens to include an enchanted castle, you know you're in for a truly magical evening. I'm talking, of course, about Beauty and the Beast. The classic tale of a shallow prince who was punished by a witch for his selfish ways and doomed to live his life as a beast, his servants slowly turning into enchanted objects, reversible only if he found true love. But it is also a tale of a book loving heroine named Belle who never really felt like she fit in with the other townsfolk, and her love of her eccentric father.
The messages of not judging a book by its cover, and being true to yourself even if it means going against the grain, were ones that we teach our kids at home. It was lovely to see these brought to life with my musical loving daughter, and in the most magical way possible.
The characters were spot on, the set and use of space was beautiful, and the venue perfect for this tale. the darkening of the skies during intermission made for the perfect atmosphere for the hunting of the Beast. The highlight for us, and for many it seemed, was the stage rendition of 'Be Our Guest'. I was eagerly awaiting it myself, wondering how they would pull off such a lively number full of dancing dinnerware and more, but they nailed it!
If you haven't introduced your children to live theatre before, the TUTS presentation of Beauty and the Beast is an excellent place to start!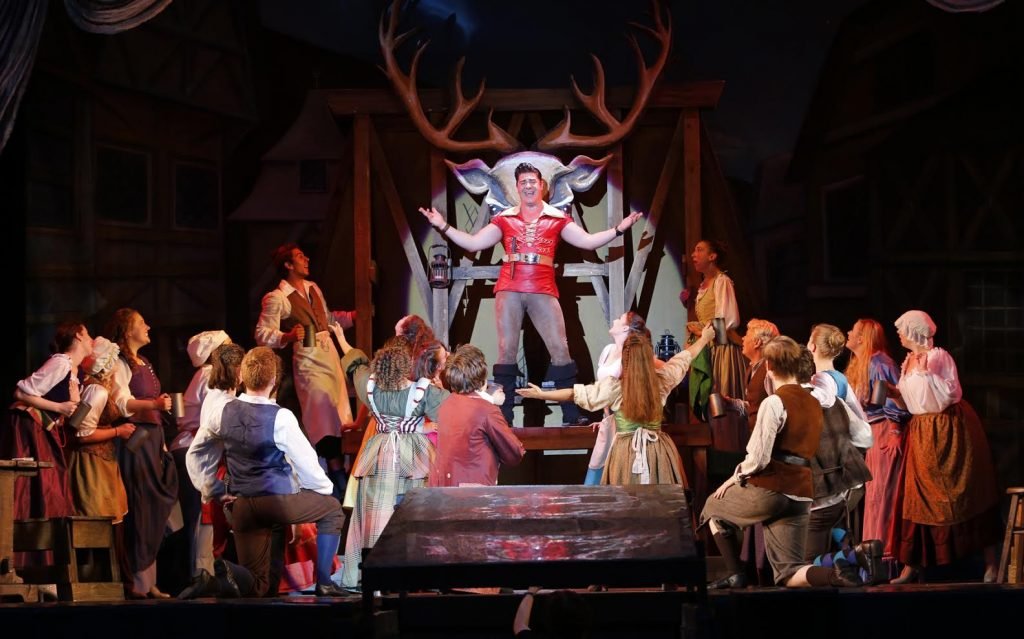 2016 Season Information
Shows: Disney's Beauty and the Beast & West Side Story
When: July 6 to August 27, 2016, all shows start at 8:00pm, except for Fireworks Nights, when shows begin at 7pm. Performances alternate evenings.
Where: Malkin Bowl in Stanley Park – 610 Pipeline Rd. Vancouver, BC. Free parking available on site.
Tickets: $30 – $45, grab yours through the Box Office: at 1-877-840-0457  or online at tuts.ca
We hope you'll have a chance to catch one of the remaining shows of the season, or maybe even both! Make sure to pop down early for a chance to enjoy the grounds, grab a refreshment and settle in for an evening of immersive, enchanting theatre.