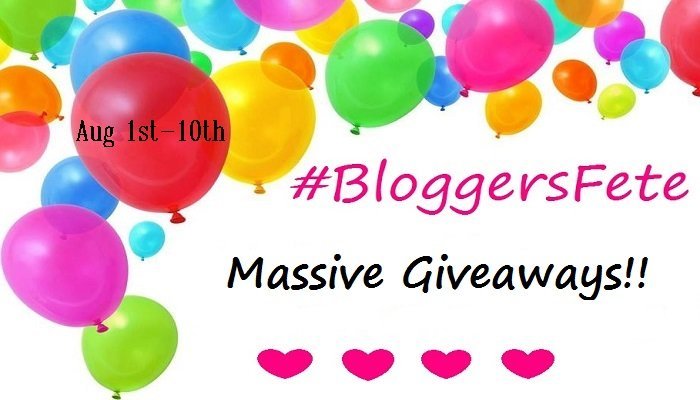 Phew! BloggersFete 2016 is in full swing – but we can into a little bit of a problem we're hoping you can help us with. We ended up with TOO MANY PRIZES! You know what that means? We need to throw in some more giveaways! We're sharing some more of our favourites with you today and doing a huge giveaway for 3 prize packs of some of our favourite products and you could win!
The#BloggersFete event started as a way to celebrate our individual blog birthdays, but it has grown into so much more. The relationships we have all made with fellow bloggers, social media lovers and followers who enjoy a good read are priceless and we are thrilled we found a way to honour that! This is my first year participating (which is silly, cuz it's our 3rd anniversary! How did I not join in sooner!?) so I hope you're having as much fun as I am!
I'm so grateful for the chance to get to share the amazing ladies behind BloggersFete with you, and to have so many wonderful prizes to giveaway! This has been a fun trip so far, and it's just starting! Don't forget we still have an IG loop giveaway happening over at http://instagram.com/bcmomdotca and a facebook party happening next week.
The Giveaway!
What better way to show our love than to giveaway even more stuff! Three lucky fans are going to win one of three fabulous prize packs! Our amazing sponsors have been very generous and we can't wait to share! Check them out:
Prize #1:
Prize #2:
Prize #3:

Wanna enter? It's easy! Enter below on the Rafflecopter widget and we'll randomly draw 3 winners with confirmed entries to win. This giveaway ends on August 10th at 11:59pm.  Remember, the more entries you complete the greater your chances are of winning!! Good luck!