Christmas time is hectic, there's absolutely no way around it. Whether you shop in advance and spend all of December running to holiday activities, planning dinners or you are a last minute shopping braving the malls, there's hardly a moment to breathe in December, let alone relax. When I first heard about Timberline Ranch I was intrigued, I loved the idea of a Country Christmas, focusing more on simple fun, stories and enjoying the season. We have been patiently waiting for the ranch to open so we could head in to check it out.
Funny thing for us, Ryan has been there… approximately 20 years ago when he went to summer camp at the ranch! It was a special trip for him, reminiscing and sharing stories with Alivia about things he had done while there so long ago. It was pretty cool to hear that many of the same buildings and activities still exist on the property.
I'd never been to Timberline Ranch before and was in awe just driving up to the parking lot, you can see so much work has gone into the fabrication and upkeep of this little "town" of buildings, it really was like stepping back in time.
Our first stop was registration, where we were given our map and purchased our pony ride tickets (they are an extra $5.25 per ride, including tax) and were given directions to our very first stop, The Bakery! Where everyone, including mom and dad, get to decorate their own cookie with a little tub of icing and a mix of skittles and smarties. Ours didn't last very long.. they were so yummy!
After the bakery came the main hall where the majority of the activities take place. From a "snowball toss" room for target practice, a fun photo dress-up area, making your very own snowman Christmas ornament, learning some fun new facts about Christmas, story time and the wagon ride.
We started with the snowball toss room and had to pry Alivia out of there afterwards, she had so much fun tossing the white ballpit balls at the targets, into the trees and at the big ornaments, she was pretty proud of herself when she actually hit a few!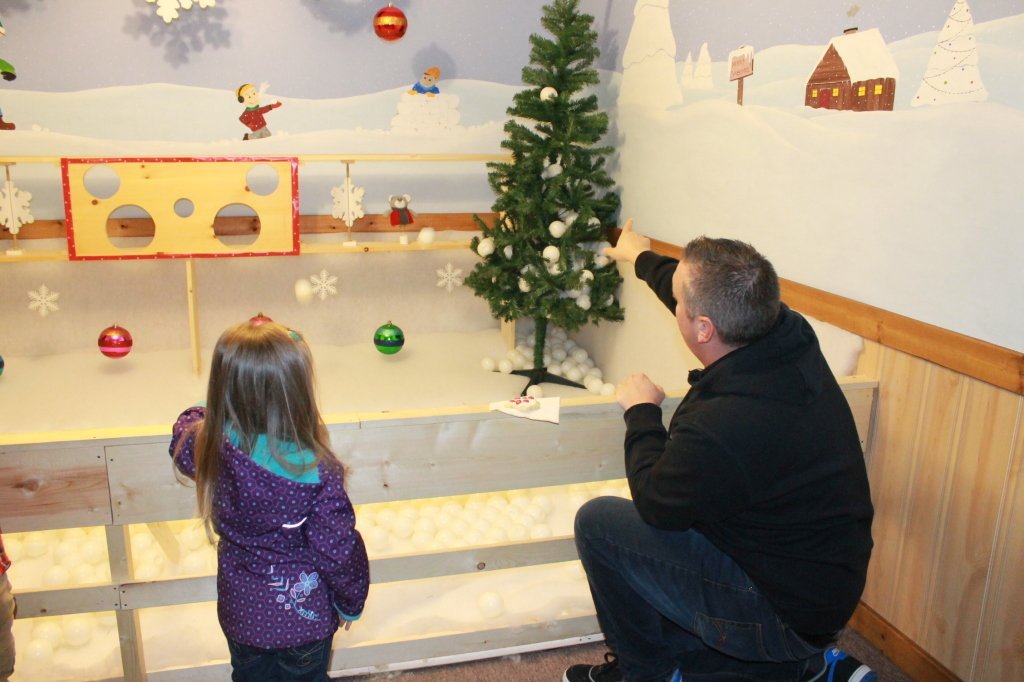 After our snowball adventures we headed over to the dress up area, with a really generous assortment of fun Country clothes including shirts, hats, accessories and dresses, you can have a lot of fun stepping back in time and getting a family photo in front of the Timberline Ranch photo backdrop. I didn't even get a chance to try anything on before Alivia dragged me over for a photo, she loved trying on all the hats.
The next area was definitely my favorite. Anyone who knows me knows I am a sentimental junkie. I keep everything. Anything hand-made by Alivia? Cherished, packed away carefully and pulled out each year. Timberline has a super fun craft to make your own snowman Christmas tree ornament! With a bunch of different accessories to personalize your own snowman, you can build a whole family to take home to add a bit of Country charm to your tree at home.
Next on our adventure was a stop at the Origins of Christmas corner where you can learn 12 fun facts about the holiday season, grab a sheet of paper and a pencil and walk around to each station to find the correct answer. The littles had a lot of fun just opening up each little door, even if they couldn't read the words!
From here you can decide to go right out for a wagon ride or head in to listen to a Country story, we opted to try for a story but Alivia just wasn't in much of a mood to sit down after eating an entire sugar-laden cookie so we did miss part of it, the room is beautiful and every detail throughout the room is lovingly thought out with hand-made ornaments, fully decorated trees and small touches to bring you into the Christmas spirit while you wander.
After the story we headed out to the wagon. The wagon ride leaves every 20 minutes and has a few displays set up along the path to the barn; we really enjoyed just taking in the views of the ranch. The barn was our next stop, with a petting zoo, pony rides and a small horseshoe game, it was pretty hard to pull the kids out of this area so we spent quite a bit of time petting the goats. They were pretty soft and Alivia really liked trying to feed them.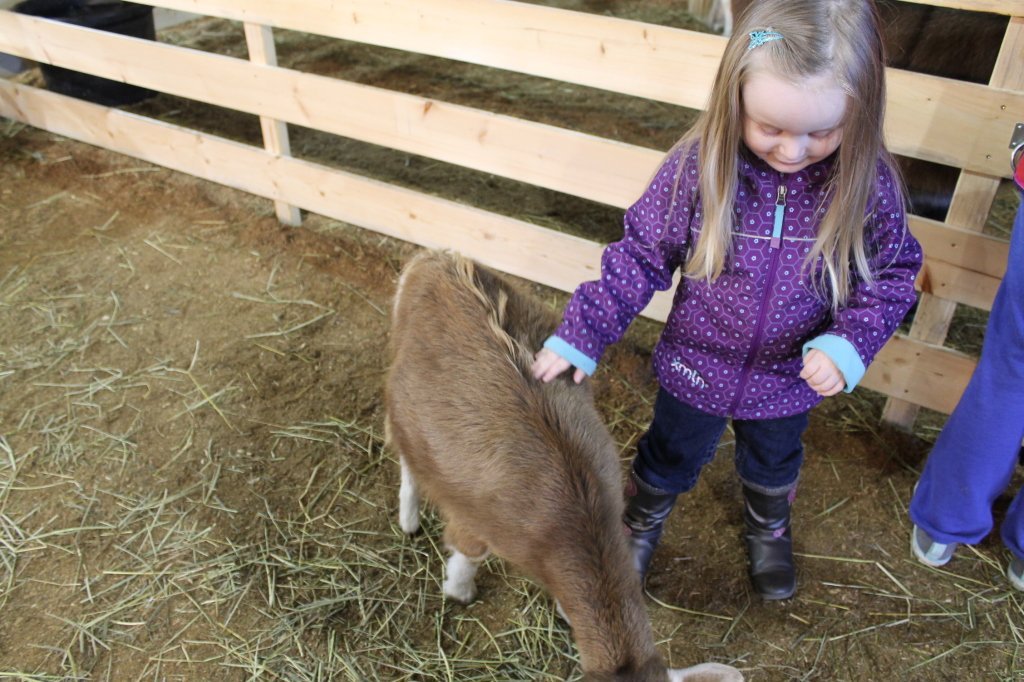 The pony rides were kind of a big deal in our family, this was the very first time Alivia has ever been on a horse and for once, she wasn't scared! She was so excited to get to pick which color horse she was going to ride on and she sat all by herself (mom was very VERY close by, but she did great!). The staff was great at helping the kids up and off the ponies and it's all Alivia has talked about since we left, she was incredibly proud of herself!
After our pony ride we headed back to the main hall for some snacks, you can purchase hot dogs (and combos), drinks (both hot & cold) and little treats while you pick up your snowman ornament, I highly recommend the snowball's… I may have tried to eat an entire one myself and discovered it is impossible, I gave it a solid, delicious effort though! Snacks range from $1.50+, view the menu here, you are welcome to bring in your own snacks as well. There are plenty of places to sit down outside and let the kids play, including a playground right outside the main hall.
Our final thoughts? This was one event that as we were leaving, we weren't exhausted. We felt calm, the fresh air was refreshing, the peaceful atmosphere created by staggering the group arrivals really left a lasting impression on us. We also really liked that there was NO Santa. My poor child has already met 3 Santa's at 3 different malls this holiday season and she has been shy, nervous and trying to hide each time. We really enjoyed that Timberline Ranch focused on a traditional Country Christmas.
EVENT INFO
When: December 12-21, get your tickets fast!
Where: Timberline Ranch, 22351 144th Ave. Maple Ridge
Prices: 
Adults (13+): $7.00 (+gst)
Children (2-12): $9 (+gst)
Infants (0-1): Free (one per paying adult)
Pony Ride addition 2- 12 years: $5.00 (+gst)
For more information including frequently asked questions, hours and what to expect on your visit please visit the Timberline Ranch Country Christmas page.
{Disclaimer: We were provided with complimentary passes to Timberline Ranch in exchange for our review. As always, our opinions as our own and we would never share an event that our family did not personally enjoy. Your experience may vary, but we had a great time!}