We've been chatting about getting a pet for a little while but admittedly, I'm not really prepared for the mess, constant walks and all the chewing and craziness that comes with a new pet. I figured we would test out the next best thing, RP Toys introduces Tekno Newborn Pets: Newborn Kitty, a fun little pet that is loveable, adorable and fits in the palm of your hand.
Alivia is a pretty tech savvy kid, when she was introduced to her new kitty friend she was hands on almost immediately, pressing the buttons, playing with the leg placement and even grabbed the instructions to inform me that if she claps – the kitty will respond – and sure enough, she was right!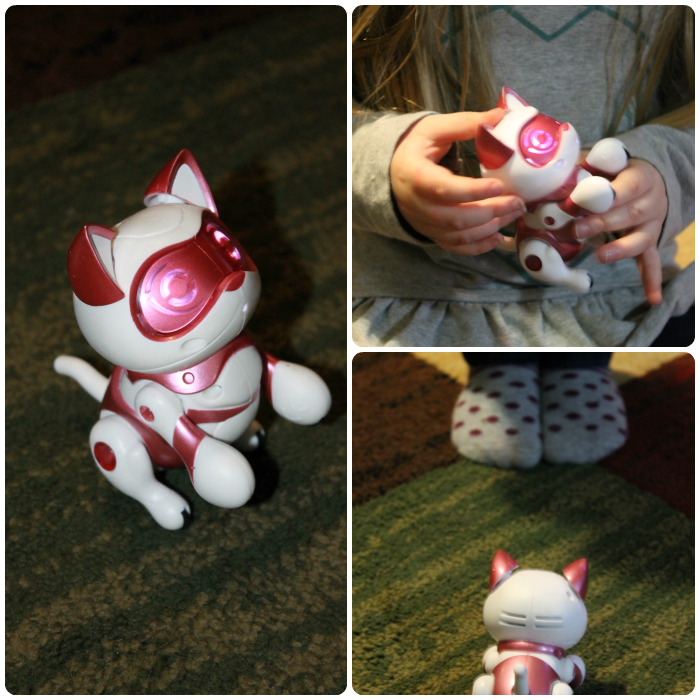 These fun micro pet robots are motorized and voice responsive, your child can clap their hands and these little critters will respond, they even seem alive because they are touch, sound and light sensitive. We clapped our hands and out kitty walked towards us on the carpet, it was pretty neat!
Tekno Kitty can sit, lie down, beg and wiggle her little ears and tails like a real pet. Talk to Tekno kitty and she meows back in response, press the button on her head and she meows a little song and as mentioned above – clap your hands and kitty will get excited with you!
We tested out the Tekno Kitty, but if you have a dog fan in your house there is also a Robotic Puppy available that is just as cute! You can pick up either of these robotic friends at Walmart for under $20, given the hours of fun we had playing with our robotic kitty, we found this price very reasonable.




Product details:
Touch sensitive – pet the kitty or puppy on the head she'll respond with happy meows
Kitty lights up when on (and awake!)
Responds to your voice, talk to kitty and she will meow back
Ability to walk, sit and beg
Wiggles ears and tails like a real pet
Will sing songs for you!
Recommended for ages 3+
MSRP – $24.99
Requires 2 AAA batteries (not included)
{Disclosure: We were provided with a Newborn Tekno Kitty for our review, she's pretty rad and you can trust that all of our opinions are our own.}