Many of us have a little something about ourselves that might make us feel self conscious at times. We have ways of detracting attention, mastering the art of playing up our best feature, or covering it up. My unique 'feature' are my surgical scars along my collarbone. While I'm not exactly sensitive about them anymore, I *do* like to take attention away from them at times like holiday parties and such. Especially when wearing a top or dress with a lower neckline. I decided to look for a statement necklace. Something dazzling that will not necessarily cover up my scars, but will definitely shift the focus. I had heard of Stella & Dot and knew they carried jewelry in many styles, but it was not until recently that I actually came in contact with a Stella & Dot Personal Stylist, the lovely Jenna Olsen.
Stella & Dot is a home based, direct-selling, Fortune 500 company,  but the women at Stella & Dot don't see themselves as being in sales. Instead, they see themselves as being in service. To you. They pride themselves on going above and beyond to serve each client's needs to help them approach life with style and confidence.
"It starts from within and makes the world around us a more fabulous place to live in. Style makes people feel good. Style is important."
Perusing through all of their offerings in the Stella & Dot catalogue for something that suited my own style and personal needs, I kept coming back to the Elodie necklace. It was a hard choice as there are several stunning pieces, but I loved the vibrant colours, the bib design that falls just perfectly on my neck, and its option in silver as I prefer that to gold. It was definitely 'Wow!' worthy, and I couldn't wait to get it in my hands and, more importantly, around my neck.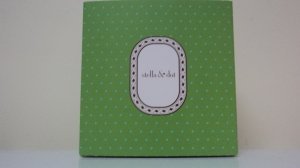 When I did receive it from the delightful Stylist Jenna Olsen (at my daughter's dentist no less! See, above and beyond.) I just had to sneak a peek. In an adorable box, and behind protective foam, lay Elodie. And it is exquisite and bold and looks better in person than it did in the catalogue where I fell in love, even under the unforgiving fluorescent lighting in the dentist's office. It also came with care instructions to keep your Stella & Dot pieces looking fabulous. The main rule to remember with any jewelry is that it should be the last thing you put on and the first thing you take off.
Stella & Dot carry everything from bold statement pieces, to simple yet elegant ones, to really fun designs in necklaces, bracelets, earrings and rings in both gold, rose gold and silver finishes. They also sell chic bags, wallets and scarves.
The best way to order Stella & Dot would be to have a Trunk Sale. An at home party with you and your friends to look at and try on pieces, ask questions and maybe have a glass or two of wine. As a hostess, there are rewards to be had, but if online is more your style, their easy to navigate website will have you strutting your individual style in no time. Especially since they pride themselves on fast shipping as well.
To give our readers a chance to fall in love with Stella & Dot, one lucky diva will win a pair of Déjà Vu Double-Sided Studs in the winner's choice of gold or silver finish! Enter below!
Yes, double-sided, so you can wear them two different ways! With the option of wearing a structured pyramid or a sparkly pavé stud, these 2-in1 earrings will go with any outfit.
(Disclaimer: I was provided free product to facilitate this review, however all opinions expressed are my own)