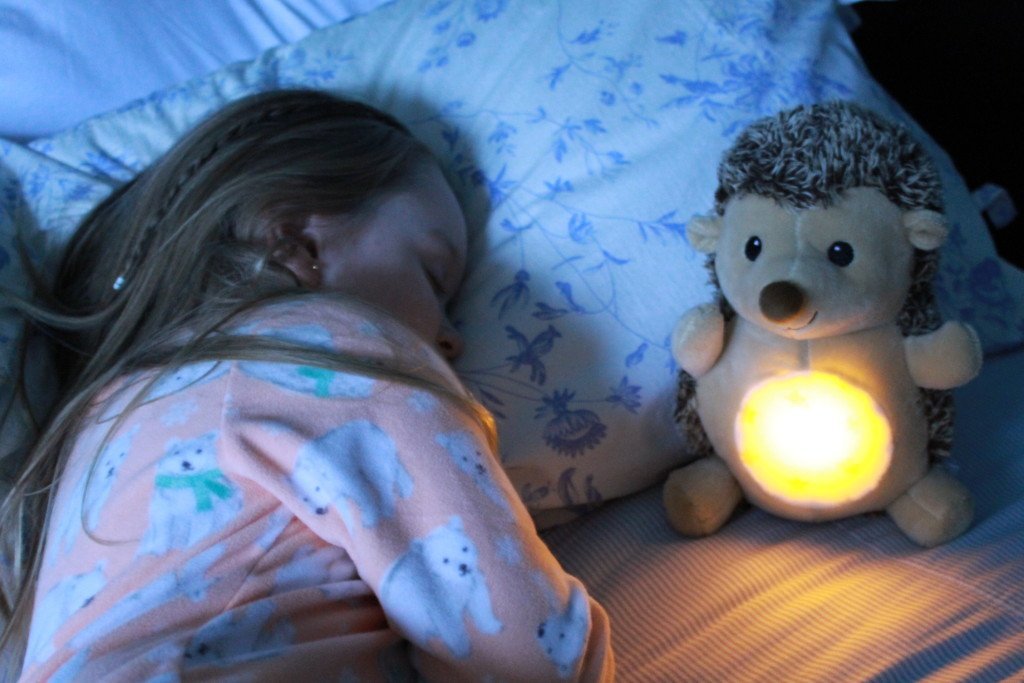 One of the very first products we bought when we were sleep training was a CloudB turtle, mom's in every group I was in were raving about these turtles and sure enough, they were an amazing nightlight that Alivia could control, and a constant in her bedtime routine that helped her fall asleep. As she's gotten older though, I find she has a bit more trouble falling asleep, and staying asleep. Still a bit unsure of when a normal wake-up the entire house time is, we were so grateful for her to have the chance to test out the Stay Asleep Buddies Hedgehog! 
CloudB are innovators when it comes to nightlights and they have now introduced a way to help your littles fall asleep, and stay asleep, all while having a snuggly friend to curl up with in bed!
Stay Asleep Buddies Hedgehog is a cuddly, interactive friend who teaches children when to sleep and when to wake! Using gentle melodies and glowing lights, children quickly distinguish between bedtime and playtime. The Stay Asleep Buddies Hedgehog is fully programmable for a full night's sleep or a much-needed nap. Functioning as a sleep trainer, nightlight and sound soother all in one, Hedgehog is the perfect solution for developing healthy sleep routines
We've had quite a few deliveries over the past month and this little fellow has been the most requested by bug, as soon as she saw him in his box she wanted to touch him, snuggle him and listen to the lullaby music – all the time! I figured that was a win right away. Alivia is 4 and a half now, but the recommended age on the Stay Asleep Buddies is from birth upwards, with no small pieces or parts to worry about this little buddy can be as close as you feel comfortable!
We're no strangers to the sleep training route, we went through an extremely trying, frustrating and exhausting 6 month period of 8-10 wakeups a night with monkey, my biggest complaint about sleep trainers on the market (then) was that they all needed to be plugged in. They were basically ALL clocks of some sort that would emit an overly bright light at bedtime and a WAY too bright light at wakeup time. Depending on your bed placement, I didn't find it super helpful as Alivia would be far too distracted by things in her immediate vision, not looking across the room for a clock.
This little guy has become well loved in our house, and Alivia woke up this morning to tell me that she listened to the music throughout the night and it made her "sleepy".  We absolutely love the Stay Asleep Buddies and highly recommend them for sleep training, nightlights and white (music) noise!
Product details:
Bedtime Soother & Wake Up Buddy
Projects a soothing amber glow nightlight
Plays dreamy bedtime lullaby with nightlight to soothe child to sleep
At the end of the timer, Stay Asleep Buddies Hedgehog projects a bright green light to let kids know when it's time to get up
Plays a happy wake-up tune to accompany the light feature
Light Timer
Fully adjustable timer and volume controls
45-minute auto shut-offtimer ensures complete darkness during child's deep sleep, recommended by pediatricians
Motion sensor triggers bedtime lullaby when kids get up too early
Requires 3 AAA batteries (included)
Age recommendation: 0+
MSRP: $44.95 Available at independent toy, gift and baby stores across Canada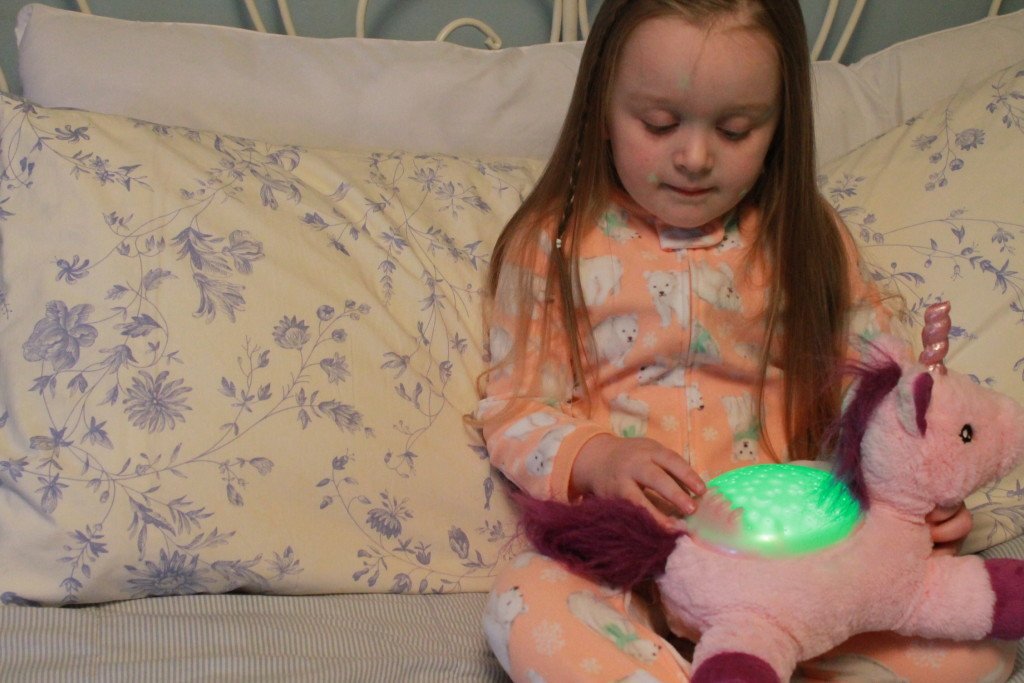 If you aren't in the market for a multipurpose bedtime buddy, we also  tested out the CloudB Twilight Buddies, now available in a variety of fun characters! Choose from a Sheep, Giraffe, Unicorn, Palomino, Pegasus, Bunny, Fox, Alligator, or Hippo and help ease any bedtime fears with a soft, gentle light cycle that projects constellations onto your ceiling, walls and your child! Your child can choose between 3 soothing colours or choose to have them cycle through all of them at once. Our unicorn has been well loved and carried throughout the house, the buddy is soft enough to snuggle with even with the projection dome on the back.
Light the way to a good night's sleep with cute and comforting Twilight Buddies that have the same calming effect as our award-winning Twilight Turtle. Choose your child's favorite character and before you know it, they'll be begging for bedtime! Simply place this little plush on the floor in the center of a room and turn out the lights to get the full, ethereal effect of sleeping under the stars. Make bedtime even better with the help of our beautifully illustrated Star Guide that teaches you and your child about the nighttime sky. In addition, the three soothing color choices create unique ambiances associated with positive moods. Amber projects warmth; blue is peaceful; and green inspires feelings of harmony and renewal. The Twilight Buddies shell also casts a warm glow that makes the darkness less daunting.
Both the Twilight Buddies and the Stay Asleep Buddies run on a 45 minute cycle, long enough for littles to fall asleep soundly and not so long that it will waste your (included) batteries. We've found great success with both sleep helpers and love when Alivia asks to 'see the stars'