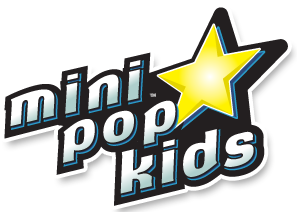 As a kid growing up in rural Ontario with one radio station, my musical tastes were rather limited to my exposure. I'm not sure how I came across Mini Pop Let's Dance on cassette tape, but I know that I loved it and played it every chance I got. Kids singing hit songs had a huge appeal to me, and they even dressed up as the performers which, when you are covering greats like Boy George, Elton John and the Buggles, looked like a ton of fun. I have fond memories of myself belting out the songs with my tape player and a hair brush mic. When presented with the opportunity to review Mini Pop Kids 12 (12?! Where have I been?) , I was pretty eager to give it a listen with my daughter Amelia.
Anyone from my generation who had cable will remember the immortal words 'But wait, There's More!' in K-Tel's catchy infomercials. Founded by Philip Lives, creator of the first ever infomercial, Mini Pop Kids 12 delivers child friendly chart topping pop music sung by Canadian kids, and inspiring our kids to sing. This year's collection includes chart topping hits like Pharrell's Happy, Taylor Swift's Shake It Off and Meghan Trainor's All About That Bass, and also includes Video Killed the Radio Star by none other than the aforementioned Buggles!
As promised, the troupe of all Canadian kids aged 10-14, delivered hit after hit with youthful enthusiasm and true talent. And, just as I was enthralled with the idea of kids my age singing Top 40 back in the day, so too was Amelia listening to her favourite songs being sung by her 'peers'.
Cue dance party and karaoke singing. But as the tracks progressed, I began to wonder if Mini Pop would reword some of the lyrics that are suggestive or mature in nature. If this was a CD for my daughter, I wanted to know that the lyrics were clean (oh how having kids has changed me!) I'm happy to say the Mini Pop 12 passed the kid test AND the mom test. They even threw in some retro songs we parents will remember, but we do really wish that the lyrics to the songs were included in the 2-disc sets.
While one of the things I loved about the Mini Pop growing up was the costumes that reflected the act the were covering, I was also happy to see that these young up and coming stars were NOT dressed like the pop artists whose songs they sang so well (think Ke$ha, Iggy Azalea). For obvious reasons. These hip and modestly dressed kids rocked out their videos, without seeming too grown up.
Amelia is really fond of the Mini Pop collection and has asked many questions about how one becomes a Mini Pops Kid. Sure enough, there is a link on their website with details on how to submit your very own audition videos; imagine your very own talented young one as a part of one of the next groups! I know Amy has been brushing up on a few favourites.
Make sure to check out all of the sets available online now!
Do you have a tween popstar in your house who'd sing along to Mini Pops?
{Disclosure: We were provided with a sample to facilitate our review, all opinions are our own}