Socks, something lots of us love during the holidays. The feeling of a fresh new pair of socks is one of the most satisfying feelings there is. One of my favorite things to open Christmas morning is soft socks. Being able to slip my feet into never-before-worn-extra-warm socks is always a simple pleasure of mine. One I feel many take for granted come Christmas morning.
You wouldn't think that a small change to them could actually be a life changer. This is what the owner and creator of Mrs. Grippits realized after an unfortunate accident in March 2014 that left her with a brain injury plus a concussion due to a very hard fall. As a single mother of two kids she was faced with some really hard times and a long road to recovery. But during her recovery something inspired her in the middle of the night –  she had a great idea: non-slip grips for socks, tights and gloves!
Since she was still in recovery from her brain injury she found it impossible to do research on computers or her phone – having to go about wrapping her head around her idea the old fashioned way. At the library. She stuck to it though, no matter how difficult it was and created a line of great characters she named after great people in her life. A great way for her to pay tribute to those around her, helping her recover and who had been apart of her life in the past. Between her single parent schedule, three years and a lot of hard work she has created: Mrs. Grippits. A great line of socks, tights, gloves, bamboo blankets, rubber soled aqua shoes, mermaid and shark tale blankets, and onesies with grips on both the feet and knees, to be proud to.
Have some socks you already love? You can also grab iron-on grips to secure to the bottom of your already favourite socks at Mrs. Grippits, making even your most favourite pair cozy – and safe!
She has truly created a marvelous life for herself with a successful shop in the much coveted Granville Island Kids Market, overcome amazing challenges and has found a true passion – in socks! Plus she created something that can help lots of little ones prevent injury – a childhood with a few less bumps along the way. Something, as a mother, I am thankful for. With all the cute designs she has created A is completely over the moon with them!  And the snowman hockey ones, does this get anymore Canadian? I loved that these came in a mommy and me set, and we MAY be wearing these all over the house, all the time. 
Any of her amazing products would make great presents and stocking stuffers, a really great way to put smiles on your little ones faces and support another mompreneur! It's very easily to fall in love with Lucinda – "Mrs Grippits" herself, and she's lovely to chat with and truly pulls you in to her love for these fun characters, make sure to pop in and say hi if you get the chance! Be prepared to fall in love with all the fun socks though, I may have a bit of an obsession now.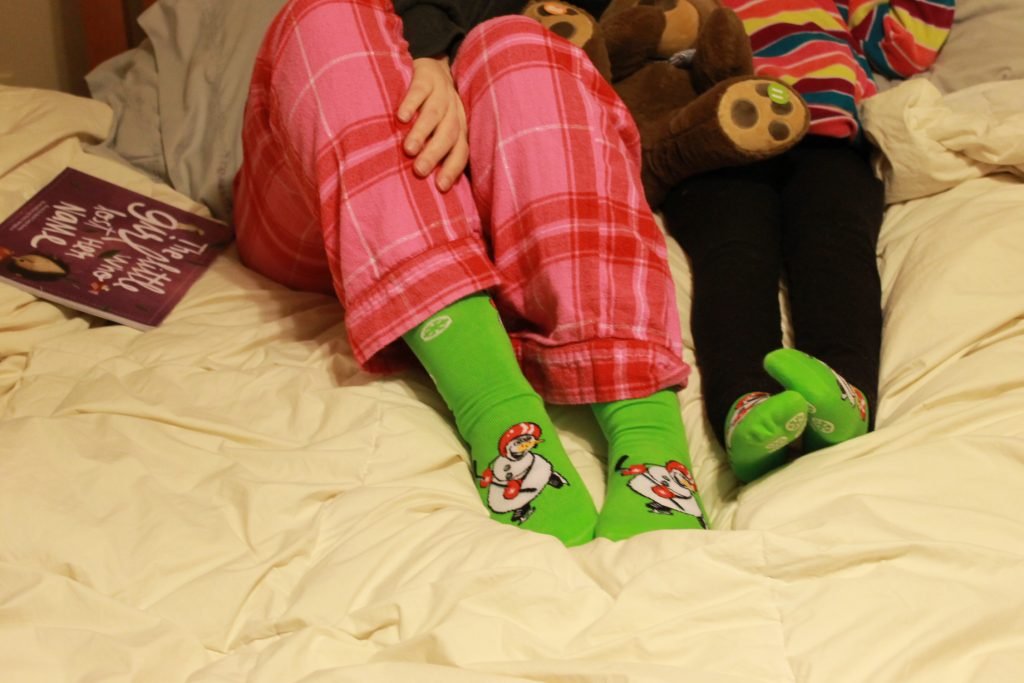 Connect with Mrs. Grippits
Mrs. Grippits wants to help your toes stay toasty this Winter and has generously given us a $50 prize pack to share with one lucky Metro Vancouver reader! This prize must be picked up in person at the shop (which is open 7 days a week at the Market) so please be mindful when entering that you are able to arrange a way to grab it.