Wonder weeks, sleep regression, teething, and more can all put a rut in your little one sleeping well. Our youngest recently turned one and we hit a major speedbump in how she was sleeping. We needed to find something to help her soothe herself and go to sleep at night. CloudB came to our rescue again with Hugginz Musical Plushie – Bunny and Sweet Dreamz on the Go – Grey Owl.

I knew our youngest already loved the Hugginz Musical Plushie because we already have the sheep. The bunny recently joined our home, and it was instantly welcomed by her, she could hardly wait for us to get it out of the packaging. She loves the music the plays when you pull the star on the strong. Plus, the bunny is incredibly soft. Which makes cuddling just a little bit more fun.
The bunny has found its home in our car and on the stroller that we take with us when we go out and about. Having it in the car means that it is always with us when we are out and about and might need something to help our daughter to relax.
While she is still not strong enough to pull on the string herself to make the lullaby play, her big sister will gladly help her with this. It's great seeing the two of them bond over one item. Our oldest loves helping her little sister and seeing her smile because of how happy the bunny makes her.
I do warn you, the lullaby will be permanently stuck in your mind and you will find yourself humming it at the most random of times.
Now my favourite new item from CloudB and my daughter's favourite is the Cloud B Sweet Dreamz on the Go – Grey Owl. I did not expect her to love this one as much as she did. I just figured it would be a great little sound machine. I underestimated the power of this owl!

From the moment I took it out of the packaging it has been my daughter's lovie I guess you could say. It is now the one item she MUST have with her for nap time and bed time. If it is not there, her bedtime routine is not complete and does not go well.
The Sweet Dreams on the Go from Cloud B is available as a Grey Owl and a Blue Bear. Both are perfectly darling and have the same features. It truly is an all-in-one soother to help calm little ones.
It has 8 soothing sounds and melodies: Mother's Heartbeat, Ocean Sounds, Gentle Rain, Le La Lu, Clair du Lune, Satie, Lullaby Waltz, and a Rhythmic "Shhh" Sound. There are three modes: light and music with no sound sensor, light and music with sound sensor, and light only.
The light and music with sound sensor is our favourite mode for bedtime because we can start the owl and after 15 minutes the light will automatically shut off. 45 minutes later sound will also automatically shut off. Thanks to the built-in sound soother it reactivates when the baby wakes or makes noises.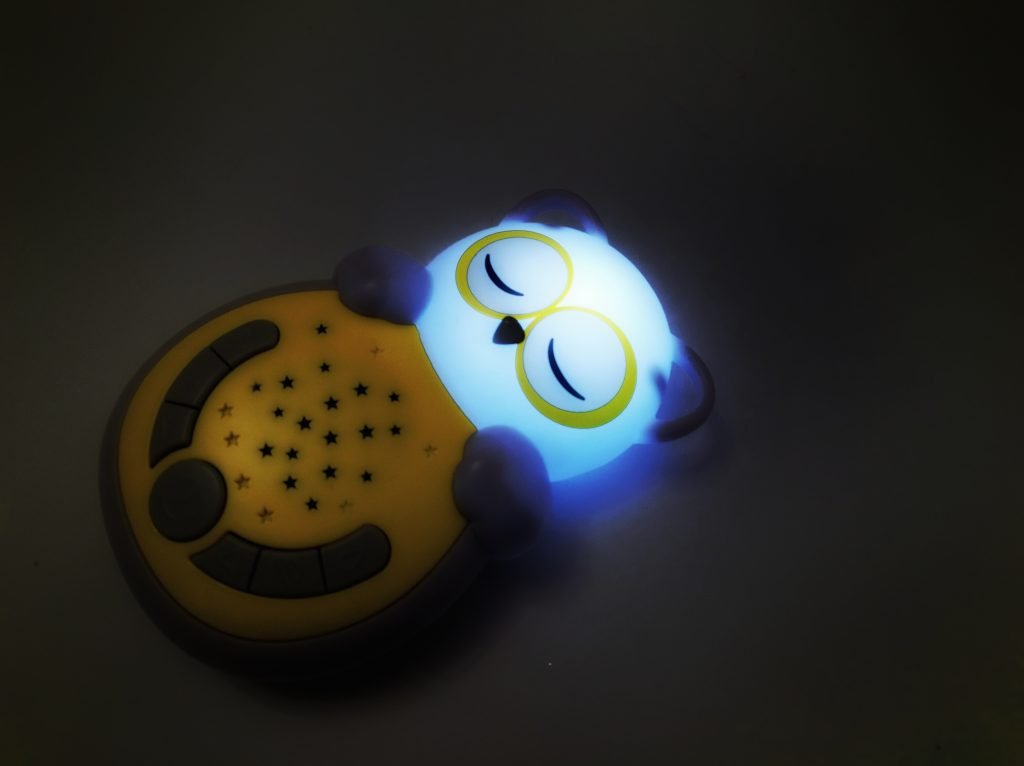 That feature alone has been a game changer. The number of times my husband and I have needed to get up in the middle of the night has decreased because the owl helps soothe our daughter back to sleep thanks to it automatically turning on again and soothing her back to sleep.
The face of the owl lights up with a soft glow. It is just the right amount of light to have in her room going through her bedtime routine. IT is also the perfect amount of light needed for the middle of the night wakeups and diaper changes. It's soft on everyone's eyes.
I wish we had this owl when our daughter was a newborn. It would have been incredible to have during those early days. The CloudB Sweet Dreams on the Go is now on my list of go-to baby shower gift items. That is how much I love it!
One of our favourite features of all of the Cloud B products is how versatile they are for all ages, from the soft lovies that become forever friends for your littles, right up to the newest addition to the Cloud B family Storytime Huxley who was the perfect addition to A's house. With a kinder who is just starting to learn to read and follow words this was the perfect addition to her quiet time. She's had a rough couple of weeks battling her asthma so she's been stuck at home.. and being stuck at home is no fun, it usually means hours of just TV or games, and sometimes the littles just need to relax in bed.
Storytime  Huxley is easy for kids to learn and use on their own, we left the tags on for her to have a visual reminder of where to press to play the story, and where to push to select her story and she caught on pretty quickly! Huxley reads 5 classic storytime favourites including Billy Goats Gruff, Goldilocks and the Three Bears, Beauty and the Beast, The Ugly Duckling, The Tortoise and the Hare . Because A is just starting to learn to read, she would ask what the last word on the page was and follow the words to know when to turn the page.
As you can see, totally worn out little bug but she went through the entire book curled up in bed with Storytime Huxley nearby, then asked to sleep with him later on. He's a wonderful addition to the CloudB family and boasts the same soft, cuddly fur as their other toys and fun interactive ways for kids to explore on their own.
As you can see, between Tara and I's house, we have a major love for CloudB and often purchase any number of their products for friends with littles at home (or soon to be!). They make the perfect cuddly new friend for under the tree for your kids and make the perfect gift idea!
Tamara is a loving wife, and mom to two sweet girls. She and her family call the Fraser Valley area of BC home, but they love traveling to the surrounding areas. She loves reading a good book while curled up in a blanket, and sipping a cup of tea. Her blog is about her family, and the adventures, and activities they get up to. You can find her at Discovering Parenthood, or visit her on Facebook, Instagram, Twitter, and Pinterest.