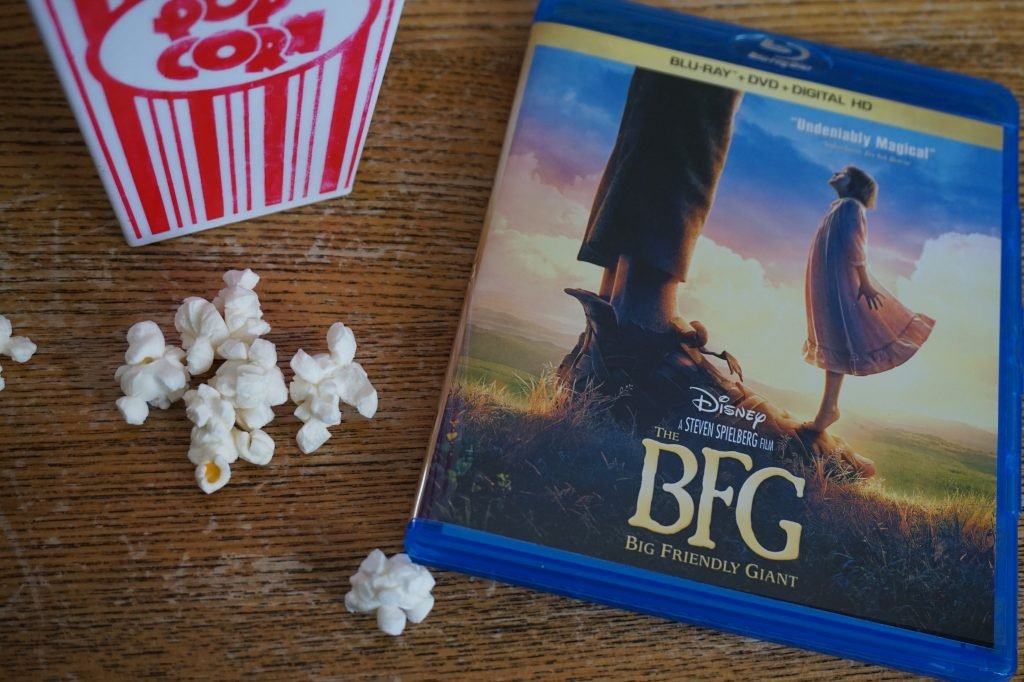 In a land full of murderful, cannybully giants, where the delicacy is not the beans we eat but the beans we are, an unlikely friendship blooms between the most unlikely pair. As trust between a young orphan girl and her new 24ft vegetarian pal grows, they hatch a plan to rid the world of the child-eating giants for good. Reality and fantasy meet in this lovely retelling of Roald Dahl's The BFG (The Big Friendly Giant), and it's now out on Blu-ray and DVD to watch on your own telly-telly bunkem box!
Despite fearsome names like Childchewer and Fleshlumpeater, the movie is much gentler than the classic short story you may have read. B was initially a little scared, but this soon faded as he became immersed in oddity of a young girl in Giant Country and all the magic and antics that came with it. The special effects are a glumptious feast for the eyes and you can't help but love the jabbeling gentle giant as he learns confidence from his tiny counterpart and finally stands up to his big bully brothers. Both my kids love movies with child protagonists, and quite liked the plucky  and brave orphan Sophie. And we can all identify with feeling lonely, and the desire for friendship.
The BFG, directed by none other than Steven Spielberg for Disney, has been released just in time to make a wonderful gift for a child or family; it's the stuff golden phizzwizards are made of! The chidlers and I were certainly happy to add this new release to our growing at home Disney collection, and we know you will be too!
{Disclosure: we were provided with a copy of The BFG on Blu-Ray/DVD to facilitate our review, but all opinions belong to me and the chidlers}