Lovers of Shakespeare are not born, they're made. Most people get their first introduction to Shakespeare when they start high school. If they're lucky, they get a great English teacher who can make his great many works come alive, and help them decipher the old English dialogue to discover the witty gems inside.  But the best way to enjoy Shakespeare is to truly watch it come to life, on stage; and if you live in the Lower Mainland there's no better place to do this than at Vanier Park in Vancouver for the Bard on the Beach Shakespeare Festival.
A master of the English language, of poetic descriptions, the double entendre and savage insults, Shakespeare wrote numerous comedies and tragedies; many that can appeal to all ages. With this in mind, Bard on the Beach has now added special Family Night showings of Much Ado About Nothing to the schedule that are suitable for children 6+. On August 8 & 22 come enjoy a night of wit, romance scheming, and comedy, as well as face painting, origami, a theatre Talk & Tour designed specifically for younger viewers, souvenir photos and more!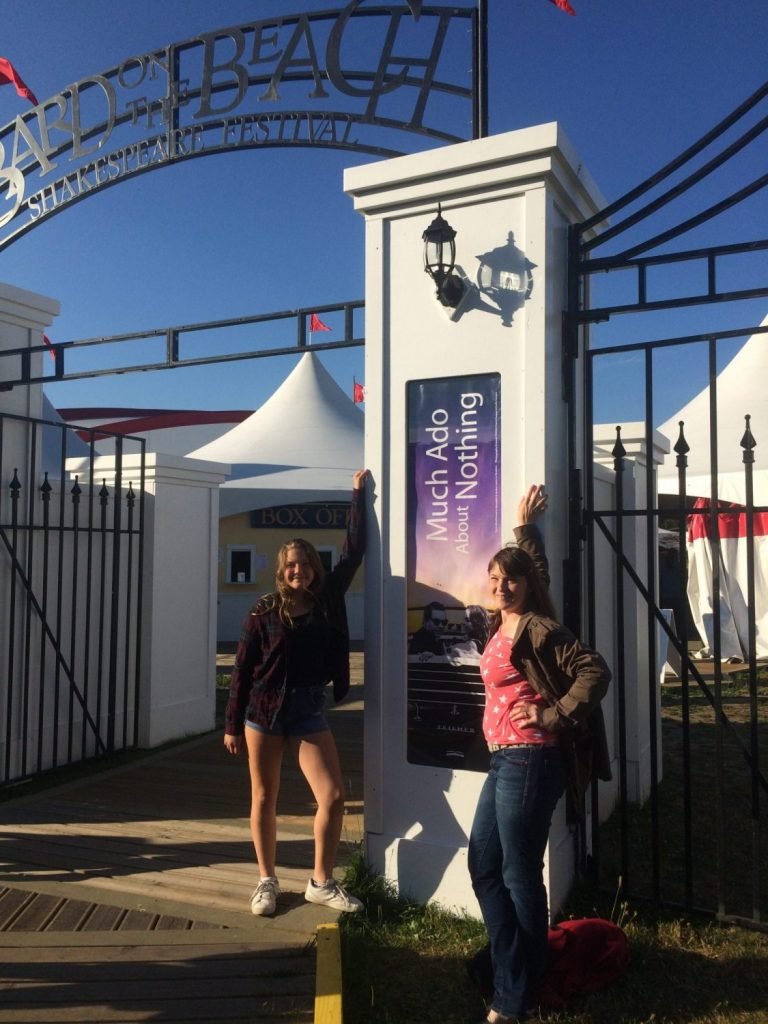 Our oldest starts high school in the fall, so we thought hitting up the first Bard Family Night with her would be a great experience and first introduction. She's been to many a live theatre performance before, but this was her first experience with Shakespeare.
This adaptation of Much Ado About Nothing, set in Italy in the late 50s post film production, had a lovely retro glam feel; I also had some serious dress envy. With love, loss, scheming, scandal, and redemption, it hit all the great entertainment factors. It should be noted though, if you are taking younger viewers, that owing to 50s authenticity, there is a lot of onstage (fake) smoking.
I worried a little about how well A would be able to follow along with the quick dialogue and what might seem to her like a foreign language, but the production was so well done that following the plot line wasn't too difficult. She did manage to absorb quite a bit of it, and by intermission she had declared Beatrice (played by Amber Lewis) to be her soulmate, seeing much of herself in the fun, witty and argumentative starlet.
By the end of the show, she was in awe of 'the sick burns' that were written so long ago, was impressed by the acting and very interested in the Young Shakespeareans Workshops offered throughout the summer. She's also actually looking forward to studying Shakespeare when she starts high school, which I'll call an absolute win, and we've decided to make Bard on the Beach an annual tradition! I'm truly looking forward to it all myself.
Bard on the Beach has two more family nights coming up in August, and they both fall on Talkback Tuesday, giving audience members a chance to have a Q&A session with the cast members. Be sure to stay behind for this to give the kids (and yourself!) a chance to learn more about the production, behind the scenes moments and more.
Now, of course, it wouldn't be a Shakespeare Festival with only one play, would it? Indeed it would not! That's why there are four other productions also taking place all summer long, including Shylock, and The Merchant of Venice, so you can really get your Bard on! All the details about each of the five productions, as well as special event nights and ticket prices can be found on their website at www.bardonthebeach.org.
Thanks so much to Bard on the Beach Shakespeare Festival, we have a family 4-pack of tickets up for grabs for one lucky reader to the next Family Night showing of Much Ado About Nothing on August 8th! It's the perfect way to introduce the next generation to the wonders of Shakespeare. Want to win? Enter below!