Every morning it's usually a struggle and a half to get Nicole's hair brushed and put any clips, bows or hair ties in it. It is a small victory for me on the days she lets me put do anything with her hair because they don't seem to tend to last very long. Nicole will take them out the first chance she gets…that is if they haven't fallen out of her fine hair by then. However, every morning since we received our special clips and bows, from Miss Maddi's Boutique, there have been zero struggles from Nicole to let me do her hair! We'll call that a major win on this end. Nicole asks me every morning if she can pick out which clip she can wear that day. And I do mean the entire day. Every day Nicole has worn one of her clips from Miss Maddi's Boutique, she is still wearing it at the end of the day…well unless she has a wardrobe change that conflicts with the clip she was wearing, then she's the first one to point out that she needs a new accessory and we're happy to let her choose another.
Miss Maddi's Boutique is run by a local mom-prenuer, with a little one who has a love for all things clippies and bows, Cathy decided the next logical thing to do was to start making her own! She slowly but surely started filling up her daughter's bow board and orders and requests from friends and family started coming in and the rest is history!
I have purchased a lot of hair accessories in the past for Nicole and we run into the same problems with many. Poorly made, not lined, or just not designed for the fine hair most infants, toddlers and preschoolers have. I was very impressed with the quality of Miss Maddi's and I have no problem saying they are top notch. The styles are cute, sleek, modern and can be customized to suit your fashion needs. My personal favourite is the Minnie headband inspired satin covered hard head band which I may need to order for myself for a future trip to Disneyland. Nicole can't stop talking about the glitter butterflies. Regardless of age or taste, Miss Maddi's has something for every fashionista in your life.
From headbands, bows, clips, and flowers to ribbon bow holders and chunky necklaces, Miss Maddi's Boutique has the cutest fashion accessories that any girl (or mom!) would want. Head on over to Miss Maddi's Facebook page and check out the Fall 2015 Album. I recommend taking a peek alone or else your wish list may include the entire album at the request of a preschooler…
Miss Maddi's Boutique wants to help start your clippie obsession! One lucky reader is going to win the clip set below & a $15 shop credit to pick a few special favourites of your own! Enter below.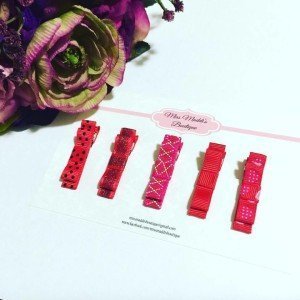 a Rafflecopter giveaway

Good Luck!