And marvelous would be an understatement. The show was epic, the stunts spectacular, and a well thought out story line that had the arena cheering after the defeat of each successive pack of villains.
But first, to whet our appetite for all things Marvel, we attended the kick-off costume party the week before where we met fans of all ages and allegiances. With a selfie station, a costume contest and a chance to meet two of the performers, it was a great way to get the kids excited. Breton was in awe at some of the costumes, especially those of the cosplay enthusiasts, and of course, we were in costume ourselves!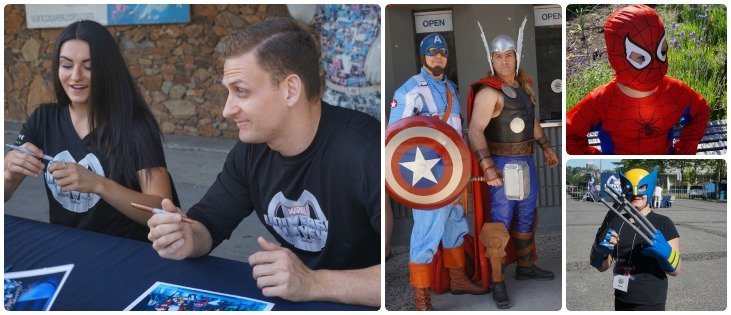 Predictably, the excitement not only persisted, but gathered momentum as the kids not so patiently waited for the day to come when they would get to watch a comic book come to life.
And? They were wowed! But they're kids, and easily impressed. More importantly, as an adult with *ahem* more discerning taste, I was wowed! With seats close to the action we got a close up look at a lot of the rigging and track work set up in the ceiling for stunts and flying, and the incredible backdrop that at times had the look of comic book pages, others detailed city scapes and more with stunning digital projections, and also served as a second story for stunts, Tony Stark's lair and a mountain in the Himalayas.
The sound quality was excellent as well, and with the entire Marvel Universe LIVE! performance on an audio track, we didn't have to worry about missing anyone's lines or straining to hear them, especially over gunfire, explosions and the roaring of engines.
But, back to the kids. Both of my children were on the edge of their seats for the entire show, and with one of them being four, that's quite a feat! Amelia squealed at every explosion and Breton cheered on the team of heroes throughout the show, often jumping to his feet and screaming wildly. The motorcycles were favourite parts for all three of us, and the way they incorporated the set into the stunts was pretty unique. My daughter loved the heroines in the story, these women truly kicked some nemesis butt, and in serious style too. Breton had too many favourite parts to name, but was awestruck when Bruce Banner transformed into the Hulk.
The plot line was easy enough for my four year old to follow (and re-enact over and over) yet with enough depth and entertainment to keep us older fans engaged, and the script was full of one liners. There was, however, a lot of violence which,  I suppose goes without saying, being a comic book story and all. But if you have a particularly sensitive child, fake gunfire, explosions, and an enemy 'impaled' on Wolverine's claws might be more scary than entertaining. That being said, I did not see a single unhappy face, and I know my own children enjoyed it so much, they have yet to stop talking about it. You'll also be happy to know that the universe as we know it is safe…for now.
The Marvel Universe LIVE! tour has moved on and will have performances in Saskatchewan, Manitoba Ontario and Quebec, so if you live near a major city in one of these provinces, you need to know that this is an epic adventure you won't want to miss!
{Disclosure: We were provided with tickets in exchange for promotion of this event, all opinions are our own}