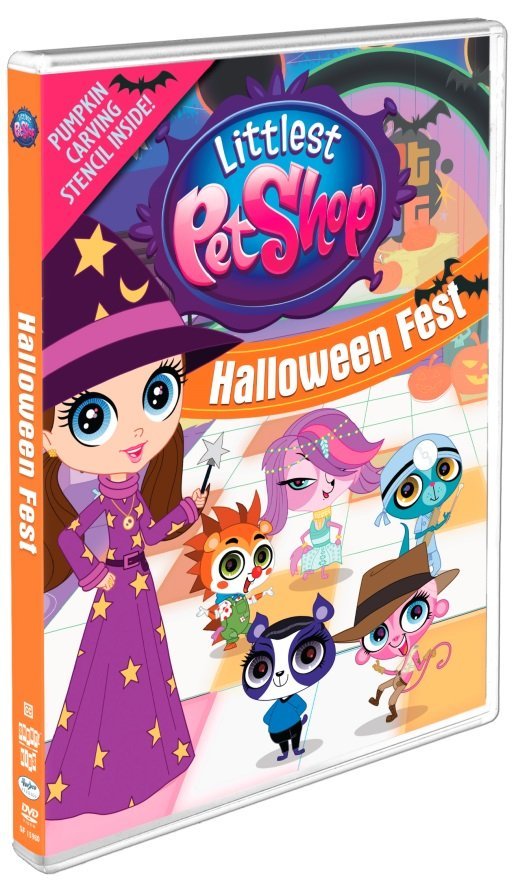 Halloween has always been my favourite time of year. I love the costumes, the spooky decorations, and watching all the Halloween specials on TV from traditional ones, to annual new episodes. Even better are the Halloween specials on DVD that we can watch year round whenever we are in the mood for a scare. Blythe Baxter, our favourite fashion designer with the ability to understand and speak to the friendly pets at The Littlest Pet Shop, are ready for some tricks and treats, but are they ready for the unexpected? Pop the popcorn and dim the lights for five chilling episodes with Littlest Pet Shop: Halloween Fest!
It's the spookiest time of the year and Blythe and her best friends from the Littlest Pet Shop are ready for all the spine-tingling adventures, including investigating werewolves, ghosts, pet psychics, aliens from outer space and a mysterious jungle curse! It's all here in The Littlest Pet Shop: Halloween Fest!
Both my kids really enjoy Littlest Pet Shop, and anything they can agree on is a big plus, so having it as an addition to our at home DVD library is great. My daughter, 10, loves Blythe and her fashion sense and, like, thinks the Biscuit twins are, like, totally entertaining. My son, 4, loves the pets. And, while his favourite is neat and tidy hedgehog Russell, he himself is more like crazy, off the wall Minka the monkey, and Pepper the skunk's comedy always elicits a laugh from him.
This DVD has a running time of 110 minutes of spooky, thrilling fun with all your favourite LPS pets, plus a bonus Sing-Along and a pumpkin carving stencil!
Episodes Include:
Door-Jammed
Eight Arms To Hold You
Pawlm Reading
War of the Weirds
The Very Littlest Pet Shop
Will Mrs. Twombley get her precious doorknob? Will the curse wear off in time? Is a werewolf prowling around the shop? You'll have to watch to find out!
We have a copy of this fabulously spooky Littlest Pet Shop DVD to give away to one lucky reader! Enter below!
a Rafflecopter giveaway

Good luck!