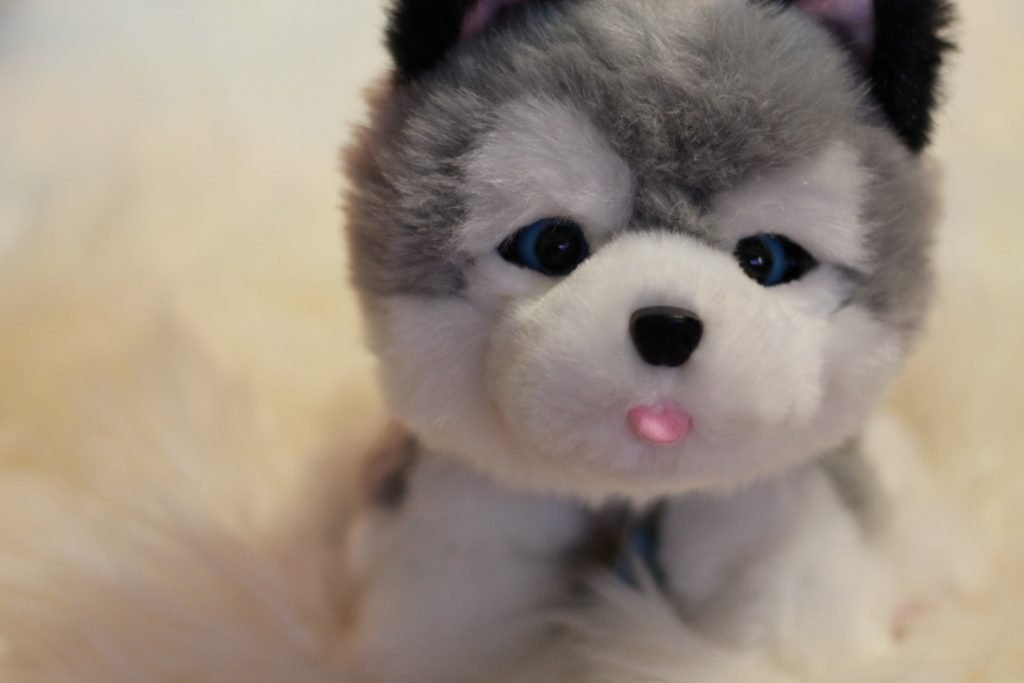 Have kids at home that are begging for a kitten or a puppy but you aren't quite ready to take that plunge? That's basically my life with my hubby and kiddo teaming up on me to convince me we need a dog. I'm a realist, I know as soon as I say  yes, I'm going to suddenly be the one taking care of it! I figured I could buy myself a little bit of time with the Little Live Pets My Dream cuddle pets and well… it's working so far!
Last on Alivia's new pet list, but certainly not the least was something she has been begging for. It's pretty hard to pass up stuffies around here, and when you throw in a stuffy that cuddles like a real puppy, we're in trouble. The Little Live Pets Frosty My Dream Puppy and Cuddles My Dream Kitten have moved in folks.
Whether you have a cat or a dog lover at home, the dream Little Live Pets series has a friend for just about every kid. Each of the pets responds to your touch and reacts like you might expect a cuddly friend to react – without the sharp nails and teeth.
Frosty was the first one Alivia begged me to open when this package came, with his tiny pink paws and big wide eyes, she was eager to rush off and make him a stuffy bed in her room before even discovering exactly what he could do – and once she did, she fell in love pretty quickly!
Frosty not only makes cute puppy sounds but he also responds to touch by making drinking sounds when you feed them, giving kisses back when you give them a kiss on the nose and Alivia's favourite – the never-ending tickles! When you're all done playing with Frosty, lie him on his back or side and he'll start gently snoring to tell you he's gone to sleep – and his tummy moves while he's doing it!
Just like a real puppy, Frosty likes attention. If you leave him sitting on his own too long he'll cry out for attention. Once his needs are met you may be rewarded with a special phrase and of course – a lot of laughs and cuddles. My only dislike on this one is that for any of this to happen – Frosty has to stay on at all times. This can very quickly drain the batteries so we are trying to get into a habit of brushing our teeth, brushing our hair, story time and turning OFF Frosty before bedtime.
Naturally, when you get a new pet you have to make it official! Your new My Dream pet comes with their very own adoption certificate for kids to name their new friend, an official adoption date and a place for them to scribble their signature. Fluffy has officially become one of the family.
Though Frosty was a clear favourite for Alivia, Cuddles was a close second. Unfortunately for us, Cuddles made a trip to the school for show and tell and hasn't turned back up yet. I'm convinced she's made a home somewhere in one of the cubbies.
My Dream Kitten Cuddles, much like her puppy counterpart is unique in her very own way. Like a real kitten, she drinks from her milk bowl and very happily slurps away. She meows, nuzzles and is quite vocal when she's ready for attention – just like a real cat! She reacts a bit differently to her sensor points with her tail twirling when you pat her back and she (loudly) purrs when she's happy. Some similarities between her and Frosty are the sensor points, she nuzzles when you touch her cheek, opens and closes her eyes, and falls asleep when you put her on her side or back.
From a parents perspective, I definitely feel the toys are very well made and a lot of consideration has gone into how they interact with the kids. I also super appreciate that they ALL come with batteries so no more nasty Christmas morning surprises as you try to hunt down some AAA batteries in the morning havoc.
I chose the items to review for this post, but there is much more Little Live Pets fun available for kids to explore. From turtles, hedgehogs, birds and more – kids can build their own Little Live Zoo and have any pet they like – without the mess! The lovely team at Little Live Pets wants to give one lucky fan their very own My Dream Kitten Cuddles to snuggle with this holiday season. Want to win? Enter below!
{A huge thank you to Little Live Pets and Moose Toys for providing these fun toys for our review, all opinions are our own}