I am a junkie for Aleva Naturals products, I absolutely love that their products are natural and the perfect blend of organic ingredients. My cupboard is stuffed full of their cold season products for Alivia, but I somehow managed to miss that they have a line dedicated to MOM. That's right, something for US! Aleva Naturals Maternal Care offers a range of nature's perfect solutions to support moms from pregnancy right through post-partum recovery and most importantly, breast feeding.
The last thing you want to be worrying about after baby is what you need to have on hand to take care of yourself, trust me.
When Aleva Naturals shipped a maternal care package to me, admittedly I was a little bit shy. I am pretty private about anything "down there" and while my modesty has subsided a bit after sharing a hospital room with a dozen strangers poking around all over there, I still maintain a little bit of it! I wasn't entirely sure how I was going to share my experience with their Foaming Fem Wash & Bamboo Fem Wipes because really, that was totally outside of my comfort zone.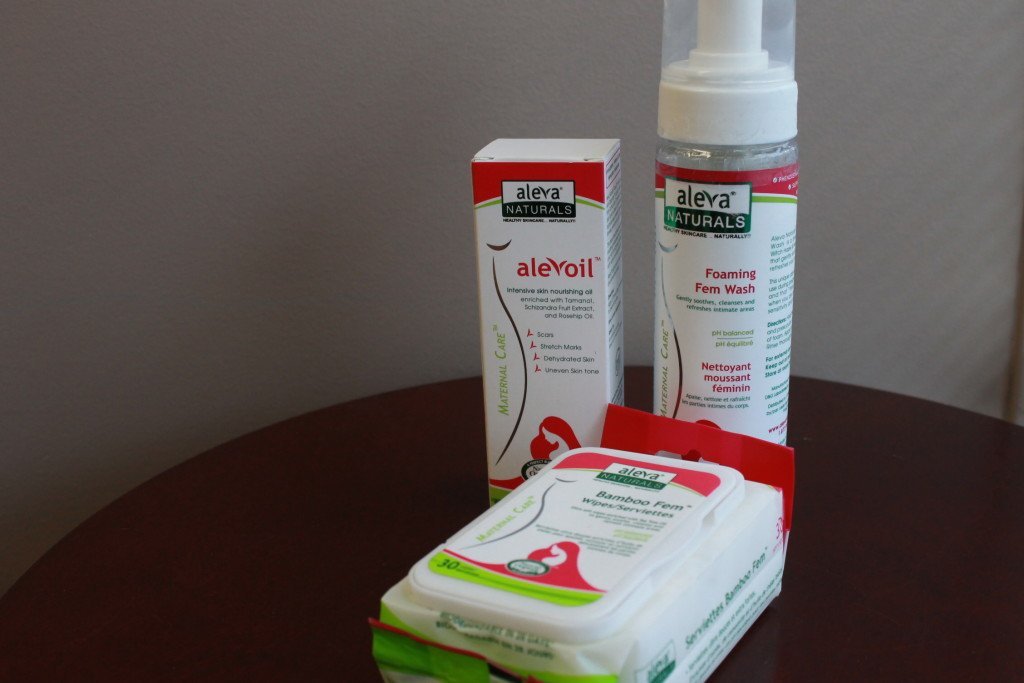 So, I'll preface with some blunt honesty. After kids, everything changes! Your hormones go all out of whack, the amount of time you have to shower drastically decreases and your need for more quality products increases. It's true!
The first item I tackled in this package was their new Alevoil, an intensive skin nourishing oil that works amazing on scars, stretch marks, dehydrated skin and helps to even out skin tone. Sound like anything that might work for you? I can check off all 4 of those as problem areas for me. My first impression of Alevoil was certainly surprising, with "oil" in the product name I expected a very oily product. Though it dispenses as a loose oil, it absorbs into your skin so quickly! I started using Alevoil on a few stretch marks I have on my tummy and a scar on my hand, I noticed a slight improvement though I imagine after continued use, they will become less noticeable!
Alevoil is enriched with Sqisanadryl and Tamanol Seed Oil, helping prodvide a deep hydration and improving elasticity and skin tone. Total win in my book, with no greasy residue left behind it can easily become part of your day or nighttime routine. It's gentle enough for use on your face, body and intimiate areas. Apply 2-3 times daily or as required to clean & dry skin.
The Foaming Fem Wash was next on my agenda, I love that it is completely chlorine, phenoxethanol and sulphate free, it's free of so many things that can irritate your already sensitive skin. With a blend of organic witch hazel and natural tea tree oil the smell is soothing not only to your skin, but your senses as well. It's ideal for use during pregnancy, after baby has arrived and during your period or even just when you feel the need to freshen up a bit. It's gentle enough for everyday use and won't dry out already sensitive or irritated skin. I have super sensitive skin and I was impressed that this was completely non-irritating for me!
Last on my test run was the Bamboo Fem Wipes, I've used the bamboo wipes for kids quite a few times previously so I had high hopes for these ultra soft, ultra strong wipes. Enriched with organic aloe vera, chamomile and tea tree extract the scent is subtle and non-irritating. They are extra gentle for those intimate areas but . I love that the package is small enough to toss into my purse though I do wish that the packaging was a little less crinkly.
{Disclosure: I received sample products in exchange for my review, all opinions within are my own.}